Today, if you live in a big city like Bangalore or Chennai there are plenty of options once you finish schooling apart from continuing on to do regular degree programmes. There are courses in Information Technology Enabled Services (ITES/BPOs), retail and fashion design taught by a number of vocational education institutes. But for students like 19-year-old S Sivakumar from Madurai, the options are very few. He couldn't continue his studies after class 11 and he had to decide between an ITI course and a small job that would start paying immediately.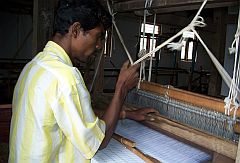 Student putting his learning to use at a vocational training centre in BR Hills, Karnataka. Pic: Padmalatha Ravi.
Sivakumar comes from a poor family. He is the third child in the family and both his siblings have not completed their studies. His elder brother works at a garment factory in Tirupur and his sister works as an office assistant at a private firm. His parents owned a small piece of land years ago but today work as farm labourers. Sivakumar chose to work for two reasons; one – the job at the local grocer's shop would pay him Rs.900/- a month and two - he was not sure if he could really make a living as an automobile mechanic or a carpenter after the ITI course. "If there was a course on something related to agriculture I would have been a little sure taking up that course. I used to help my parents in the farm all the time. Sure we do not have any land now but there are plenty of opportunities right here. The other courses will only take me to bigger cities in search of job. My brother is already in Tirupur I cannot move out and leave my parents alone."
The census data of 2001 shows that 73 million people in rural areas have migrated in the last decade (1991 – 2001); of which 53 million have moved to other villages and 20 million to urban areas – a majority of them in search of work. Migration is just the beginning of many woes for these people, says N Muthu Velayutham, Secretary of a Madurai based NGO, the Covenant Centre for Development (CCD). CCD has been working on the issue of migration for the last two decades in southern Tamil Nadu. "When people migrate from villages to bigger towns and cities they are not able to claim living spaces and jobs right away. They end up in slums and the fringes of the cities which come with its own set of problems and there is no guarantee that they will get jobs or that the jobs will pay well. Instead there should be more opportunities created in the rural areas," says Muthu.
Mahesh is studying a one-year motor winding course after passing 9th standard and failing the 10th. He acknowledges the love his people have for the forests, and that they know every little detail about it. But he wants to chart a different course.
Series
• Local language training is key
• Courses aplenty, students uncertain

Over the years, the small farmers in south Tamil Nadu have sold their agricultural lands to bigger farmers or agri-based companies and migrated away from villages, due to financial problems. This has left the land owners to face acute shortage of skilled labour in various segments. To capitalise on this potential CCD and Nanban, another NGO from Madurai have started
Sadhana Samudaya Kalloori
(SSK) in Madurai. Here the 10 and 12 pass students from economically backward families can go through courses that can later fetch them jobs in their own villages or they can set up a small scale industry by themselves.
SSK conducts 'tailor made' courses in various local traditional vocations for the local community needs such as medicinal plant collection and cultivation, ethnic food preparation, farm machinery service and maintenance, Animal husbandry and organic farming inputs etc,. All these classes are conducted in Tamil medium as the students opting for these courses come from Tamil medium schools. Muthu says that they want to keep the courses as close as possible to the environment the candidates are used to so that the programmes can reach maximum number of people. "While the courses do cater to the resource requirements in these sectors our main focus is on making the youth self-sustainable. We even help them get bank loans to set up their own business," he says.
Making the local community self reliant is the main focus of these programmes. In the same vein CCD has started a course in Rameshwaram too. Here they train local fishermen in diesel mechanics so that they can attend to repairs of their boats' engines when needed. The fishermen otherwise have to spend a lot of money and time to get these motors repaired as the closest mechanic is in Madurai which is a good 172 kilometres away. In the meanwhile the fishermen lose out on their earnings because they cannot go fishing for so many days. Apart from a one-year ITI course (10 to 12 per batch, Rs.1200-1600) in diesel mechanisms, CCD also conducts short term courses over the weekends (6-10 per batch, Rs.650) for the local fishermen to help them maintain their motors and do small repair jobs themselves.
Capitalising on the existing traditional knowledge and self sustainability are the key objectives behind the job oriented course in forestry run for the Soliga tribal youth of Biligiri Ranganabetta (B R Hills) in the Chamarajnagar district of the neighbouring Karnataka state, too. The course is run by Vivekananda Girijana Kalyana Kendra (VGKK) founded by Dr H Sudarshan. VGKK was started in 1981 with the vision to create "a self-reliant and empowered tribal society rooted in its culture and tradition, living in harmony with nature."
The two-year job oriented course (JOC) in forestry was started in 2001. Tenth pass students below the age of 25 are eligible for this course. This course is similar to the PUC courses runs by the state government. The students have to study four subjects related to forestry and two languages including Kannada and English. Here too the medium of instruction is regional language Kannada. There are 12 to 20 students per batch, and the course costs Rs.1435 per year. The state government gives scholarships based on merit and caste.
SSK
Sevaiyoor, Thottiankulam via Nangoor
Virudhu Nagar District
Tamil Nadu - 626106
CCD
18-C/1, Kennett Cross Road,
Ellis Nagar, Madurai
Tamil Nadu - 625010
Tel: +91 452 2607762
VTC/VGKK
BR Hills, Chamarajanagar
Karnataka - 571441
Tel: +91-8226-244025/18


• Local language training is key
• Jobs aplenty, students uncertain

Ramachandra J, principal of the college says that the main idea behind this course is to build capacity based on the existing knowledge of the tribal youth. He notes that the Soligas who form the majority of the population here have a good knowledge of the forests. "They know the animal varieties, the plant species, the flowering seasons and the medicinal value of the plants as part of their daily lives. We just designed the course to enhance their skills and make them employable in organised forest-based industries sector," says Ramachandra. Many students who finish the course are employed by the Jungle Lodges and Resorts, a state owned eco-tourism group as guides and as forest guards by the forest department in the surrounding areas.
VGKK also conducts other courses at its vocational training centre (VTC) like food processing, cloth weaving, manufacturing recycled paper and ITI courses for interested candidates. At the VTC any one interested to learn the vocation can take up the course. The candidates are trained in honey collection and processing, pickle making, etc. The local tribes usually collect honey and amla from the forest and sell it in the market. At VGKK they have learnt the scientific way to do this that will enhance the quality and are taught to consider conservation aspect while doing so. The candidates then go on to set up their own honey collection and pickle making units or work at VGKK itself. The courses run from four days to a week, and there are around 30 students per batch.
Thirty-two-year-old Gayathri learnt about food processing years ago and today earns a living working at the VTC. She speaks for the community when she says, "We never saw money before. We just ate what grew or what we got in the jungles but that was becoming harder with the government throwing us out of the jungles and more and more villages coming up around here. Now I make living working here. I already knew some things and they taught me new and better ways of doing them."
VGKK also conducts ITI courses for 8th pass students in home appliances repair and maintenance, motor winding and welding. Vasuki B K, a teacher at the campus says that the courses were started in order to mainstream the tribal community and make them less dependent on the forest for their living. "We introduced the tribal population to education which broadened their understanding of the world and after this some of them would like to go out and earn a living. These courses would help them achieve just that," says Vasuki.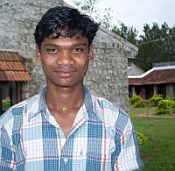 Mahesh is learning motor winding at VGKK. Pic: Padmalatha Ravi.
The outlook of 15-year-old Mahesh exemplifies this broadening of horizons. Mahesh is studying a one-year motor winding course after passing 9th standard and failing the 10th. He acknowledges the love his people have for the forests, and that they know every little detail about it. But he wants to chart a different course. "The forests have sustained our lives and I would love to continue doing that but how long can the forests support us and how many can it support? I need to think about my future. I know it will be a difficult to get used to life outside the forests but we have to make that choice."
With 72 per cent of the Indian population living in rural areas there is huge potential of manpower waiting to be tapped. A number of institutions around the country like SSK and VGKK are working to bridge the gap, but there is a large segment of rural youth that does not have access to such substantive opportunities. More awareness among the local communities about leveraging their capabilities to enhance their livelihood is needed, and likewise, more institutions offering specialised courses.