There are many of us who have been to the protest spot, Jantar Mantar a number of times and love that square for allowing voices of protest against establishment and governments. We have also laid bare before scrutiny, our love for such protest places and the way State and law and order agencies attempt to ritualise dissent, and on occasions we have even tried to spontaneously protest elsewhere, for example India Gate. Back in the summer of 2011, we were shocked to see newspapers suddenly calling it a Tahrir Square.
Four years down the line, in March 2015, even as the sound of untimely rain drowned strokes on my keyboard, I fumbled with the phrase 'Amit Shah of the AAP' to describe the crisis in a party that had its roots in the same venue, a party that promised to not only provide a political alternative, but to construct altogether a politics of alternatives. The party had emerged from a people's movement that tried to explore how much space common people have in legislation making.
During the course of the Jan Lokpal Movement (April 2011 to August 2011), when that movement had been at its peak, many of us had chosen to remain bystanders. In fact, we had gone a step further. Not only had we remained silent bystanders watching with a sense of 'But, we don't know where this mobilisation is going, comrade,' we had also started to deconstruct its songs, slogans, stage management and shouted out to a few friends whom media had started to address as 'key members of Team Anna' that they should disassociate themselves. We also nurtured the hope that our shouts will be responded to.
Probably, we were too romantic about the wisdom of our deconstruction and critical theory-guided reading that made us read the August 2011 mobilisation as a sort of invitation to comfortably inhabit the Society of the Spectacle that Guy Debord wrote about in his classic. After all, we had just seen a media-mediated spectacle, urging us to get glued to a fakir-like figure talking about 'doosri azadi', exposing the arrogant government in power that was not agreeing to a people's version of a draft legislation.
We also witnessed brilliant political analysts urging those like us, who had hitherto remained bystanders with arguments, that we should be there.
So, we decided to stop shouting out to old comrades, respected their right to poke fun at us, "who have a tendency to run away from all those places where thousands of common people congregate", switched on the old Tagore song record playing Ekla Chalo Re, and penned an article titled, 'Lest we forget other struggles'.
Then at some stage, 'Anna's General,' Arvind Kejriwal thought of parting ways with Anna, and moved on to form a political party, a political party that was founded on the conviction that there can be space for principles and idealism in electoral politics. A party whose USP was not a crusader, or a bunch of crusaders or intellectuals who knew how to read the pulse of people better than organised left parties. However, I also feel that phrase Anna's General, picked by the headline writer at Caravan magazine, for the brilliant article written by Mehboob Jeelani, was a bit misplaced. Jeelani was aware that rather than displaying a disciplinary "At your service, sir", Kejriwal's style of functioning was more like that of a Sutradhaar, whose ten fingers moved swiftly to get, whenever required, an aged Gandhian figure to undertake a fast on stage.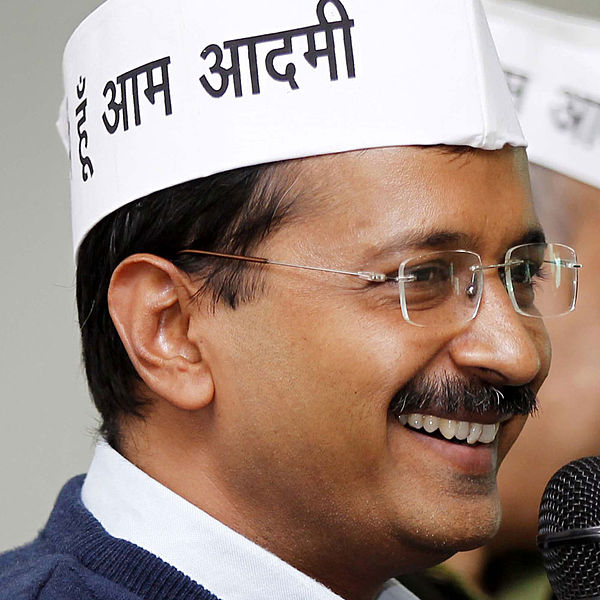 Anyway, 'Anna's General' had now picked up a replacement for the word Anna in his slogan, and we suddenly felt as if Prasoon Joshi had joined the movement. "Main Aam Aadmi Hoon" appeared to have been inspired by the angry-young-man image of Amitabh Bachchan in yesteryears, playing the role of an eternal protestor in the film, "Main Azaad Hoon".
For many of us closely following the movement, the proposal to "clean politics by entering politics" sounded like getting into the trap laid by the likes of Kapil Sibal: "Chandani Chowk me aake, election lad ke aur jit ke dikhaiye." There were discussions and deliberations amongst ourselves: was the option of carrying on with the good old 'non-party political formation' mode of articulating people's protest no more a possibility? We wondered if the magnetic centrifugal force of parliamentary democracy would suck in all those who walked the path, that the late Rajnibhai (Rajni Kothari) had termed Lokayan!
Yet, we were ready to just wait and watch. We told ourselves that we were witnessing a political party trying to act like the 'opposition party' on the streets of Delhi. Many friends were now frequently nudging us, seeking to know our considered view on whether the non-party political coalition of social movements could be merged with the newly formed political party.
However, we were still the old-school lazy kids, refusing to see the 'aam aadmi' as immortalised by RK Laxman in this man wearing a head gear and announcing that he or she was not a corporate honcho or investment banker, but an aam aadmi. Some of us even wrote open letters to those old friends and fellow travelers that they needed to give us some evidence of remaining committed to allowing an 'aam aadmi or aurat' to enter electoral politics, not just eminent civil society dignitaries or the 'who's who' of India Inc.
In December 2013, the Delhi election results showed people seeking change. We turned to being eager observers from peripheral, silent bystanders. We sang to our old comrades not Tagore, but Narmad: "Ya hom kari ne paDo, fateh chhe aage" (Take a plunge, victory is yours).
AAP decided to go national and fielded candidates on many Lok Sabha seats. However, we soon realised that we had made an error of judgment. Every state in India wasn't a city-state. Old bastions of bipolar politics still remained just that. But even then, we didn't write off the first baby steps towards thinking nationally, acting locally.
However, AAP's appeal of alternative and honest politics had received a response. On the day of the Lok Sabha results, when I returned home in the evening, a family member was talking about one MP who had won from Punjab: Dharamvir Gandhi, a professor for whom his ex-students had campaigned and whose speech had ignited hope that honest candidates with a genuine promise of alternative politics could win.
We decided to understand more about the victory of these four MPs from Punjab belonging to the AAP and analyse the vote shares for the party, which had won a larger number of seats than the Bahujan Samaj Party that commanded the third position nationally in terms of vote share . Although many well-known faces within AAP had lost the elections, one could also see very low profile mild mannered candidates such as Kailash Awasya put up a spirited electoral fight.
Even as social media poked fun in May 2014 at the dream of alternative politics and asked to see how many of AAP candidates had lost deposits, we analysed vote shares for the AAP in the Lok Sabha elections and the seats where AAP ended up close, and argued that it was too early to write an epitaph. We also speculated and carved out hopeful spaces for the party: Delhi and Punjab in that order.
In spite of the long, sustained dream that we cherished, now, after all that we have witnessed with a Wasteland-ish "March is the cruelest month" feeling, today is the time to write an obituary of the phenomenon called AAP. Surprises and shocks have come too frequently and the last blow to our hopes has been the unceremonious replacement of the party's internal lokpal, Admiral Ramdas. Come to think of it: this was the party that promised us all an accountability-ensuring institution called Jan Lok Pal!
Last Friday I was at a book release of a collection of journalistic articles penned by a Kannada journalist. I met an old friend after a long time there. To be honest, when you meet a friend whom you have not met for many years, you feel re-assured, but I wasn't. I felt paranoid. I felt my old friends were tarnishing my dream. I took solace in long distance communication. Saturday confirmed my worst fears. I am growing old, I am losing friends and am losing them as they are asking me to grow up and acknowledge that my dreams can only be my nightmares, while they practice pragmatic politics.
That same evening, after I returned home, I watched television and heard the voice of Professor Anand Kumar choking on his words. He appeared to me to be glancing at a mirage while he tried to repeat what Yogendra Yadav had told media earlier: 'We shall not move, we shall not break, we will reform and we will get reformed.'
However, let me end this obituary with a caveat: Ideas never die, neither do those committed to a genuine idea of change commit hara-kiri or suicide. Ideas get killed when certain disciplined thinkers give up on a very fundamental democratic principle called self-doubt. So, let me sing Ekla Chalo Re once again, while my old friends walk on the path of pragmatic politics. Let me appeal to the millions, who remain in an eternally optimistic mood and who can command the energy to call themselves eternal beginners, to rebuild the dream afresh from this broken mirror called AAP.