Journalists who began their career in the 1970s, like I did, and are now in their sixties and seventies would not have missed the opportunity of meeting Khushwant Singh at least once. Or, if he did not happen to visit their city, at least get a letter from him. I've counted myself among such fortunate journalists, from the time who managed to get his full postal address from his son Rahul Singh at a party thrown by Mid-Day a long time ago.
My hopes were raised when Rahul said that his father promptly responded to all letters he received. Remember that this was an era when computers, much less e-mails and the Internet had not made their appearance, so one had to send letters by post. True enough, within the week, I got a wonderful but brief response, handwritten and not typed, from the great Khushwant Singh himself. In that one note, he had left me inspiration for a lifetime, and I idolised him and dreamt of becoming something like him.
An article in The Sunday Observer listed Singh among the nine highest paid syndicated columnists in India. Before this, I had not known what a 'syndicated columnist' meant. I found out that it referred to a journalist whose single column was subscribed to by many publications across the map and he or she was paid by all of them!
Instead of the journalist running from one editor to another desperately trying to push articles, editors and newspaper organizations felt honoured if Khushwant Singh syndicated his columns such as With Malice Towards One and All and Chhota Peg for them. He stopped writing his columns only two years ago because finally, age began to weigh him down.
Every journalist who wishes to be called a 'journalist' has a lot to learn from Khushwant Singh. His greatest human qualities were his unassuming nature, his tremendous courage and his ability to laugh at himself as well as at others, never mind how great, famous, or powerful they might have been. There was an infectious charm in him despite that salt-and-pepper beard, the turban and what seemed like a scowl on his lined face that often broke into a smile.
The most outstanding example of how he could laugh at himself comes across pithily in his obituary he had penned well before it was actually due in Death at my Doorstep (Roli Books.) He had written, "Here lies one who spared neither man not God/ Waste not your tears on him, he was a sod/ Writing nasty things he regarded as great fun/ Thank the Lord he is dead, this son of a gun."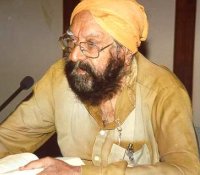 He refused to be cowed down by old age and proved this to himself and to the world at large when, at 95 years, he wrote a novel about three friends in their eighties who meet at Lodhi Gardens in Delhi to chat about love, lust, sex and scandal. The book was aptly titled The Sunset Club. Last year, his autobiography called Khushwantnama: The Lesson of My Life was published where he reminisced about life lived on his own terms and the lessons he had learnt from it.
His novel, Train to Pakistan, remains an all-time classic based on a bloody slice from India's Partition, which was later made into a film. Other noted books are – I Shall Not Hear the Nightingale, A History of the Sikhs, The Company of Women among the 30 novels, many short stories, essays and countless commentaries.
When he was editor of The Illustrated Weekly of India, its circulation leaped to an incredible 400,000 and is still remembered by elders addicted to it as one of the most outstanding magazines in English in the country. He radically introduced a page of jokes, cartoons and a glamour photograph when there was no Photoshop, no Adobe and no Internet to fall back on and the popularity of the weekly was determined exclusively by the quality of the editorial content and the images.
Legends about his personality abound in journalistic corridors. I recall Rahul Singh writing a small nostalgic piece on how his father reacted when he found out one fine morning, after reaching his editorial office in the Times of India building, that he was no longer the editor of The Illustrated Weekly of India, because he had fallen foul of Indira Gandhi during the Emergency.
I do not remember the exact words but it went something like this. He stepped into the elevator, then walked out on the street in front of Victoria Terminus, opened his umbrella and continued walking as if nothing had happened. That is Khushwant Singh for you, though it is generally his ribaldry and his stories about his hundreds of women friends and his passion for single malt whiskey that are more famous.
Coming back to my memories, well, I could never become a syndicated columnist. But five words in that letter he wrote to me stuck with me forever. It was a question rather than a statement. "I can slog, can you?" That has pricked me like a sharp, pointed needle, piercing me for years together.
We did meet once eventually and he recognised me when I walked up and introduced myself. He had been invited to deliver a lecture at the Indian Merchants Chamber Hall in Churchgate and we laughed away as he punched his speech with potshots at the Sardarji in him and all Sardarjis everywhere. The hall was packed with journalists of every hue, with students, businessmen and even a few starlets and stars. But it was Khushwant Singh who was the unquestioned superstar of the evening.
I remain grateful to him for having inspired me to remain a committed freelance journalist for 35 long years and still in the running to reach that oasis of excellence in writing that I know I can never achieve, but is nevertheless worth chasing forever, like the elusive rainbow.
As for that letter he wrote out in his hand and signed himself, I must admit that somewhere along the 35-year-long journey, it has been lost, but the words remain etched forever in my mind. If he were to ask me today, "Can you slog?" I can honestly say, "Yes I can, but I am still not Khushwant Singh."