Nagpur, October: Varshatai Tatewar, 43, is broke. The Sarpanch of Kocchi village lost her husband Raju in February 2007. But two months of his treatment left her in huge debts.
"We spent about rupees seven lakh in two months on his treatment in Yavatmal and Nagpur, but the doctors could not save his life," informs a composed Varshatai. She says she drained all their savings and fixed deposits, sold her ornaments and borrowed Rs.2.5 lakhs from relatives to pay the hospital bills and buy medicines.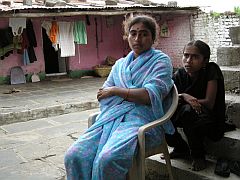 Varsha Tatewar with her daughter. Pic: Jaideep Hardikar.
When the doctors at primary health centre could not cure him, Raju was taken to a private hospital in Yavatmal, which then referred his case to Sawangi medical hospital Wardha, where he was treated for a month before being referred again to a super-specialty hospital in Nagpur. A month in the hospital later, he died.
"My husband was on ventilator for 18 days," the widow says. "I don't know if he was being treated properly. We were not allowed to see him every day."
"Rising health costs are now proving fatal, a farmer is dying because of debt due to spiraling medical expenditures more than an illness," says a medical officer at Primary Health Centre in Darwha, Yavatmal, under condition of anonymity. "A farmer in unable to meet those costs, so in emergency, he mortgages his land to the doctor," the officer reveals.
Raju did not commit suicide; he was a 30-acre progressive farmer with a strong financial founding, but his illness left his family indebted after his demise, notes Kishor Tiwari of the Vidarbha Jan Andolan Samiti. "This is also part of agrarian tragedy. Imagine a situation where a farmer is unable to bear health care costs!"
Last year, thousands of farmers in Vidarbha had to borrow money from private lenders or mortgage land to doctors due to an outbreak of chikun gunya. Many of them sold their gold and silver ornaments to jewelers to pay hospital bills. In a village near Wadki in Wani tehsil of Yavatmal two sisters - Karishma, 12, and Laxmi Uikey, 14, died of the viral fever for want of medical aid, in September, last. Her marginal farmer-parents could not afford to take them to a hospital.
Each of Vidarbha's 11 districts has a government hospital, and every tehsil, a rural hospital, but most of them ill-equipped and short of doctors or support staff.

Suchet Bhagwat, a hospital management consultant in Nagpur, holds: "There's no doubt the health care cost has shot up, and it's part of the ongoing problem."
He feels a boom in super-speciality hospitals and fading away of basic health care clinics has spiraled the medical expenses. "What we need today is a strong basic health care system. The private health sector neglects it because of low returns; they invest heavily in the sophisticated technology to give better health care to their clients, also a reason why medical expenses are touching the roof," he says.
In Vidarbha, the government health set up is slightly better, compared to many other parts, but a farmer too wants quick cure and aggressive treatment, argues Bhagwat. "What the government can do is to make it mandatory for all specialty hospitals to have a few beds reserved for patients from rural areas who can't afford to pay bills."
And like in many parts of the country, the PHCs in Vidarbha are not well equipped to meet major exigencies. "Our budget is such that we spend ninety per cent on establishment and only ten per cent on medicines, where as it should be just the opposite," says a doctor at Primary Health Centre in Zari Jamni, in Yavatmal district, asking not be named.
Each of Vidarbha's 11 districts has a government hospital, and every tehsil, a rural hospital, but most of them ill-equipped and short of doctors or support staff. Besides, the region has a network of close to 400 PHCs, but given the poor efficacy and lack of expertise available at these primary referral centres, the patients opt for private health care. Many of those PHCs are dysfunctional, or have no doctors, as a result of which the patients often travel to cities like Nagpur for treatment, even if it comes at a premium.
Psychiatrist Dr Sujay Patil of Akola observes: "Rural Vidarbha is witnessing a wave of depression among farmers, and it's rooted in the economics." Dr Patil is rendering his services free of cost to farmers, suffering from clinical depression. "Hundreds of them can't afford treatment costs, because they have no income."
A National Sample Survey Organisation survey shows us that the medical care is now the second most common cause of rural family debt. The number of people not able to afford medical aid in the mid-1990s was double what it was a decade earlier, it shows. By 1996, nearly one in every four rural Indians and one in five urban Indians fell into this group. Things have only worsened since.