On the busy Friday evening of 2 May, the Varanasi-bound 'Shiv Ganga Express' arrived at the New Delhi Railway Station 90 minutes before its scheduled departure. People travelling with unreserved tickets had been waiting in queue to get onto the train without hassle but all hell broke loose as some started hopping into the unreserved coaches even before the train came to a halt. Within minutes, the general coach having a seating capacity of 90 people was full and had at least three times its capacity. People were seen sitting even in the luggage section.
It was not the chaos or bulging crowds that distinguished this particular journey from any other at any point in time, but rather the interactions and conversations that followed which had little to do with the inconveniences and hardships of the moment. No room to even make your way to the toilet; no water; no dinner; not even the possibility of vendors from outside who could sell food items. And yet, neither these conditions nor the stifling heat in the coach appeared to be what occupied the travellers' minds.
A short while into the journey, a voice from a distance shouted, "Agar (Arvind) Kejriwal is baar jeet gaya, toh hum sabko zaroor seat milega train me. Hume usko jeetana chahiye.(If Kejriwal wins this time, we will surely get a place to sit (at least) in the train. We should make him win)."
The voice might have belonged to just one among the supporters of the Aam Aadmi Party (AAP), but his statement sparked off strong political discourse in each of the compartments in the coach. For the next couple of hours, all one could hear was AAP, BJP, Congress, Varanasi, Modi, Kejriwal, Reliance, scams, winning and losing.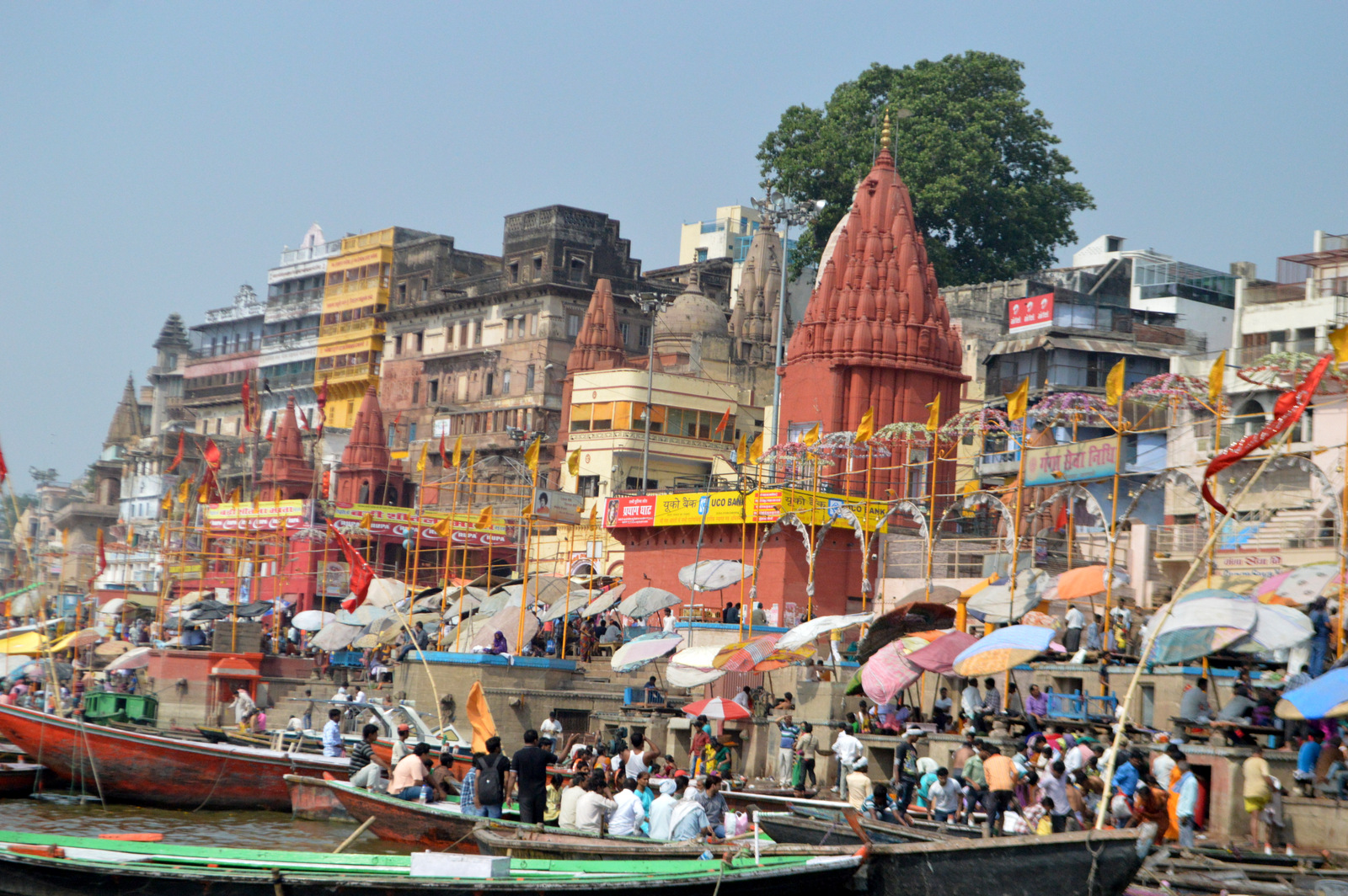 Few constituencies have received the kind of attention that Varanasi has in this Lok Sabha election, thanks to the battle between the key individual figures that it is hosting. Few would have also witnessed the emotional churn and charged sentiments among the electorate, as this has.
Communal and caste loyalties are strong in Varanasi, which votes on 12 May and even more brazen in neighbouring Ayodhya (Faizabad Lok Sabha constituency), and that remains perceptible though the dialogues pitting the two key candidates, Narendra Modi and Arvind Kejriwal, against each other dominate all others.
In Varanasi, there has been a consolidation of the anti-BJP vote bank in favour of the Aam Aadmi Party and its leader Arvind Kejriwal who is contesting the seat. The AAP is picking up pace and seems poised to give tough competition to the BJP. Several political parties and student groups are also campaigning against Modi. On the other hand, various state unit workers of the BJP have descended on the holy city, to campaign for Narendra Modi.
In the shrill battle of individuals, local issues such as lack of good roads, drinking water scarcity, and unemployment, which were of utmost importance until recently, seem to have taken a back seat in people's minds for the time being.
A coach divided
People from all walks of life -- farmers, migrant labourers, students, jobless youths - and of different religions from New Delhi, Uttar Pradesh and Bihar were travelling in the train. A supporter of Modi from Varanasi, having strong opinions, asked, "What's wrong if someone says Muslims should get out of the country. This is Hindustan and only Hindus should reside." People were quick to correct him, pointing out that his thought was unconstitutional. A Muslim youth sat uncomfortably listening to the statement.
Anil Kumar Sharma, 34, a Bihari working as a lab technician in Delhi said, "Of all the seats that the AAP is contesting, only two seats matter - Amethi and Varanasi. If they win these two, it will bring a new revolution in the country. The two big parties will collapse under its shadow." People cheered him.
Santosh Kumar, 27, sitting next to Sharma, was apprehensive whether AAP could reach the poorest of the poor in the manner that the Bahujan Samajwadi Party under Mayawati had been able to. "Mayawati proved that she can reach out to people like us (other backward castes) and showed that we mattered too in the political process. I doubt if AAP can do the same. It will take some more time for us to believe in the new party. Until then, BJP seems to be the choice," Kumar said.
The train barely stopped at four junctions though its 12-hour journey. Many were left starving and thirsty. Even those who had food did not want to have it before the others. People slept in a sitting position and the conversation on AAP, BJP and the elections continued in bouts as they woke up and into the next morning, until the train pulled into the holy city of Benaras (Varanasi).
The mood in Varanasi
As the train reached Varanasi, a supporter of AAP donning the white party cap walked towards the rickshaw stand along with other friends. "I asked for a week's leave so that I could campaign for the AAP here. But my employer denied and I quit. I don't know where my future lies. But I am happy to fight against corruption here," said Mukesh Jain, a private sector employee in Delhi.
Be it in cycle-rickshaws, shared autos, tea stalls or paan shops, the buzzword seemed to be Modi and Kerjiwal. "There was a Modi wave, but now, there is a Kejriwal wave," says Sunil Sahani, an auto driver in Varanasi. 'I have been driving for 12 years and look at the pathetic condition of the roads. The maintenance cost of the vehicle is high because of this. We got no development during the earlier BJP rule. So, it is better we choose a new party this time," Sahani confided.
In the interiors of Varanasi, too, the anti-Modi wave is high -- the Yadavs, Muslims and Dalits who until now voted for the SP, BSP and Congress appear inclined to go with the AAP at present. More recently, the Jamaat-e-Islami Hind, an Islamist outfit, has be reported to extend its support to the Aam Aadmi Party candidate Arvind Kejriwal.This is likely to increase the prospect of AAP in capturing the Muslim votes.
The Congress Party candidate, Ajay Rai, despite being a local, was hardly seen campaigning in the city and this, people say, could lead to Congress votes going towards AAP. There is also a rural-urban divide, wherein, the BJP is spoken of more in urban segments and AAP in rural areas.
As one walks towards the ghats and temple neighbourhoods, the chorus for Modi grows stronger; the Brahmins and Baniya community are very vocal about their support to BJP. Hindutva sentiments, the promise to develop Ganges on the lines of the river Sabarmati in Gujarat, and the anti-Congress wave tends to tilt the balance here in favour of Modi (BJP).
"There is still time for Kejriwal. Everywhere (in media) Modi is being discussed. So, we show our support for him hoping he will develop Varanasi into a truly "holy" city. If no development happens in the initial three years, we surely know whom to prefer next time (evidently indicating AAP)," Ram Naresh Chaube, a merchant near the Kashi Vishwanath Temple said.
Even as Chaube was speaking, another supporter, Gopal Jha, a BJP volunteer from Bihar sent by Kirti (Jha) Azad , Member of Parliament from Darbhanga constituency, jumped into the conversation saying, "Nobody can defeat Modi. In this city of temples, we will ensure our man (Modi) wins."
In the 15 Lok Sabha elections between 1952 and 2009, the Congress won the Varanasi seat seven times, but only once (2004) in the last two decades. The demolition of Babri Masjid in Ayodhya in 1991 saw the rise of BJP which has won every time since then, except in 2004. So, it may not be an easy ride other political parties to win here. However, the combined vote share of the major non-BJP parties (INC, SP , BSP and CPIM) were higher in the last three Lok Sabha elections, compared to that of the BJP and its alliance with Apna Dal.
While addressing a public rally on the last day of his campaign in Faizabad, 10 kms away from Ayodhya, Modi asked the crowd if breaking a promise in the birthplace of Ram was acceptable, evidently alluding to the Congress. Modi may be under the Election Commission scanner for his comments but in Ayodhya, all one sees and hears of is BJP and Modi and nothing else.
"This is Dharmakshetra; there is no place for anyone else except Modi here," says a young tourist guide in his twenties. When asked if he even knew who the MP contestant was from this constituency, he was unaware. Many Ayodhya residents, in fact, could not tell or even guess who their MP candidate was. They could think and speak only of NaMo. Even school students, aged between 8-14 were forcibly brought onto the streets, made to wear orange gowns and chant "Har Har Modi, Ghar Ghar Modi".
If sentiments in Ayodhya are indeed a telling reflection of what Varanasi feels, chances of parties other than the BJP certainly do not appear too bright.
So, what will Varanasi vote for?
Torn between the strongly polarised pro-Modi and pro-Kejriwal voters, is Varanasi losing sight of the real issues that have haunted it in recent times?
A survey conducted by Bangalore-based Daksh and the Association for Democratic Reforms between December 2013 and February 2014 shows that voters here have been grappling with a host of governance and administration-related problems, as the scores of importance attached to these issues show. Terrorism, reservation for jobs and education, drinking water, better roads, better law and order were among the highest concerns of the electorate in this constituency.
The overall voter perception score for MP Murli Manohar Joshi was 5.3 on a scale of 1-10. On the top issues, Joshi's performance was considered average (5.99 on a scale of 1-10). Despite his average performance, the BJP seems to be riding high on the Narendra Modi candidature this time around since even the party's supporters were very vocal in saying that they would not have supported Joshi, had he contested again from here.
Apart from asking voters to rate issues according to importance and the performance of their MP on those issues, the Daksh survey had also probed into the possible reasons that an individual voted for a candidate.The options given were a) preference for the candidate, b) his/her party, c) the candidate's caste/religion, d) the party's PM candidate and e) the party/candidate's ability to distribute gifts, money, liquor etc?
Based on responses pertaining to the five points mentioned above,an earlier India Together article, rated these reasons on a scale of -1 to +4 -- from low Importance to high importance -- across urban constituencies. Values -1 to 0 corresponded to "No to Low Importance" while 3-4 corresponded to "High to Very High Importance" with intermediate scores indicating commensurate importance, in increasing order.
The analysis showed that in Varanasi, voter choice on the basis of candidate had a score of 1.03; on the basis of Party 0.43; on the basis of Caste/Religion/Identity -1; and voter choice on the basis of Money, Gifts, Liquor etc -0.9.
The basis of choice seems to have leaned even more towards the candidate since it was confirmed that Modi and Kejriwal would be contesting from Varanasi. But that should not be reason for complacency, as voters seem pretty clear about their expectations, irrespective of the camp to which they belong.
"In our village, we do not have access to clean drinking water, and not every household has water connectivity. It is ironic that we struggle for water during summer even as the Ganges flows a few kms from here. We expect our MP (whoever wins) to address this issue first," Ajay Kumar Sahani, a resident of Malahiya village in Varanasi said.
Sahani, who is studying BA, also works as a labourer in local mandi (market). He is very concerned about the job market and wants more industries to be set up here so that it can fetch him a job when he completes his degree.
Meanwhile, for Sonu Kesari, a resident near the ghats, the cleaning of the Ganga and the development of the ghats take priority. "We expect Modi to develop our ghats and the river on the same lines of what has been done in Gujarat. We want a clean environment, as our lives depend on this very own river," he said.
So while, the buzz prima facie is about the candidates, real concerns underlie the apparent obsession with two individuals. Dean of the Faculty of Social Sciences at Banaras Hindu University, R R Jha, says that in Varanasi, people expect their MPs to be more accessible.
"People went on to file a case against Murali Manohar Joshi because he was not accessible to people. Even in 2009, before elections issues were sidelined and Joshi's candidature took priority. But since he could not subsequently perform, he is now on a losing streak. Addressing the real concerns of the people and delivering on promises made post elections will play a crucial role in the candidate's future political career here," Jha feels.
Cutting through all the noise, these are the voices that both the BJP and AAP need to pay attention to.