The literary landscape of India is one of the most exciting, yet daunting and complex ones in the world, with over 18 officially recognized languages, over 400 dialects and a 5000 year old culture that has evolved differently in different regions of the country. Throughout the region's history, women have excelled at literature, but writing has traditionally been regarded the domain of men. As elsewhere in the world, women's writing in India has been multi-faceted, but often persisting secretly, and sometimes in defiance and pain.
Women's WORLD, an international initiative to create a network of support and free speech for women writers all over the world, and the Hyderabad based women's resource and action center, ASMITA, undertook a massive project to study, discuss and publicize the odds facing women writers in India. Conceived in 1998 by a core group consisting of Ammu Joseph, Vasanth Kannabiran, Ritu Menon, P. Lalithakumari (Volga), and Gouri Salvi, the project conducted a series of workshops in vernacular literature and studies on gender and censorship. Such an endeavor naturally has one foot in the literary world and one in the feminist movement, trying to bridge the gap between the two and make their efforts complementary.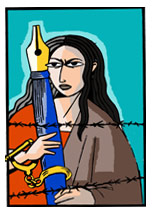 The theme of the project was to research gender based censorship through several vernacular workshops of 15-25 women writers from different age, class, genre, and degree of recognition, in ten languages: Bengali, English, Gujarati, Hindi, Kannada, Marathi, Telugu, Tamil and Urdu. Approximately five writers from each language were interviewed at length about issues specific to their writing. Finally, the process culminated in a conference in July 2001 that brought 75 women writers together and impacted several other women's studies associations, vernacular women writers associations and media coverage. Subsequently, the proceedings of these individual vernacular workshops as well as the July 2001 conference have been published by Women's WORLD.
The women writers' workshops explored the contents, languages, experiences of women writers and challenges faced by them and tried to identify issues that sweep across the spectrum of languages and those that are unique to writing in a certain language. Even today, Censorship - social, professional and personal - are the biggest constraints while the need to build a strong network of support amongst women writers and to find a bridge between women's movement and women's literature are key to liberation and progress.
What women write
History has many instances where women have broken the stereotypical notions of womanhood and taken to writing. Women poet saints like Sakhubai and Janabai in Marathi literature, Andal in Tamil, Mirabai in Rajasthan, Akka Mahadevi in Karnataka were legends in their lifetime. Later, writers like Mahadevi Verma in Hindi struck a forceful tone for the liberation of women in their writings. Lalithambika Antarjanam from Kerala and Ashapoorna Devi in Bengal broke caste barriers and exposed the entrenched patriarchy in these societies. Those like Ismat Chugtai took up social issues as their responsibility as women writers. Today, Mahashweta Devi, Jaya Mitra (Bengali), Volga (Telugu), Swaroop Dhruv (Gujarati), Bama (Tamil), Pradnya Lokhande (Marathi) and many others are continuing the tradition of powerful writing by Indian women.
Some vernacular writing - especially in Telugu literature - has seen the influence of the feminist movement. Women wrote about labor rooms, kitchens, birth, menstruation, pots and pans and brooms and dusters and marched proudly challenging the mainstream patriarchy. Many women writers in Telugu and Bengali literature have been active in socio-political fields and this has influenced the issues covered by these writers. One of the topics discussed in the Gujarati workshop was the silence of the women writers in the state that has witnessed some horrific violence, especially agains women, in the recent past.
The censorship outside
A major challenge to women's writing in all different vernaculars has been the attitude of their readers and critics, which is a direct reflection of the societies in which they live and for whom they write. Critics who review their work still treat women writers as 'outcastes'. Literary critics, mostly men, ignore the dynamic vitality in women's writing and treat it as recreational and decorative. As Nabaneeta Deb Sen points out, Banga Sahitya Upanyaser Dhara (History of Bengali Novel published by Dr. Srikumar Banerjee, 1938), contains exactly two chapters, that clubs together the writings of its women writers as women's literature. Thus in this book, such a rich and proud lineage of women writers is excluded from all other discussions on the growth of Bengali literature and not mentioned outside the women writers' role. This book remains as the standard text on the history of Bengali literature in university.
Similarly, Unnava Lakshmi Bai (Telugu) is said to have stormed out of a large literary meeting in the 40's with the remark "In a thousand years of Andhra literary history, couldn't you find even a single woman?" Even today, publishers, editors, critics and pandits who control Sahitya Academis and the markets harbor the same biases against women writers. They pick only those topics for women to write on that do not disturb the decorum of society. Writers in Malayali literature like Lalithambika Antarjanam were worn out, Saraswathi Amma stopped writing and Rajelakshmi committed suicide. Even today Garujada is hailed as the first "short story" writer in Telugu, rather than Bhandari Achamamba, despite conclusive evidence.
In the Gujarati workshop, "Don't disturb the beehive" was a common sentiment amongst Gujarat women writers. In a situation where most writers and critics are male, women have found it hard to establish themselves without a male mentor. Similarly Kannada women writers noticed the lack of autobiographical work in Kannada literature, especially by women. They found that censorship and patriarchy were imposed by other women writers as well who disapproved of frankness in writing, as in the case of Shashikala Veerayya Swamy. There is also a tendency amongst women writers to bask in the approval of powerful men and this leads to a lack of comradeship amongst women who write.
One label that is easily attributed to women's work is that they 'only speak about women' and are often perceived as 'feminist' and hence disrupting the established family structure and peace at home. The most unacceptable women writers are those who are questioning every aspect of social order. The pillars of the community - marriage, motherhood, control of sexuality and traditions must be preserved for the interests of preserving the culture. Many sexist remarks are flung towards women who have ventured to write about women's sexuality and their bodies. Readers and critics treat similar literature from men and women writers differently. When Malayali writer Madhavi Kutty wrote on lesbianism, she was severely criticized; when a male writer wrote on the same topic, he was applauded. Mridula Garg (Hindi) was arrested on charges of obscenity for two pages in her novel Chittkobra in 1979 and Naseera Sharma (Hindi) lost her job at the Jawaharlal Nehru University for her book on Iran, and was hounded by fundamentalists.
Religious fundamentalism continues to militantly curb the freedom of expression for women, as noted in the Gujarati workshops by Jaya and Himanshi Shelat (Gujarati) who received death threats for their writings challenging traditions. Taslima Nasreen was forced to seek asylum outside Bangladesh. The community censorship of "what women cannot write" is perhaps best brought out in an example from Pradnya Lokhande where she tells us that Dalit literature accepts women opposing Manu and upper caste traditions, but brands them traitors when they challenge patriarchy within the Dalit community.
The Censorship within
The hardest challenges for most women writers come from within their families and often from themselves too! Women who write are anomalies in society. Years of subjugation and reinforced stereotypes of womens' roles in society paralyze most women writers' tongues. Despite changing attitudes, most families keep an iron clasp on women who write, and force them to conform to rules. Tamil writer Ilampirai's wrist was broken by her former husband for daring to write a poem about their divorce. When women write of broken marriages, lesbianism, these are immediately extrapolated to their personal lives. Hindi poet Anamika points out that she has imposed a 'spiritual diet' on herself. Family compulsions, to be a 'good' daughter, mother, wife, etc. have locked her into the 'good girl syndrome' that the majority of women writers suffer from.
Sometimes, resistance from within families is expressed as complete indifference towards the work and accolades of the women who write, as in the case of Telugu writers Abburi Chaya Devi and Sathyavati. In many cases, these women are afraid to feel proud of their achievements, lest it destroys the fine balance of harmony preserved with their families. Urdu poet Bano Tahira's poignant lines - "I have no wings" epitomizes the experiences of these writers - fear of disapproval, loss of reputation, and finally lack of acceptance of their creative art - forces them to self-impose censorship. Self-censorship is self-inflicted pain for most women who write. For many women, writing is a form of catharsis of their pain and oppression. The writers shared many heart-rending stories - how they stole time from their household chores, from their families, and wrote secretly. How they were mocked and ridiculed, chided and censored and in some cases punished for their defiance - and yet they wrote; unbridling the spirit that urged them to pick up the pen, to voice their creativity, idealism, conscience and pain.
In our society, women lag in education, read infrequently as a result of being pressed into family duties, and do not have the same breadth of freedom to express their views. The challenges and gender biases that exist in all professions exist for writers as well. Women's roles are first defined and established within the rules of traditional society and those who break away from these face public criticism. Women speak their minds differently from men. The emotions conveyed in their writings, the issues raised by them are to be viewed in an accepting light as legitimate concerns touching half the world's population. It is to be recognized that women speak from within constraints of societal pressure and the complexities of emerging from within themselves into new roles outside the traditional mold.
The enthusiasm and the camaraderie generated by the Asmita workshops is a reminder to Indian literature that the 'guarded tongue' of women in writing, when set free, has begun to demand its fair share of acknowledgement, support and recognition from peers, readers, families and the society around them.