Amarwara (Madhya Pradesh) - Near a rain-washed teak forest surrounded by the gentle Aravali hills, 35 women gather in a small school called 'Happy Hours'. They have temporarily left behind their homes and their lives as mothers, wives and daughters-in-law. These women - all of them elected representatives - are training to be leaders.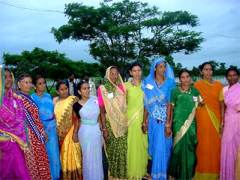 Panchyat women ready for their training. Pic: Madhu Gurung.
They are the first batch of students at The Hunger Project's Aagaz Academy ('Aagaz' means a new beginning) in Amarwara, Madhya Pradesh, an institute set up to train women panchayat (village council) leaders. Over five days, these women will learn self-empowerment, constituency building and technical competencies that will be their roadmap to good governance. (The Amarwara academy, set up on July 25 is the second Aagaz campus; the first one was set up in Lunkarnsar, Rajasthan July 20.)
Of the 35 women, 21 are panchs (members of the village panchayat) and 14 are first-time sarpanchs (head of the panchayat) from three districts of Madhya Pradesh - Chhindwara, Seoni and Hoshangabad.
All-India statistics collected by The Hunger Project, which works with elected women representatives, show that in the 12 years that women have had a 33 per cent reservation in panchayats, a total of 3,099,432 panchayat members have been elected. Of these, 890,718 are women and 80,000 of these women are sarpanchs. However, years of social conditioning, little or interrupted education and scant exposure to decision-making leaves a large number of women feeling inadequate in their leadership roles. There are no institutions that can assist them in acquiring the required leadership skills. For the bureaucracy, reservation equals empowerment, and so their work is done.
Years of social conditioning, little or interrupted education and scant exposure to decision-making leaves a large number of new women village leaders feeling inadequate in their leadership roles.


• Gender revolution after white
• Parliament still a man's world

For the women, though, the road is rough. Years of being under the shadow of male relatives has left them without a voice. This was amply clear in the very first session, when women were asked to introduce themselves. Not one of them introduced themselves as a panchayat leader. They introduced and identified themselves by the social roles in which they were slotted.
Seema Sadik, Anchor of the Amarwara academy, narrated their experiences at the concluding session. She said that the first day was most difficult. The women were nervous and restless; they would hover near the telephone, look longingly at the gate, wanting to flee home. They only spoke to others from their district. But gradually, they relaxed, said Sadik. She went on: "In the evening, when we got out the bicycles and told them that anyone could learn to cycle, some women hitched up their sarees, saying "Oh, as children, we could ride 'kanchi cut' (cycling below the handle bar). Now I want to use the seat."" Sadik added that some others played 'sher-bakri', turning rowdy as they rooted for their friends. By day three, family took a backseat and camaraderie took over. "Now they are brimming over with confidence. Just a few days ago, they wouldn't speak a word; now they want to be heard," she concluded.
Sadik and her team of facilitators - Maya Dhruve, Vishnu Dayal Dehariya and Mohammed Rafiq Khan - all agree that they feel like proud parents who "have just turned on the tap and taken a backseat". Sadik recalls the first time she handed over a cellphone to a sarpanch: "Her hands were trembling. She had never spoken on a phone before. On day five, she stood up and said, 'No one ever taught me things I wanted to learn. Now I am confident I can do the work I have been chosen for. I always wanted to do something worthwhile, but never knew what. Now I know.'"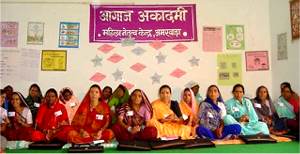 Gathering for a photo-op. Pic: Madhu Gurung.
Meanwhile, other sarpanchs were practising the speech they intend to give during the Independence Day celebrations. They are determined to make the most of this opportunity.
The women panchs also worked on preparing a daily paper - 'Jagriti' - which was read aloud in class. Jagriti summed up their activities, forecast the day's weather, zodiac predictions and shared recipes, bringing it alive amidst laughter, impromptu songs and endless applause.
Sadik and her team are planning to schedule the second phase of the training for October or November, depending on the dates that are convenient for everyone. They want to ensure that everyone turns up for that round, and are planning to hold separate meetings in all three districts in September to motivate the women. They believe that at least 90 per cent of their first class will return.
The second phase regardless, the many experiences that the women shared among themselves are bound to remain. Each woman has a story to tell, of hurdles and troubles, and yet, the stories are also a celebration of their spirit.
Meena Bai Mehra, 45, sells bangles for a living, and supports her family of four children and an unemployed husband. Orphaned at two, she never went to school and was married at 13. For the past 18 years, she has been selling 'suhaag ka saaman' (marriage materials), roaming from village to village. 'Churiwali bai' (the bangle-seller woman), as she has come to be known, is well-known throughout the area. Mehra won at the panchayat elections by a thumping majority in her village Resalpur, district Hoshangabad, when she contested on a reserved seat.
Mehra's homely face breaks into a wide smile as she says, "Bai, I cannot write my name even, but after these five days, I understand how a panchayat is run." Mehra says that for uneducated persons like her, life is a big teacher. She learns by hearing and watching, and then she knows how to do things. "What I learn, I never forget. You watch me, Bai, in the next elections, I will stand for sarpanch. I feel I have only just started." (Women's Feature Service)