The day the drums start to beat, residents of Navgaon in Anandpuri block of Banswara district in the desert state of Rajasthan, immediately know it is a Thursday. And it is no ordinary Thursday; it is that one day in the month earmarked as Mother and Child Health Nutrition (MCHN) Day. Women start queuing up at the anganwadi centre, waiting patiently to access health services provided by the government. Whether it is for ante- or post-natal care, routine immunisation, distribution of vitamins and folic acid tablets, or for dispensing information on reproductive health, the village anganwadi centre is buzzing with activity.
While this may not seem like an extraordinary occurrence elsewhere, in Banswara district this intervention to increase access to health services is making the difference between life and death for scores of women and children. The district recorded the highest number of deaths of children in the age group 0-5 years and the second highest number of maternal deaths in Rajasthan in 2011-12.
One of Rajasthan's most backward districts, Banswara has a predominantly tribal population that is dependent on agriculture as the main source of income. In Anandpuri block, villages are scattered across the hilly and remote terrain and often fall off the government's developmental radar. Female literacy stands at a mere 27.9 per cent, a big reason for the low awareness of health schemes among women and their right to access them.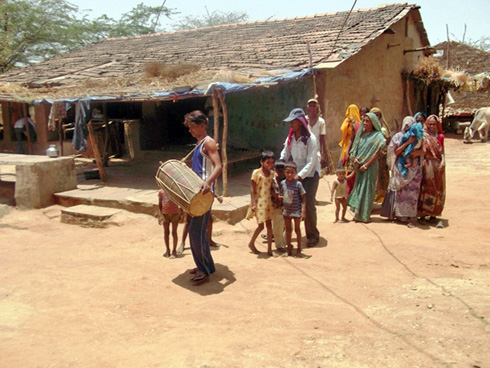 As the drums start to beat, residents of Navgaon of Banswara district in Rajasthan, immediately know it is Mother and Child Health Nutrition Day. Use of traditional tools like the drums was initiated by the local panchayat. Pic Courtesy: Chetna
Of course, sustained efforts of panchayat (local government) members, who have been working closely with local civil society organisations, have had a positive impact on health awareness and pursuit among the people of the region and the Navgaon experience only underlines this.
It was as late as 2010 that villages in Anandpuri block started to hear more about their health rights when an initiative to address the lack of communication about the various services available under the National Rural health Mission (NRHM) was launched by the Ahmedabad-based Centre for Health, Education Training and Nutrition Awareness (Chetna) as a part of its work with the Communication for Health India Network (CHIN), a group of NGOs working on health.
The initiative has been implemented in 794 villages of select blocks in Alwar, Banswara, Churu, Karauli and Udaipur districts that were chosen on the basis of their poor health indicators - high infant and maternal mortality, low rate of immunisation, poor antenatal care (ANC) and institutional deliveries.
Meenakshi Shukla, Deputy Director, Chetna, explains that a needs assessment carried out in 2009 - at the start of the three-year initiative - revealed that 1,800 pregnant and nursing mothers wanted information on public health services and entitlements, particularly that relating to the Janani Suraksha Yojana, Balsakha Yojana, Chiranjeevi Yojana, and MCHN Day. They were unaware about whom to contact at the village level for such information.
It was also clear that frontline health workers such as the accredited social health activist (ASHA) and members of the Panchayati Raj Institutions (PRIs) as well as Village Health and Sanitation and Nutrition Committees (VHSNCs) lacked clarity about their role in facilitating access to maternal and child health entitlements provided on MCHN Day. Around 148 VHSNC/PRI members and 227 ASHAs in the five blocks expressed ignorance regarding their roles and responsibilities.
The few women who did come out of curiosity were disappointed on being told that the drums were not beating to invite them to a village celebration but to urge them to avail of health services. But Masar was not deterred. He continued to beat the drum on MCHN Day every month.

To overcome this hurdle Chetna undertook some steps. "Our local partner in Banswara, the Association for Sarva Seva Farms (ASSEFA) interacted closely with panchayat members to explain to them the importance of their role in improving awareness of health programmes, including MCHN Day," states Shukla.
But after Vijender Dosi, block in charge, ASSEFA, held several meetings with the panchayat members, he realised that none of them had accurate information about the funds available for propagating health schemes. Recalls Dosi, "The untied funds allocated to the VHSNCs under the NRHM for the promotion of MCHN Day remained unutilised because the panchayats did not know how to use it. We told the panchayat members, many of whom were also part of the health committees, that they could use this annual sum of Rs 1200 to spread awareness on health schemes and that this would have a positive impact."
From this sustained interaction emerged an unusual champion of women and child health - Devilal Masar, a member of Navgaon panchayat. Realising that many of the local women would be unable to read the government's communication material on health services, he hit upon a culturally appropriate strategy. He decided to use drums - traditionally done as part of religious functions - to promote MCHN Day in four villages.
Initially, the response was poor. The few women who did come out of curiosity were disappointed on being told that the drums were not beating to invite them to a village celebration but to urge them to avail of health services. But Masar was not deterred. He continued to beat the drum on MCHN Day every month. Slowly, the number of women who responded to the drumbeats began to grow. As word spread, attendance also increased dramatically.
The success of approach led the sarpanchs of six more villages to adopt this strategy where, according to Dosi, the beating of drums has pushed up the numbers of women accessing health services on MCHN Day.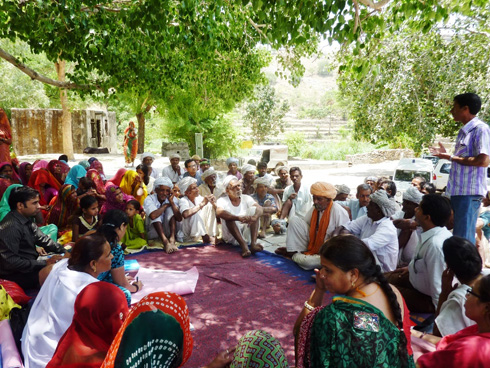 A meeting being held by members of Panchayati Raj Institutions on the importance of MCHN day. Pic courtesy: Chetna
Another impact of the participatory communications strategy evolved to mobilise panchayats was seen in Churu district. Just how important health services are for the women and children of Churu is evident from the fact that the Maternal Mortality Rate (MMR) here is a very high 343, while Infant Mortality Rate (IMR) is a grim 55. Clearly, ignorance about existing government health schemes had had a tellingly negative impact.
In addition to the lack of knowledge, what Shikshit Rojgar Kendra Prabandhak Samiti (SRKPS), Chetna's local NGO partner in Churu district, found was that poor sanitation was clearly a serious concern. The broken-down bathroom at the anganwadi centre in Sirsili village of Churu block had become a cause of worry for the parents of the children enrolled there. They were afraid that their children would get hurt or fall ill if they used the bathroom. Even the number of women who visited the centre during MCHN Day started declining because of the lack of access to functioning toilets.
Some vocal community members did raise the issue before sarpanch Ramniwas Saran but their words fell on deaf ears. On MCHN Day, when an SRKPS activist spoke to panchayat members about the declining attendance, they were told that there was no money to get the anganwadi's bathroom repaired. "We realised then that in Churu, too, panchayats were unaware of the importance of untied funds provided under the NRHM," says Shishir Kumar, block coordinator, SRKPS.
After identifying the gaps in information, SRKPS block link worker, Saroj Devi, not only spoke with the sarpanch and panchayat members about the significance of MCHN Day but also explained how funds could be used to get the toilet rebuilt. Armed with this information, the sarpanch swung into action. The toilet was functional within a month. As expected, attendance at the anganwadi increased dramatically - by almost 80 per cent - leading Saran and panchayat members to accept the principle that health care delivery was an important part of their responsibilities.
In fact, so inspired was Saran that he shared his experience in the monthly meeting of the panchayat samiti at the block level. The block development officer who was present at this meeting asked all sarpanchs and panchayat samiti members as well as zilla parishad members to participate in MCHN Day proceedings and fully utilise the untied funds available, just as the sarpanch of Sirsili had done. Moral of the story: Health is central to the welfare of the community and panchayats have a key role to play in delivering it.(Women's Feature Service)