After India's first nationwide lockdown was announced on March 24, 2020 a flurry of important, rapid research was conducted by multiple private, public, and social sector organisations to understand the effects of the pandemic. This spanned a range of topics - the movement and plight of migrant workers, the financial fallout of the crisis, the role of government entitlements, etc. Notably missing, however, was large-scale data and research that focused on how the pandemic was specifically affecting women.
We know anecdotally that women tend to step up and lead during major crises - e.g., organising health response efforts, caring for children and families, providing community support, etc. But they are affected differently and often disproportionately experience the negative effects of crises compared to men. We therefore designed one of the largest studies on the socio-economic impacts of the Covid-19 pandemic on women.
We focused our study on women from low-income households, and for this we chose families with PDS ration cards. The study was phone-based, and was carried out as a combination of a 25-minute questionnaire for all respondents and 45-60 minutes in-depth qualitative interviews for select respondents. It includes perspectives from nearly 15,000 women and 2300 men from low-income households across 10 states, surveyed during October-November 2020. It captures their experience through India's nationwide lockdown in 2020, and the months immediately following it.
Impact on women
The pandemic continued to have a significant impact on women's lives nine months after it first hit in India in March 2020. One out of four women were yet to meaningfully recover their paid work, were limiting food intake, and/or were unable to access essentials like pads and contraceptives.
We estimate that nearly 8.7 M women who were working before the pandemic remained out of work as of October 2020. Moreover, women experienced a deeper loss and a slower recovery in paid work compared to men - women made up 24 per cent of those working before the pandemic and yet, they accounted for 43 per cent of those yet to recover their paid work. More women reported an increase in unpaid work and a decrease in rest than men. This was true across age groups, marital status and employment status. At the same time - and perhaps in part because of the increase in unpaid work - far fewer women than men (16 percentage points) reported an increase in rest during the pandemic.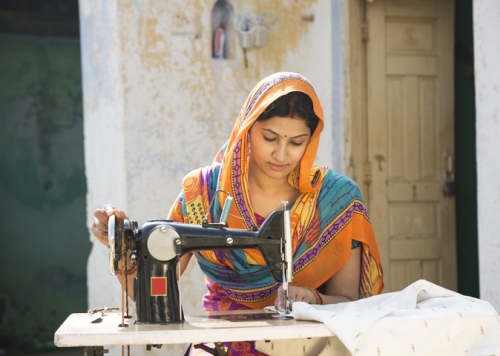 A small number of women report continued food deprivation and limited access to menstrual supplies and contraceptives through the pandemic. The pandemic has further exacerbated women's nutritional challenges. More than one in ten women - an estimated 32 million - limited their food intake or ran out of food in the week they were surveyed. An additional equal number of people were worried about food sufficiency in their households, but had not yet had to limit food. Given Indian women's poor nutritional outcomes pre-pandemic, such deprivation probably compounded pre-existing women's poor nutritional outcomes.
Women's access to menstrual pads decreased. One-sixth of women who used menstrual pads prior to the pandemic had no or limited access to menstrual pads between March and November, primarily because they could no longer afford these items. This probably led to higher risk of contracting reproductive tract infections, urinary tract infections, and higher susceptibility to cervical cancer. Our qualitative interviews suggest that many of the women who had to cut back on usage are experiencing many of these adverse effects on their menstrual health and general welfare.
Access to contraceptives fell. More than one in three married women were unable to access contraceptives, primarily due to concerns about health and hygiene. Access to female sterilization treatments dropped significantly, and the pandemic also affected the supply of contraceptives. Data from Health Management Information System (Ministry of Health & Family Welfare), predicts an additional 2.4 M unintended pregnancies through the first 6 months of the pandemic, a high proportion of which is expected to be among low-income women due to their lower levels of access.
Notably, women did not face sanitation issues. Approximately 4 per cent of women in our sample faced decreased access to toilets at a rate similar as before the pandemic. This was a bright spot as most (92 per cent) women in our sample had access to their own toilets.
More women from historically marginalized groups were affected in the areas we studied. Women from lower-income households, Muslim as well as migrant women, and single separated/divorced women were among the hardest hit. Women in lower-income households lost 3-7 percentage points more of their income than all the women in our sample; this difference was 13 percentage points for Muslim women and 10 for migrant women. Women from lower-income households were also slow to recover both their paid work and income. The extent of food deprivation and limitations in access to pads were also higher for some of these segments.
Government programs and self-help groups
About one in three women considered the government's support most crucial in weathering the crisis. This is likely because of the multiple schemes the government built on and leveraged during the pandemic. For example, it launched an INR 1.7 lakh crore relief package under the Pradhan Mantri Garib Kalyan Yojana (PMGKY) to bolster existing welfare schemes. The relief package supported cash transfer into Jan Dhan accounts, increased the MGNREGA wage payment, and doubled collateral-free loans for SHGs. Specifically, MGNREGA, Jan Dhan, and PDS supported 12 M, 100 M, and 180 M women respectively during the crisis.
MGNREGA has been particularly beneficial for women, highlighting the importance of designing welfare schemes that focus on women. Women were as likely as men, if not more, to get MGNREGA work when they applied for it. Historically, official data shows that women account for more than half of MGNREGA workdays; this is in stark contrast to the high gender disparity in other rural employment. Besides its vital role in supporting rural women enter the workforce, MGNREGA has also been associated with an increase in women's empowerment and a reduction in the gender wage gap.

The SHGs network also continued to serve as a reliable borrowing channel for both its members and women in the community. SHG members saw a higher borrowing rate than the average for women. Apart from SHG members, other women also stated a preference for borrowing from SHGs, rather than borrowing from family. However, this SHG support and positive impact on borrowing ability did not translate to other economic outcomes, such as resilience of employment and income.
The extent of and disproportionate impact of the pandemic on women has highlighted the importance of anticipating their distinct needs and challenges, especially in times of crisis. Our study has confirmed what many expected - women were disproportionately affected by the pandemic's negative effects. While the government played a critical role in supporting women through large-scale welfare schemes, these efforts did not sufficiently account for the needs and barriers faced by women. As we look ahead, we need to address this gap - both in the existing government machinery and additional support systems that could be established to support recovery of women.