Nagpur, August: "A huge transformation is taking place in Vidarbha; the milk collection has risen by 37 per cent after the implementation of two relief packages for farmers," says the Maharashtra Government's monthly journal, Lokrajya, in its July issue.
Only, the 37 per cent milk collection translates in actual terms into 16,600 litres a day from the 14,221 'half-jersey' cows distributed by the government under the two royal packages; or an unimpressive 1.16 litres per cow per day, going by the figures.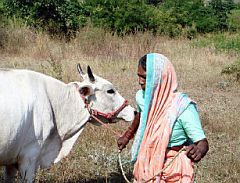 Kamlabai Gudhe with her prime minister's 'package cow' in Lonsawali village, Wardha. File pic: Jaideep Hardikar.
After a year of the prime minister's and chief minister's relief packages and having spent crores of rupees, each of those 'princely' cows isn't adding even two litres to Vidarbha's already appalling milk collection per day – some 65,000 odd litres in the six affected districts – up from 48,000 in 2005-06. Compare that with the milk collection in western and north Maharashtra's ten districts: between 60 lakh litres and 1 crore litres a day!
But the state government has already begun to drum the "rising graph of milk production" as one of the success stories of two packages, notwithstanding the simultaneously rising graph of farm suicides – 600-plus since January 1, 2007.
Maharashtra's dairy development minister Anees Ahmed calls it a "revolution; a beginning of Vidarbha's transformation through the allied dairy business."
"Mahatma Jyotiba Phule and Sant Tukdoji Maharaj (among the state's foremost reformers) had long ago explained the importance of allied business to farmers. The ideas of these statesmen are now taking a shape in the land of Vidarbha through the two packages and yielding good results," the journal goes on to add.
Quips Kishor Tiwari of the Vidarbha Jan Andolan Samiti: "If these two reformers were alive, they would surely have been shocked by the results of the scheme!" "We had said the packages won't help and cow was certainly a burden, because a farmer has no fodder to feed a cow. The Vidarbha figures are embarrassing, but if the minister is boasting of this rising graph, I am surprised," Tiwari remarks.
Further: The government claims the project has "helped bring back the reign of Bali Raja." (A farmers' king in folklore, in whose time prosperity prevailed.)
After a year of relief packages and crores of rupees of expenditure, each of those 'princely' cows isn't adding even two litres per day to Vidarbha's already appalling milk collection.


• Burning down sugarcane crops
• And meanwhile in Vidarbha

Dadasaheb Rode, a veteran in dairy business in Yavatmal, differs: "Well… cows actually increased the burden of the already indebted beneficiary-farmers."
"A farmer has to spend a minimum Rs.80 a day on tending a cow, so it has to yield at least 12 litres of milk a day, in order to fetch Rs.40," says Dadasaheb, who has for the last three months stopped his milk collection business in owing to what he calls "phenomenal losses in transportation." He says milk production has dwindled in many parts of six districts. "In fact, we now import milk from the neighbouring Andhra Pradesh apart from the dairies in western Maharashtra."
Clearly, the 'relief cows' have increased the burden of the beneficiaries, many of whom have sold the animal to those who had the livestock, or simply given it to some one in the village for maintenance at a nominal monthly sum, says Rode.
As Kamalabai Gudhe, a farm widow and beneficiary of cow scheme in Wardha district, puts it: "I was unable to feed the 'package-cow'. And we had no past experience of milking it. So I've given it away to a cow-herder in the next village. Otherwise, either I would have eaten the cow, or the cow would have eaten me."
But Lokrajya goes on with the brighter picture: "The farmers are flush with cash more regularly now. Their daily financial problems could be solved. They do not need to wait for their crops to grow."
A rough calculation suggests the 14,221 cows have cost indebted farmers over Rs.7.5 crore, this – excluding the maintenance cost between Rs.80 to Rs.150 a day. A farmer pays Rs.5500-7500 per cow, while the government pays the rest.
And maintaining these cows would cost Vidarbha's bankrupt farmers over Rs.50 crore a year, for 1.16 litres more a day. If fully carried out, both the governments would together have spent Rs 165 crore on the scheme in three years. "This one's the costliest scheme in the world," says Mohan Jadhav of the VJAS.
Senior officials in Amravati insist that the total collection might be much higher. "They could be selling more to private buyers," says one. Counters Jadhav: "If farmers are doing better with private buyers, why would they sell these 16,000 litres to government and lose lakhs of rupees each year."
But the government is gung-ho about the success stories! Take this one – Washim district, says Lokrajya, saw "an increase of 328 per cent in milk collection." True, but the earlier collection of entire district was just 700 litres a day – now it is 2300.
"People do not keep cows because there is no fodder and no water. Nothing in the packages has changed that," says farmers' leader Vijay Jawandia in Wardha. "There was no real promotion of Jowar, which would have brought the fodder."
Meanwhile, buoyed by the "success", Ahmed vows the cow programme would not suffer. The State would increase the money it spends per cow to Rs.20,000 to reduce farmers' financial burden. "What's more, in order to increase farmers' awareness, we are undertaking Chetna Dindis (rallies)," the minister boasts. There's no stopping the farmers from milking the cows! Or, just the other way!