Rejiya Begum (24), mother of a child and Maslima Begum (39), a mother of four did not know how to make both ends meet until they heard about the unique 'Water Hyacinth (Eichhornia Crassipes) Craft.' From being zero income housewives nearly two years back, these two women of Barpathar village in Sipajhar area of Darrang district in Assam now enjoy a modest living by making a wide range of eco-friendly products out of dried stems of water hyacinth, contributing to a major share of their family income.
The innovative craft developed and introduced by the North Eastern Development Finance Corporation Ltd (NEDFi) has helped improve the socio-economic status of the rural poor, enabling them to make eco-friendly products out of this water-weed and providing a new genre of artisans the required sustainable market support. Rejiya and Maslima are among over a thousand such rural artisans and experts, mostly women of different tribes and communities throughout Assam and the Northeast, trained by the NEDFi to take up this new craft for augmentation of their family income.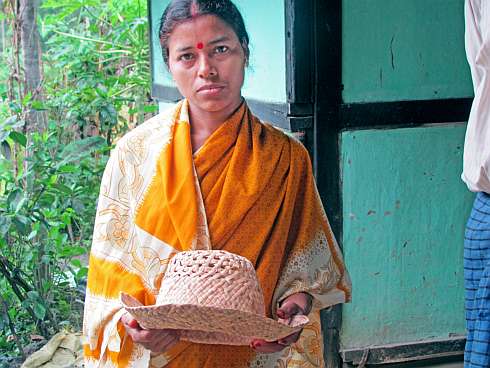 An artisan with a cap made of water hyacinth. Pic:Ratna Bharali Talukdar
This unique eco-friendly project of NEDFi has proved to be a success story - it has transformed the lives of the rural poor and at the same time turned the water hyacinth from being merely a wild water-weed to 'pearl of water' since 2008. Unlike many other experiments with eco-friendly products developed and designed as sustainable livelihood options, the unconventional and innovative water hyacinth craft has gained popularity among artisans within a very short period of time.
'We can now earn Rs. 200 to Rs.250 if we can work for eight hours a day. However, as we have to attend to all household chores too, we can work for only around 5-6 hours each day. The more we work, the more we earn. We usually make hats and fancy bags from water hyacinth stems, which sell like hot cakes in the market,' says Rajiya and Maslima. Their earning became crucial for their families, especially while availing soft loans for raising their tin-roof houses, getting LPG connections, electricity connections and financing studies of their children and enabling access to quality education.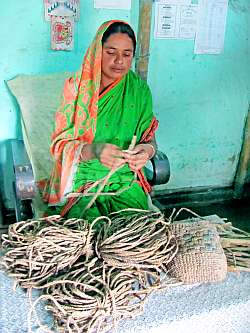 The craft is highly flexible as there is no fixed time for the artisans to make their products. It is also less laborious than other work available in villages, such as daily wage earning jobs or jobs as agricultural labour. Further, artisans need not come out of their house in search of jobs.


• Where woodcraft is a way of life
• The key to the handloom crisis

The craft is highly flexible as there is no fixed time for the artisans to make their products. They are free to work at any time that is convenient for them, whether day or night. It is also less laborious than other work available in villages, such as daily wage earning jobs or jobs as agricultural labour. Further, artisans need not come out of their house in search of jobs. These are some of the reasons behind this craft receiving such prompt and wide acceptance among the rural women.
NEDFi has also introduced the district 'mentor' to help the artisans, regularly visit them, guide them to improve the quality of their products and finally collect their products for sale. The mentors also create awareness among the artisans regarding the need for small savings. The NEDFi officials organise regular meetings between mentors, master artisans and the marketing team to discuss introduction of new technology, review of prices, and other matters relating to the craft.
Neelim Kumar Bhuyan, the mentor of Darrang district and who is also a master artisan with training from the National Institute of Design, Ahmedabad, says there are 150 skilled artisans in the district. On an average these artisans produce products worth Rs.1,00,000/ every month. This means, on an average an individual artisan earns over Rs.6500 per month, which is a modest income for any village women. Apart from these skilled artisans there are over 300 unskilled artisans in the district. NEDFi arranged phase-wise training programme for these artisans. Introduction of Artisan's Cards for skilled artisans is another innovative idea that helps them to keep records of sale and payments, he says.
NEDFi has its own 'Craft Gallery' to showcase and store products of artisans in Guwahati, the largest city of Assam, and a permanent exhibition platform named 'NEDFi Haat' in the heart of the city, which is a popular space for customers. Water hyacinth products are the most sought-after in regional and national exhibitions as well. There are a number of showrooms for these at different places. A raw material bank at the Technology Resource Center (TRC) located in Khetri area of Kamrup (Metro) district is also coming up to meet the gap of water hyacinth stems during winter months. With more artisans taking up this craft gradually, a supportive market for providing raw-materials, too, is evolving.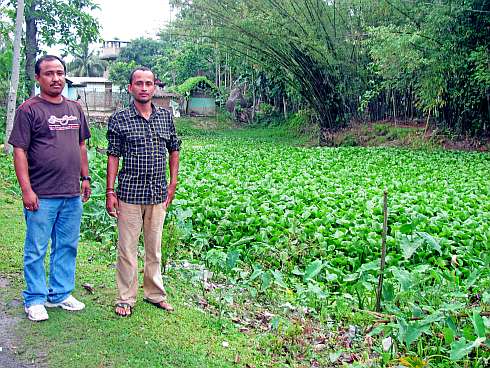 Chandra Kumar Das and Nilim Kumar Bhuyan near a pond full of full grown water hyacinth. Pic:Ratna Bharali Talukdar
'Making articles out of water hyacinth was a whole new approach, as no one could imagine the great potential of this water-weed, easily available and the overgrowth of which in water-bodies often created a menace. Our initiative was to create wealth from this menace. But we were in a great dilemma and uncertain about the success and acceptability of such experiments,' says Asim Kumar Das, Assistant General Manager NEDFi, who is in charge of the integrated programme for development of water hyacinth craft in North-east. Das is happy that within four years of initiation of the project in 2008, when its first training programme mobilized 21 artisans from different pockets of Assam, NEDFi earned the prestigious Rural Innovation Award from the National Bank for Agriculture and Rural Development (NABARD) in 2012.
Today, the water hyacinth project covers over 1,300 skilled and expert artisans in the five northeastern states including Assam, Arunachal Pradesh, Meghalaya, Tripura and Manipur. However, the project has become most successful in some districts in Assam including Darrang, Nalbari, Nagaon and Dhubri with more and more artisans coming out to adopt the craft.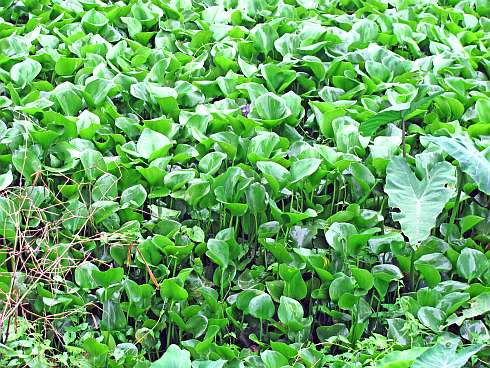 Water hyacinth, an easily available raw material . Pic:Ratna Bharali Talukdar
Irregular supply of cane and the high cost entailed in bamboo crafts - the two major handicraft traditions of Northeast India - led NEDFi to search for options for low-cost and easily available raw-materials like banana fiber and water hyacinth that could enable a sustainable livelihood option for rural artisans engaged in these crafts. The water hyacinth craft immediately gained popularity, as it requires minimal effort to produce the dried stems needed for making eco-friendly products for both regular use and decorative purposes including bags, hats, basketry, slippers, mats, lamp-shed, and ornaments among others.
Following a series of programmes for skill upgrade, a section of these artisans have started making even sofa-sets with centre tables from this water-weed. Artisans could easily bring their skill of cane and bamboo craft to bear upon their endeavours with water hyacinth, as the dried stems of this water-weed, grown abundant for about eight months in ponds, wetlands and other water bodies, can be easily weaved just as for cane and jute products. NEDFi has organised a series of programmes for master artisans including sending artisan teams to National Institute of Design, Ahmedabad and introducing Thai technology through an expert from Thailand since 2010. In addition, it has also arranged local training programmes for unskilled artisans.
"The objectives were to provide the artisans a supportive market as well as set up credit linkage. It also aims at establishing methods for continuous transfer of latest technology and designs and constant monitoring of its progress. However, one of the most unique achievements of this programme is that NEDFi has been able to empower these rural artisans by projecting them as 'Brand Ambassadors,' says Chandra Kumar Das, Marketing Executive of NEDFi, who has been closely associated with artisans and district monitors since the inception of the project. The projection of artisans as Brand Ambassadors also helps showcase water hyacinth as an affordable utility product for regular use.
The craft also gives opportunities and freedom to a large number of artisans to move to different corners either to avail skill-enhancement training or to sell their products directly in different trade-fairs.
"I was so happy when, from the first payment of products made out of water hyacinth, I could repay a private loan of Rs.7000 at the rate of 5 per cent interest per month, which I took when my husband had to undergo an eye-operation. Last monsoon, when my husband could not earn for a longer period due to dearth of work and high flood, our family could survive from the money I deposited through making water hyacinth products. Water hyacinth not only gives us opportunities for earning, but also provides a meaningful life for us,' says a proud artisan Manjula Chamua, and wife of a daily wage earner.
Every single artisan taking up this new craft, most of them women, has many such stories to share. Individual success stories speak volumes about the bigger success story of NEDFi's initiative.