Now here's a town that is in transition between being a village and a town. With a population of 32,495 (2001 census), Janjgir falls within the definition of 'urban'. But there's little in this Chhatisgarh municipality that can define it that way, except for one main road from the station and the fact that it is the district headquarters.
Like 'station' roads typical of other small towns, this road hosts an assortment of shops and eating-places. There are no cinema halls in Janjgir and nothing than could be called a restaurant. But there are two internet cafes and BSNL now provides broadband services. Yet, it is apparent that this is not a town with much wealth. In fact, 25 per cent of its population lives in slums or slum-like conditions.
One such slum is Shanti Nagar, consisting of families who were displaced from the area around the 12th century Vishnu temple, a strangely beautiful structure with intricate carvings that is mentioned as one of the major attractions of Janjgir. In 1997, Bhima Talab, the pond adjacent to the temple was cleaned up and the families who lived around the pond were compelled to move.
These are residents of the Shanti Nagar slum, a location where they were promised all basic services - water, electricity, paved lanes, sanitation - ten years ago, but for which they continue to wait. They were given pattas to the land on which they live. That is the only promise that has been fulfilled. Today, in addition to the original 87 families who were moved from Bhima Talab, another 100 or so have made Shanti Nagar their home.
Most of the residents of Shanti Nagar are daily wage labourers. Their colony has only five hand pumps to meet the water needs of almost 200 families. There are electric poles, but most of the connections are stolen from these poles. And there are no toilets. A few families have built toilets behind their houses with government subsidy.
As you approach Shanti Nagar, a narrow strip of "concrete" symbolizes Development with a capital D. The road is about 10 feet wide and comes to a sudden halt after about 30 feet. The local people proudly tell you that they monitored the quality of the road and caught the contractor cheating. This was done by the vigilance committee created as part of the local mohalla samiti that PRIA (Participatory Research in India) helped set up. But what good is a road if it is above the level of the houses on either side of it? It will simply ensure that come the rains, these houses will get flooded.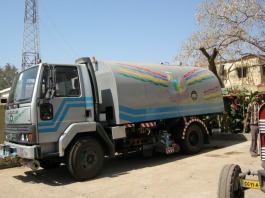 The town did not have money at the end of the financial year to pay the municipal workers. On the other hand, she says, the council seemed to have enough money to buy a special street-cleaning vehicle.


In fact, this kind of concrete road is a feature in many small towns. Instead of leveling the old road, a new road is built on the old road. As a result, over time the road rises higher, causing the area around it to appear sunken.
Pati parishad
The ward councilor of Shanti Nagar is Prabhaji or Prabha Devi Tandon. Her constituents have rarely seen her. The only person who visits them is her husband, a businessman who has set aside all his work to take care of his wife's responsibilities.
Prabha has studied up to Standard 9. But when you go to meet her, the 'Pati Parshad', her husband, does all the talking. He is not embarrassed to be called Pati Parshad. He says he had been elected from that ward in two previous elections but when it became a reserved seat for women, he decided to field his wife to carry on the "family tradition". Did she have a say in this? Probably not.
He has heard that in the next election, the seat of chairman of the council will also be reserved for a woman. So he plans to field his wife, a woman who has not stepped out into her constituency till we went there and insisted she accompany us.
Prabha is quiet, but not dumb. She understands what's going on. And she silently bears the taunts of the other women who ask her why she has deigned to step out at last. In whispers, she explains her majboori. "I have to cook for my two children, 5 and 7 years old and my husband in the morning, and then for my father-in-law who lives separately but insists on my food. So I take it across to him. Only after that do I get to eat. And I clean the house and wash the clothes. By then the children come back from school and I must feed them again. Then cook food for the night and take some across to my father-in-law. Where is the time to meet my constituents?"
And even as the women from Shanti Nagar continue complaining about her, she tells me that she has ensured that all the families have ration cards. "At least they should acknowledge what I've done", she says.
Prabha Tandon is a typical example of a woman with some education who has entered electoral politics through the municipal route. She has the capability of learning and doing more. But the constraints within which all women, particularly younger married women, operate prevents her from doing more even if she wanted to do so. It is also clear that she has no say in whether she stands for elections or not, and if she wins, whether she does anything or not. Her husband makes all the decisions.
The woman councilor for Ward No 6, Janjgir's "middle class" colony that resembles an upgraded slum is Laxmi Nirmalkar. She is very different from Prabha Tandon. She has been an active councilor, has been one of those who has benefited from her association with PRIA and says that in Janjgir, "We won't allow husbands of women councilors to attend our meetings, or to speak at them." She says that women councilors do speak up at the council meetings but acknowledges that if there is work in their ward, it is usually the husband who does it.
Her area has drains, paved lanes, electricity and good quality piped water. She has personally ensured that there is street lighting. But she also acknowledges there are problems.
Struggling for finances
Despite a system of garbage collection, people throw garbage in the drains from where the municipal worker has to collect it. Where there are no drains, people simply throw it out on any open plot in the vicinity. When a woman living in front of one of such plot that has become a garbage dump was asked how she could bear to live with so much dirt around her, she said, "What can we do? The man comes once a day. What should we do with the rubbish the rest of the time?" Clearly, the concept of storing garbage till it can be collected and disposed of has not been understood.
Laxmi also says that it is difficult to get funds from the municipal council. It did not have money at the end of the financial year to pay the municipal workers, she says. On the other hand, she says, the council seemed to have enough money to buy a special street-cleaning vehicle. "We have no pucca roads. How will this vehicle work?" she asks.
The President of the Janjgir Municipal Council, Motilal Dahariya, is extremely proud of the fact that Janjgir was given a grant from the State Government to purchase this special mechanical road sweeper. Sitting in his newly whitewashed office in the spanking new Nagar Palika building, Dahariya is the picture of authority. In Chhatisgarh, this post is directly elected. So Dahariya has no fear of losing his position.
He says that Janjgir has no problems. Everything is fine. During his tenure as Chairman, he managed to install a filtration plant for the water supply for which they had to take a loan. As most of the local funds go towards the interest from that loan, he explains, the Nagar Palika runs out of money to pay salaries on the last month of the financial year.
About the mechanical road sweeper, he says, "I admit we got it because our party (the Bharatiya Janata Party) is in power. No other town this size has got it." Out of the 21 councilors in Janjgir, there are 11 from the BJP. When asked how many roads the vehicle will be able to clean, he seems unconcerned. Others point out that there is only one main road that is wide enough to accommodate the machine. And this is unpaved on either side. So even as the dust is swept up, more will be deposited.
Dahariya says, "We have no sources for revenue in Janjgir. There is no factory from which we could have collected tax. We do have property tax and mandi tax. The water tax is fixed at Rs.50 per month, as there are no water metres. We also get octroi compensation from the state government. But we want the state government to write off the loan of Rs.5 crores we had to take for the filtration plant. Then our financial position would improve."
Typically, Janjgir has a poor base to raise finances and is heavily dependent on fund transfers from the state government. Municipal finance is an area that needs urgent attention. If small municipalities like Janjgir could secure sources of finance, they would be far better placed to serve their residents.