Karanji (Chandrapur) - A neatly-dressed bride and her groom, clad in simple apparel, sit facing each other before the portrait of Mahatma Gandhi. A boisterous gathering of boys and girls, men and women surround the about-to-be married. A couple of volunteers give final touches to the arrangements. Every one's now ready for the wedding.
Welcome to Karanji village (population: 3500), 65 km from Chandrapur in Gondpipri block of Maharashtra, where a lovelorn couple is about to tie knots and rise above the caste-lines. And it's about the 40th time that Karanji's modest villagers are playing host to such a wedding.
In the first week of January 2008, Karanji hosted representatives of 52 surrounding villages from this block for a week-long training and experience sharing of its stupendous story.


• Transformation of Kavthepiran
• Transformation of Mendha Lekha

Only last month, they hosted the marriage of Pravat Jatwa, a Thakur from Indore who works as a mason in Gondpipri, and Peruta Soyam, a Gond. Peruta was a widow and had a six-year-old daughter from her first marriage, but Pravat, who knew her for three years, wanted to marry her and raise the daughter as well.
"No wonder we are slowly gaining popularity as the Prem Nagari," chuckles a tall Tukesh Wanode, deputy Sarpanch and one of most respected villagers. "This is a great occasion for us once again," he says, "We've saved the lives of both."
In November last, a distraught Anil Vithoba Borme and his fiancé Chandrajyoti Namdev Kohapare thought the only way they could come together was death. "I was so frustrated that I would have committed suicide," says the groom. "There was - and still remains - an opposition to our marriage from our families."
While Anil is from Mali community, Chandrajyoti belongs to a forward Kunbi community. The bride's family would in no case agree to their marriage.
"They came to us two months ago and made an application that they wanted to marry but due to the opposition they were unable to. They wanted our help. So we called for a meeting with villagers and unanimously decided to do what we have always been doing. We decided to marry them off, here in our village," says the village Sarpanch, Prabhatai Khobragade. "There's no place for caste here."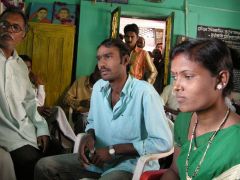 An inter-caste wedding at Karanji. Pic: Jaideep Hardikar.
Karanji distributed a common wedding card to the villagers, and the host was to be the dispute-free village committee.
Anil and Chandrajyoti are from a distant Ganeshpipri village. But when he heard about Karanji's inter-caste love-marriage committee he did not think twice before taking refuge with the gram sabha. The Gram Sabha responded positively after verifying the antecedents of the couple and talking to the respective families.
Even as Anil happily marries Chandrajyoti, their parents have shut the doors on the two. "No worries," say the confident villagers while wishing them a happy married life, "We'll convince their parents. The two are a wonderful match."
Karanji, a progressive paddy-cultivating village with a population of 3000 from all castes and creed, is today the first and last refuge for the lovelorn couples, who want to marry and rise above the rigid caste and religious lines. As villagers here put it, "It's a good trend for the society and we've resolved to encourage it."
It all began five-six years ago, when an inter-caste love affair stoked tension and bad blood between people of the respective castes. Village elders came together and convinced the couple's parents into marrying the two. The villagers hosted a big wedding function and reception collectively. It's a trend since in Karanji.
Says Sarnath Bakshi: "For us, it's always a reason for celebration. It brings all of us together, and automatically keeps the spirit alive. We think we are blessed." Villagers contribute to the expenditure, make the arrangements collectively and join the party without fail. Now, they have in place a committee for marriages.
The neatly-maintained Gram Sabha records show that Karanji has played host to about 40 inter-caste and love marriages in the past few years. Roughly one marriage is held every month, and the trend is spreading to other villages as.
The Sarpanch says the village has decided to hold the mass marriages from now, to cut down on wasteful expenditure and time. "You're all cordially invited."
The story of transformation
Karanji's is a remarkable story of transformation. From notoriety to popularity, the village took a 180-degree turn to set an example before the country.
As Police Inspector of Gondpipri block, S D Jadhav, reveals: "The turn around of this village is unbelievable. Till just about a year ago, it was the most notorious village in the area, where liquor flowed freely like a river and crime was an every day routine. Our constables did not like to come here, given its ruffled history."
It all began to change when the state government launched a campaign called 'Tanta-Mukta Gaon Abhiyaan' (dispute-free village campaign) on 15 August 2006. The campaign makes it mandatory for every village to set up a committee to redress disputes and quarrels, and resolve the old matters that are with the police. The committee in Karanji came into existence that day and that was when the transformation process began.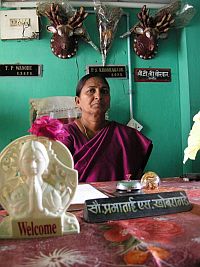 The Sarpanch, Prabhatai Khobragade. Pic: Jaideep Hardikar.
Things happened quickly, once the villagers took upon themselves to change the way things were. First, Karanji freed itself off liquor; then gutkha and other addictions and finally, all the disputes pertaining to personal and agrarian issues, without any prejudice. The trend to support love-marriages itself was already there, even while the village was notorious. The sarpanch argues that love is the soul of the village and that's why transformation wasn't impossible.
What's more, Karanji hosted representatives of 52 surrounding villages from this block for a week-long training and experience-sharing of its stupendous story in the first week of January. Karanji villagers are now consultants in this rural hub.
"Instead of going to other places to see progress we decided to reform our village and take strides towards prosperity for others to come here," remarks Tukesh.
As a mark of this transformation, the village decided to paint all houses pink some time ago. "We appealed to the villagers to paint their houses in pink colour from outside and they responded to the call overwhelmingly," says Tukesh.
Jadhav says the fact that a couple from a distant village took refuge here and put faith in its people lends credence to its immense popularity and name. "This marriage is no less than a certificate from the people from surrounding villages."
Thanks to the Tanta-Mukt Gaon Abhiyaan, the village says it has discovered its soul. "There's no better alternative to collective strength and love," they hold.
Now this should be music to deputy chief minister R R Patil, who conceived the idea of Mahatma Gandhi Tanta-Mukt Abhiyaan (dispute-free village campaign) last August. For, Bapu is doing wonders here, at least, in Karanji.
Movers and shakers
Karanji has committed people, and a dedicated force of volunteers and women. It has about 28 self-help-groups and progressive paddy farmers and a skilled fishing community that has an expertise in prawn cultivation. All of them are steering the village on the path of prosperity without any external help. Amidst them, there are few individuals who stand out:
Tukesh Wanode - The man who takes the village along and digs the path
He's the sanctum sanctorum. Head of the Mahatma Gandhi Tanta-Mukt Gaon Abhiyaan and deputy Sarpanch, he's the beacon's light for the village; a learned and most-trusted senior, who can find answers to the problems and take every one along. He's the village leader, who shows the vision and digs out the path. It was he who brokered peace with other factions and drove politics out of Karanji.
Prabhatai Khobragade - The Sarpanch, who leads from the front
She's the one, who defined Karanji's reform and led from the front. Very strict but polite, she rushes to the rescue of every one, no matter the caste or the creed. "We were embarrassed when a group of people from other villages sarcastically said that even a dog's tail could straighten, but Karanji can never reform. I came back hurt and told this outside view about us to our people. In that meeting, we made a resolve to prove them wrong. Today, we have replied to them by deed."
Zarabai Chandekar - The woman who banished liquor from Karanji
Not long ago, the village was notorious in the vicinity as a crime-den where liquor flowed like a river.
"We had two big illicit liquor shops and one licensed. Men and women, old and children, every one was an addict and there were quarrels every minute. It was a hell," remembers Zarabai, a motivated 50-year-old dalit woman.
"When we decided to make our village liquor free, it wasn't easy. I landed up in jail for seven days with my daughter for taking on the liquor shop owners and blocking roads to protest for our demand."
But she stood her ground. The villagers, including those who ran the dens, finally decided that they would do away with the ill.
By one calculation of the gram sabha, Karanji spent Rs.9 crore in 22 years on desi liquor. "Had it gone into creative work we'd have been on moon by now."
"We have freed the village from almost everything, but not the love marriages," says Zarabai sarcastically, even as all other women burst into laughter.
Vocal though unlettered, Zarabai regrets not been able to go to school. "I have to ensure that every child in our village goes to school." She's taken this onus now.
Bharat Kisan Gauture - The man who drove Gutkha out
"We banned gutkha in the village after a girl-student spoke about its ill-effects at a school function four months ago. I had to start from myself."
First, Bharat stopped keeping gutkha at his shop and then convinced other 21 pan-stall owners to do so. They all obeyed him and burnt the Gutkha sachets in a public programme, which followed an awareness rally through the village.
"We then convinced villagers to stop eating gutkha by making them aware of the money they spend on it to invite harmful health effects, and they stopped eating gutkha." The village spent Rs 1.2 lakh monthly, by his calculations, on gutkha.
Maroti Mahurle - The man who performs rituals at the marriages
Retired teacher and head of a fishermen's society, he's a highly-respected village veteran totally devoted to the betterment of his village and people. He's the one who silently oversees marriage rituals and guides his fishing community.
Madhuri Bawane - The girl who plays local heroine
A local danseuse, who stages awareness programmes, street plays on the public issues ranging from education to AIDS. She's just 16 and had to drop out school after tenth, having lost her father. Her mother can't send her to higher school for the lack of funds. Madhuri isn't cribbing, though she'd continue to study if given an opportunity. "Otherwise I'll use my talent for the village development."