The Royal Bengal Tiger, the king of the jungle, is a lost emperor. Anthropogenic conflict continues to take its toll on tiger terrain smashing all remote chances of resuscitation of the tiger in its largest range state: India. Highways, tribal settlements, schools for forest dwelling villagers and tribes, hospitals, veterinary clinics, reservoirs, dams, mines, plantations, polluted rivers, all find real estate for development only in the forests. Where does wildlife go?
There is a historical pattern of anthropogenic conflict taking a toll on tiger terrain. In December 2012 a 13-year-old frail and emaciated tigress was killed by forest officials during mob frenzy in the Wynad Wildlife Sanctuary (WWS) in Kerala. Increase in tiger numbers without an increase in tiger terrain led to cattle lifting, antagonising the locals. The increase in tiger numbers in WWS was directly a result of habitat contiguity in the Nagarhole, Bandipur, Mudumulai, BRT Tiger Reserves and WWS, one of the four tiger landscapes in India - according to the Wildlife Institute of India's 'scientific tiger census' - that has the potential for long term sustainable tiger conservation. The sight of the carnivore near human habitation triggered panic and the forest officials' ham handed attempts at tranquilising the tiger killed it. The need for inviolate spaces for tigers thus cannot be over emphasised.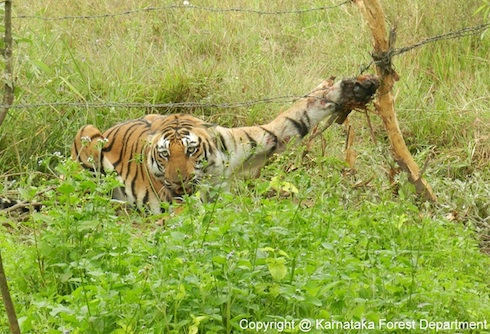 Tiger caught in coffee estate fence on the fringe of the Nagarhole
Tiger Reserve in December 2012. Pic: Karnataka Forest Department.
In February 2012, disgruntled forest dwelling tribals set fire to 509 hectares of the Nagarhole forests. A leopard died of asphyxiation in adjacent Bandipur Tiger Reserve in March 2012. In his official investigation report submitted to the Government of Karnataka, the former Principal Chief Conservator of Forests and Wildlife B K Singh recorded that "tribals of Gonigadde Haadi in the Nagarhole Tiger Reserve were instigated by NGOs and anthropologists. Forest watchers, volunteers, daily wage earners combined their efforts to battle the forest fire for 24 hours, non-stop." No amount of anthropological defence can justify vengeful spread of forest fires.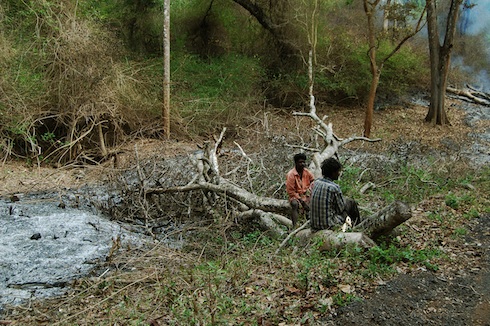 Tribals sit idly over burnt deciduous forests. Pic: Malini Shankar.
Roads in forests: A death-trap to wildlife
A leopard was killed by a bus on Goond Road in the Dandeli Anshi Tiger Reserve in February 2011. Another leopard was killed on the Ring Road near Bannerghatta outside Bangalore in February 2010. These would not have died, if there were no road and no vehicle in the forests. Wild animals regularly die on the Bangalore Ooty Road that slices through the Bandipur Tiger Reserve.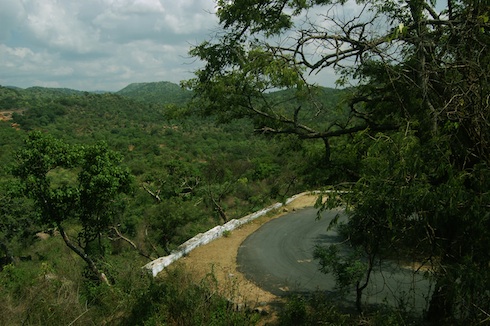 Highways account for the death of hundreds of wild animals on their own turf.
Pic: Malini Shankar
Anthropogenic conflict takes a very high toll on wildlife psychology and survival. Human footprint in tiger terrain causes unquantified trauma to wildlife, separating herds, isolating gene pools and leading to increased human wildlife conflict not to speak of dwindling numbers of species. India's national highways slice through the Kalakkad Mundanthurai, Anamalai, Periyar, Nagarhole, Bandipur, Dandeli Anshi, Sahyadri, Tadoba Andheri, Srisailam Nagarjuna Sagar, Kawal, Kanha, Pench, Bandhavgarh, Palamau, Valmiki, Kaziranga, and Pakke Nameri Tiger reserves, accounting for the death of wild animals in their own home turf.
Mute wildlife either die or are brutally injured and suffer in silence. If an endangered wild cat like a tiger or a leopard is brutally injured in any such road accident, the injured animal is most likely to turn to man-eating; then the Forest Department effectively ends the ecological role of the tiger by either ordering its execution or incarcerating it in a zoo to sustain its gene pool.
In 2007 a first time mother tigress in Ranthambhore Tiger Reserve was trying to shift her cubs and all three cubs fell into an abandoned well; two died on the spot, the one that survived was rescued by the forest staff, but was rejected by the mother and died of starvation 3 weeks later. Anthropologists who defend tribals' rights inside the tiger terrain do not quite appreciate the import of habitat loss.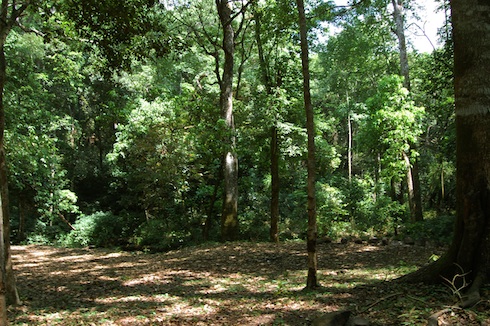 Precious tropical forests are regularly lost to fires. These are almost always man-made.
Pic: Malini Shankar.
"The park management talks about relocation, but has done little. In the meantime, even the one village that had been moved out has come back into the reserve. There is unease all around. In this situation, protection cannot and does not work," said the Central Task Force's Joining the Dots report while analysing the Sariska crisis of 2004-05.
In response to the above report, the Government of India introduced the Forest Rights Act in 2006 which guarantees tribals and forest dwellers residential rights in tiger terrain. What future will the children of tribals and forest dwellers carve for themselves living in arduous tiger terrain? This remains the larger question in conservation circles today. What security can the forest department extend to fragile wildlife when they have no sovereignty over tiger terrain?
It is important to recall Valmik Thapar's dissent note to Joining the Dots. It resonates in the chaotic corridors of conservation in an infinitesimal echo:
"Unfortunately, in its eagerness to find 'eternal solutions' for all problems afflicting the country at one go, the Task Force appears to have lost this mission-focus and has gone adrift trying to find solutions to all the problems of inequity and social injustice that afflict India. In the process the interests of the tiger's survival has been relegated and lost sight of. The fact is each tiger must eat 50 cow-sized animals a year to survive, and if you put it amidst cows and people, the conflict will be eternal and perennial. Tigers continue to lose out as they did in Sariska (and over 95% of their former range in India)."
The premise of continued co-existence over vast landscapes where tigers thrive ecologically, as well people thrive economically, is an impractical dream, with which I totally disagree. Such dreaming cannot save the tiger in the real world. On the other hand such a scenario will be a 'no win' situation for everyone and result in further declines and the eventual extinction of tiger populations. Alternatives where tigers have priority in identified protected reserves and people have priority outside them have to be explored fast and implemented expeditiously. There is no other way. The present concept of a 'new' coexistence is a utopian idea and impractical and will not work. This I am absolutely clear about."
Misplaced Priorities of 'development'
Back in 1989 cattle infected with rinderpest were grazing in the then Bhadra Wildlife sanctuary and the virus jumped species, eradicating vast populations of the Bos gaurus or Indian Gaur. Two decades after the virus attack the Gaur population had not recovered fully.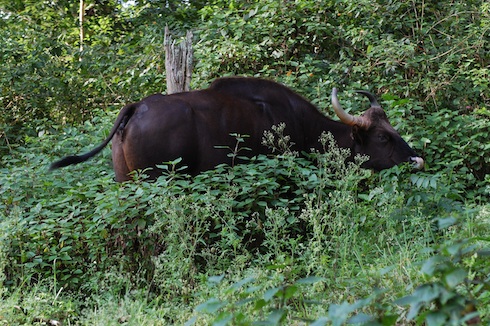 Gaur are very vulnerable to viruses from cattle grazing in forests. Pic: Walter Keller.
Encroachment of tiger terrain to grow our food is possibly the biggest factor in culling of forest cover. But what about the food of all those creatures that depend on one tree? Snakes, birds, insects, even a bear, a leopard might call one tree their home. Forest denudation on account of spread of agricultural fields, development indices like roads, hospitals, housing, plantations, buffer zone denotification of forests, and of course right of access to forest resources guaranteed under the Forest Rights act, all remain unquantified.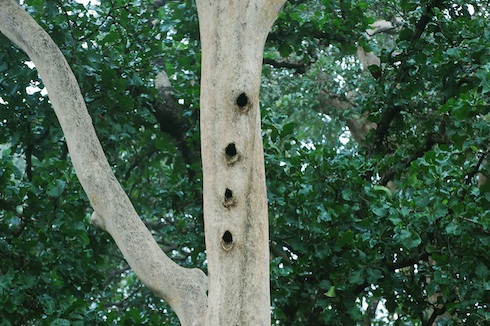 One tree trunk provides living space for so many wild animals. Pic: Malini Shankar.
There is yet no means of quantifying the trauma to wildlife on account of habitat loss because there are no credible studies on wildlife psychology.
Hunting rights of indigenous people though abolished by law but fiercely defended by anthropologists make a mockery of conservation. People in Kodagu prefer to deep fry a live wild boar in heated oil before killing it under the sanction of 'cultural rights'.
If human-wildlife coexistence is a reality to contend with in India, then sensitising the forest fringe dwellers to the cause of conservation of wildlife is mandatory.
As Ullas Karanth, the Director of the Centre for Wildlife Studies, pointed out in a press release after a male tiger ensnared to a coffee estate fence on the Nagarhole forest fringe in December 2012 had been rescued, 'In the absence of violent mob behaviour and with full cooperation of villagers, Field Director Basavaraj Hosmath and Deputy Director Kumar Pushkar, the forest rangers, staff and veterinarians tranquilised the tigress safely, untangled it from the fence and transported it to Mysore Zoo for examination and medical treatment'.
When Chippa a poacher of the Kutta village went hunting game at night on 11th March 1992, he perched on a tree branch in the dead of the night after tying traps for small game. The burning embers of his beedi were mistaken to be an animal's eye by a rival marksman on the ground who aimed a shot at the source: a little below on the left side of the stub, presuming it will kill the bird or animal perched on the branch. Instead it pierced through the left ribs of Chippa, killing him. His fellow poachers on the ground scampered for safety. His body was discovered early next morning by villagers.
Villagers assumed that Chippa had been killed by the forest officers. It remains unclear if the forest staff booked a case of unnatural death or of any wildlife crime. The Kutta Police Station booked a case of murder. The district administration clamped prohibitory orders to no avail. On 14th March mutinous villagers from Kutta and neighbouring villagers marched towards the park headquarters barely a kilometre away, scorching the forests. A 10-squa kilometre patch of the dry deciduous forests became a firewall in the searing heat of March. This fire accounted for the erasure of 102 hectares of forests.
Apart from the tiger, amphibians, birds, reptiles, ground dwelling creatures also suffer injuries, some fatally so during forest fires. The trauma to wildlife on account of loss of canopy, habitat, and man's sheer lack of accountability leaves the tiger disrobed, a lost emperor reigning over a lost kingdom.
"Tiger conservation requires concerted actions both inside protected areas as well as in surrounding landscapes to protect both the source as well as sink populations including the dispersing young males. This can only happen when conservation concerns are mainstreamed into district planning processes and the District Magistrate actively guides the line departments to align their development plans with the wildlife management plans/forest working plans", sums up Dr V B Mathur, Dean of the Wildlife Institute of India in Dehradun.