Durra, a Katni tribal from Madhya Pradesh, would take a puppy, as bait, with him to the forests of Dandeli in Karnataka, tie it up and slit its ears. Durra would then place a foot trap close by and hide himself. The bleeding puppy would howl in pain till a leopard smelt it and tried killing it. But before the leopard could kill its favourite delicacy, it would have been caught in the foot trap. Durra would then close in, and beat the leopard with a wooden baton till it died. He would not use a bullet to kill the long suffering creature because he needed an undamaged pelt to trade.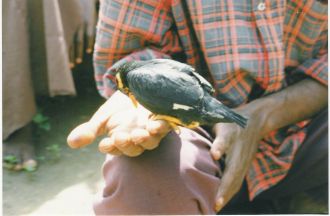 A tribal in Nagarhole beckoned a wild bird by just waving his hand. Their traditional skills could be better utilised. Pic: Malini Shankar
After trapping scores of such hapless leopards, by maiming innocent puppies, Durra would skin the leopards and sell all their parts – skin, penis, bones, fat, claws, and paws. Durra is wanted by the Karnataka, Maharastra and Gujarat Police departments. But he could not be apprehended because a source in the MP police cadre allegedly tipped him off prior to the Karnataka cops' visit to his village and he escaped to Rajasthan.
A year ago, in December 2007, the CID Forest Cell in Karnataka finally arrested Prakash Gajakosh, Durra's employer, in Uttar Kannada district. Police seized 20 leopard skins, 3 tiger skins etc. from him.
This situation isn't unique to one state. Throughout India's national forests, the tribal is invariably the crucial link in the poacher's grisly chain. Police interrogation transcripts often reveal the connivance of indigenous people in the wildlife trade.
Criminal connections - communities and poaching
Wildlife is being decimated everywhere: Rhinos from Kaziranga, birds across the country, tortoises from the south, snakes from the north east, corals from the Andaman Sea," says Pablo Tachil, an independent wildlife crime detective based in Bangalore. Tigers are preferred from the south because of the brighter coat but gets neutralised and just as faded as the coats of the poached north-Indian tigers because of the distance it needs to travel after tanning. Elephants are poached in good numbers from the south, even causing an imbalance in their population, he adds.
"The Pardi tribes are involved in trading parts of tigers, leopards; the Ghiharas (the notorious Sansar Chand is a Ghihara) trade in tiger, leopard, turtle, small mammals, deer, wild boar etc., as well hunt them for their own consumption," says Jose Louies, a member of the wildlife crime control unit of Wildlife Trust of India.
Sansar Chand who exploited the impoverished landless tribals on Sariska's fringes accounts for atleast 10 of the 22 tigers poached in Sariska in 2004. His network of poachers in Rajasthan comprises a band of unemployed youth from the following castes, as compiled from police interrogation transcripts: Bawarias, Bahelias, Moghiyas, Baagdis, Dalits, and Harijans. Sansar Chand's network accounts for the killing of the following creatures, and these statistics are whetted by the Delhi Police:
Tiger skin - 1, Leopard skins - 17, Otter skins - 74, Tiger bones - 30 kg, Jackal (cured) - 1025, Jungle Cat (cured) - 228, Common Fox (cured) - 30, Red Fox (cured) - 50, Toddy Cat (cured) - 45, Snake skins (cured) - 25800, Jackal (uncured) - 973, Jungle Cat (uncured) - 976, Common Fox (uncured) - 4, Red Fox (uncured) - 5, Desert Cat (uncured) - 19, Tiger (uncured) - 1, Leopard (uncured) - 5, Wolf (uncured) - 1, Wet Jackal (uncured) - 180, Common Fox (uncured) – 27.

Louies has a long list of tribes involved: The Masaeds are involved in snake charming and hawking small mammals. Bawarias are trappers, traders and trackers and are local contacts of wildlife traders. They kill big cats and small mammals. The Kanar, Nut and Moghiyas are traders and middle men and hunt small mammals and turtles for their own consumption in North India. In South India, Irulas are known to hunt rats and snakes. The Baddiyes are known to trade in big cats and also serve as middle men and Gulgulias indulge in hunting small animals and are bird specialists.
It is not merely the lower castes. Criminal elements from the higher castes also indulge in wildlife crime. Like Ratiram Sharma, his son and Mayavati there are seasoned poachers from the upper castes. (See box). "Bijoy Thapa (A Nepalese Gurkha who lives in Dimapur and Diphu) and his group are active now in and around Kaziranga National Park in the Karbi Anglong tribal district of Assam.
Gallery
A generous sprinkling of criminal elements are contributed by the higher castes. Unemployment is the most fundamental cause for poaching. Source: Police records.
• Bharat Bhandari of Chamoli in Uttarakhand
• Gopi Bawaria of Haryana
• Balwan, s/o Jotram of Baagdi caste of Haansi in Hissar district of Haryana
• Raja and Lalji Bawaria, were all the agents for Sansar Chand
• Mohammed Maqbool, Abdul Rashid and Mohammed Siddique of Delhi were caught with wares they claimed to be supplying to Sansar Chand
• Nawa, s/o Heera
• Kheema, Bura, Khetaram, Chuna, Ma hon- are all indigenous folk from Haryana, Rajasthan, and Madhya Pradesh are linked with Sansar Chand and his wife Rani Sansar Chand
• Ishwar S/o Gurudas, resident of Padisal
• Balya (Balu) s/o Nahra Bawariya
• Lala s/o Nahra Bawaria
• Jeetram s/o Bhagwan Sahay Harijan
• Raju s/o Bhagwan Sahay Harijan Dhalawas
• Kumbha, P.S- Sadar, Hansi, Hissar Dist (Haryana)
• Bhoora s/o Soma, Gameti,age: 45yrs, R/o Malwa Ka Chauraha, P.S-Bekariya Dist. Udaipur Nava S/o Heera
• Garatiya, age-35, R/o Silarvas, P.S- Bekariya, Dist Udaipur
• Kheta ram s/o Mana, Garatiya, age- 35,R/o Silarvas, P.S- Bekariya, Dist Udaipur
• Mohan s/o Bhava, Gameti, age-30 yrs,R/o Siwaria, Hanuman Ji P.S- Gogunda, Dist Udaipur
• Chuna s/o Jogira, Gameti, age-30 R/o Siwaria, Khed, P.S- Gogunda Dist. Udaipur
• Alam Ram s/o. Asadu Ram r/o. village Pran Mati, Tehsil Ghat, Chamoli in Uttarakhand
• Shyam Singh s/o. Balwant Singh R/o. Sutol, Tehsil Ghat, Chamoli
• Shyam Singh is a repeat offender; he had been booked twice earlier, one in 2006 and on another occasion early this year in wildlife cases
• Surender Singh s/o. Lal Singh & Bal Singh s/o. Dharam Singh both R/o. Chamoli district, Uttarakhand
• Kuwar Singh Bisht s/o. Pushkar Singh r/o. Ranihat village, Chamoli
• Mohan Ram s/o Gulla, Gameti, Age-25 yrs, R/o Siwaria, Khed P.S-Gogunda, Dist. Udaipur are under the employ of Sansar Chand and his family.
In all the poaching cases in Kaziranga, Naga tribals are the poachers as they are sharp shooters and have guns, says Uttam Saikia, Honorary Wildlife Warden of the Kaziranga National Park. According to Bishan Singh Bonal, Principal Chief Conservator of Forests (PCCF) of the Assam Forest Department, the other tribal poachers include Biren Signer, Guf Paite, Ganesh Gurung, and Gakula Bin.
Coming back to Karnataka, there's more. Hakki Pikkis in Karnataka are notorious for hawking snakes, boiling salamanders to create sexual tonics, enhancing alcohol with cobra urine in highway Kiosks and selling highly endangered birds on the streets of Bangalore.
Tribal alienation - costliest nemesis for precious wildlife
India – where action and discourse is driven by the bureaucracy, research institutions, civil society and NGOs, Media and think tanks – has failed to integrate the indigenous folk and their traditional skills. Their alienation is a two fold problem. On the one hand, there is a claim that we have a democratic ethos, but we still justify inequal treatment to sections of society.
On the other hand, tribal alienation from the mainstream is proving to be the costliest nemesis for the legacy that we have borrowed from the future generations: India's precious wildlife and biodiversity.
It is not a case of all gone wrong. In many cases tribals are an asset to forest officers. "Indigenous people living in the fringe of Kaziranga National Park are supportive in general to the park management in our conservation effort. The park management also has been adopting effective strategy to involve the indigenous people as force multiplier. However, very few individuals are known to act with poachers/smugglers," says Bonal.
Still, the reality is staring at everyone in the face. "Poaching by certain members of indigenous communities is both a political and a livelihood strategy. The increasingly draconian forest laws leave communities with little other avenues than to illegally use forest products be they meat, fruits or wood. Poaching might also be a result of a lack of a holistic approach to ensuring incomes and livelihoods." says Dr Nitin Rai; senior Fellow at the Bangalore based Ashoka Trust for Research in Ecology and Environment a renowned non government research centre.
"These people have historically coexisted with wildlife. Today, a small section of their population has linkages with outside criminal elements," says Dr Ullas Karanth of Wildlife Conservation Society. "Their livelihood options have to be planned much better before relocation itself," says Dr Syed Ajmal Pasha, Environmental Economist of Institute for Socio Economic Change/Administrative Training Institute in Mysore.
In the absence of effective mainstreaming and socio-political, economic and psychological integration, tribals remain isolated with traditional skills unfit for a transitionary democracy. Relocating indigenous people with planning and empathy will restore ecological balance. It is time to gainfully employ them by utilising their traditional skills.
This is the 5th article in the series Tiger – the Lost Emperor being penned by Malini Shankar - a Bangalore based wildlife photojournalist and filmmaker. The other articles of the series can be found on these links: