Villagers in Madhya Pradesh clubbed and butchered a leopard to death on 3 January 2009 in full view of national TV because it had strayed into human habitat. The incident was a reminder of the frailty of leopard habitat and the creature's vulnerability. According to the Wildlife Protection Society of India, India has lost atleast 3189 leopards from 1994 to 2008. Leopards are far more vulnerable to poaching given their physical vulnerability and absence of 'protected leopard habitat'. Also, it is far easier to trap leopards than tigers.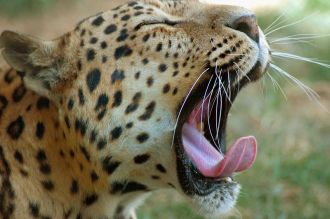 The Indian Leopard. Pic: Pratik Jain. Source: Wikimedia Commons.
Exactly 6 years ago, Balwan, a Baagdi tribal was caught with leopard skins on a train in the Ajmer district of Rajasthan. His interrogation eventually led to the arrest of Sansar Chand and revealed the modus operandi and connivance of Bhil tribals in Rajasthan in poaching. Here is how the plot unfolded - it is a telling story of poaching and the system.
On the night of the 5 January 2003, a petrified Balwan was aghast when Shaitan Singh Ranawat, Head constable (107) of the Government Railway Police (GRP) started searching his bag on the Chetak Express (Udaipur-Delhi). Singh's suspicion had been aroused on the platform itself, as Balwan was fidgeting before boarding the Delhi bound train. He followed Balwan into the same train compartment, and demanded that Balwan open his dirty, stuffed bag. Singh's suspicions were confirmed: the search yielded two freshly cured leopard skins.
The skins were stashed in a carton that was wrapped in plastic covers. The material was covered on top of the box with idols of Hindu gods: ostensibly to hide the skins. The Baagdi tribe is known for their hunting and poaching skills. Balwan, then aged 30 and a resident of Dhanko Ka Mohalla, village Kumbha, in Hissar district, Haryana was on his way to deliver the skins to the notorious poacher Sansar Chand himself.
Chand had first asked Balwan to contact Bura Gameti, resident of Jaswanthgarh village in Malwa Chowraya of Udaipur district, Rajasthan. Balwan established contact with Bura Ghameti, the tribal leader who knew exactly whom to contract in the tribal society the task of trapping and skinning wild animals.
In May 2002 Balwan had carted the first leopard skin for Sansar Chand, when he had first established contact with Bura Ghameti.
Around 6 months before his arrest, Balwan came with his family to sell blankets and idols to Jaswanthgarh in Udaipur district. It was around May-June 2002. One day Bura Gameti came to Balwan's camp and told him that he was in possession of a leopard skin and that it could be offered for Rs.5000 but he needs to take it away to Delhi immediately. Balwan sold blankets and idols worth Rs. 6000-7000, and bought a leopard skin for Rs.5000. This money changed hands in Bura's house.
Balwan was only the courier for Sansar Chand and he was to earn Rs.10,000-15,000. With this skin he boarded the Chetak Express at Udaipur railway station and headed for his hometown in Haryana, alighted at Rewadi railway station in Haryana from where he contacted Sansar Chand on telephone through the channel of Sansar's uncle Lakhma.
Chand bought the leopard skin for Rs.10,000 from Balwan. In the next trip he purchased Rs.3000 worth of blankets and left for Udaipur along with his family. He stayed there for nearly 6 months. On 5 January 2003 Bura came to him and supplied 2 leopard skins - 1 big, 1 small, to Balwan asking him to take it to Sansar Chand. For this, Balwan was to be paid Rs.10,000 by Sansar Chand. Bura had gotten one skin from Nawa and Khetaram. He had also told Balwan that he could arrange the killing of a leopard in 4 - 5 months.
But Balwan got caught, and it was his arrest led to the arrest and conviction of Sansar Chand himself. "Once involvement of Sansar Chand in this case became known, we put this case on highest priority", says the then SP of the GRP Hemant Priyadarshi. The GRP collected previous criminal record and conviction record against Sansar Chand, to oppose any move for anticipatory bail. This is the story that emerged from records maintained by the Government Railway Police.
Khetaram's chilling confession
"After darkness fell we climbed the tree near the kill and waited for the leopard. The leopard came to eat its kill… we fired at the leopard, we don't know if it was killed immediately. We came the next morning to see that the leopard was dead. Then we skinned the leopard there itself, took it home, three days later Bura came asking for the skin. I told him that I had finished the job, he gave me Rs.3000 Nawa was also present there; I gave Rs. 1200 to Nawa. I killed the leopard because it killed my cow. I worked in cohesion with all other network members and created a noose for the leopard, and would trap the leopard, after that we would kill the leopard with a rifle, and then skin the leopard and hand over the skin to Bura Gameti. Bura used to give us Rs. 1000 for a leopard skin. Bura sells the same skin to Balwan for Rs. 3000. Balwan sells the skin to Sansar Chand." Nawa correlated this statement to the interrogators.
The confessions were in the local Bhil dialect and the statements were jotted down by police at the GRP in Hindi.
As noted earlier, Bura revealed during interrogation that he got one leopard skin from Nawa and Khetaram, and the second skin from Chuna, Mahon, and Mahon. These three persons supplied the skins through one Kheema to Bura. Kheema, Nawa, Khetaram, Chuna, Mahon, and Mahon were arrested on the 11 January 2003 in Jaswanthgarh by the GRP, Ajmer. On the information secured from the co-accused Nawa, Kheta, and Mahon, three leopard nails were recovered from Bura, and the weapons, implements and equipment used for ensnaring, killing and skinning the leopards, was recovered from the rest of them.
Modus operandi
Mahon: Mahon used to tighten the noose around the leopard's paws when it came to devour its kill. Then they would beat it to death. They killed 4 leopards in and around Udaipur and sold it to Bura for Rs. 11,000, Mahon kept Rs.4000 for himself and gave the rest of the money to the others. His accomplices including Chuna and another Mahon have attested to this admission.
Nawa and Khetaram: They would place a dead cow in the known tracks of big cats like leopards. Or wait near the 'kill' and tighten the noose of the rope when the predator comes to eat its kill. They admitted to have even beaten the leopard to death on occasions with a wooden rod. The baton beating would spare the leopard skin a bullet hole and fetch a better market price at the time of trading. Nawa and Khetaram would trail tiger tracks on the grazing grounds of their cattle, and avenge the death of their cattle.
In itself the act of avenging cattle deaths would perhaps have been condoned. But they would trap the big cats like leopards and tigers with crude implements costing not more than Rs.200, according to the Wildlife Protection Society of India. Once the leopards were trapped in the painful foot trap, the leopards or tigers suffer foot fracture and internal bleeding in their trapped paws.
The wretched, suffering creatures would moan and howl in pain but the poachers like Rampratap Meena, Loharya Meena and their ilk would either ignore the howling wild animal; half in cowardly fear, but more significantly they would rather not shoot to kill the long suffering creature with a gun, as a bullet hole lowers the market price of the precious dead skin.
The judgment
Continuous killing
1994: 95 tigers, 138 leopards
1995: 121, 143
1996: 52, 110
1997: 88, 145
1998: 39, 69
1999: 81, 135
2000: 52, 1,278
2001: 72, 167
2002: 46, 89
2003: 38, 148
2004: 38, 123
2005: 46, 199
2006: 37, 160
2007: 27, 124
2008: 28, 161
Source: Wildlife Protection Society of India
Series
• A coexistence gone wrong
• Winning the battle
• Interdependence and integration
• Tigers introduced back in Sariska
• Taking stock of Sariska

On 29 April 2004, the Additional Chief Judicial Magistrate court convicted 7 of the accused under section 51 of the Wildlife Protection Act 1972 and acquitted 2: Kheema, and Mahon. The district court upheld the decision of the Ajmer Railway Magisterial Court and dismissed the appeal of the convicted. The judgment slapped 5 years Rigorous Imprisonment (RI) and Rs.10,000 fine on all 7 accused. If they could not afford to pay the fine then they would have to serve 1 more extra year of RI, said the ruling.
When issued, the judgement was a telling statement of how wildlife traders like Sansar Chand had been exploiting the social and economic vulnerability of indigenous people. India's outcaste indigenous tribes, forever searching for an identity are exploited by criminal cliques, rendering the wildlife legacy of India the poorer.
Sansar was in Ajmer Jail till 27 January 2008 for the sentence in this case and after that he is being held as undertrial in Jaipur jail, his appeal through a proxy - one of those convicted in this case is pending before the Rajasthan High court. Sansar Chand has already served the full sentence for conviction in this case. All the others convicted are to serve term till end of April 2009, and are lodged in the Udaipur jail as per the judgment.
Conflict continues
As noted at the beginning of this article, man-leopard conflict continues. According to the Wildlife Protection Society of India, India has lost atleast 3189 leopards since the year from 1994 to 2008. Current figures of leopard in the country according to the tiger census report of WII 2008 is 57,419 leopards. More leopards than tigers have been poached in India.
This is because unlike tigers, leopards are not territorial and are not in need of Protected Area jungle cover. They go searching for food, and leopards do not need thick jungle canopy, they can thrive and even progenate very well even in scrub jungle. Their home can be a cave on the village fringes too, and can live off small rodents, dogs and ground nesting birds too, this is what brings them to the doorstep of the human being… making them more vulnerable to poaching.
This phenomenon creates the need for a 'Project Leopard' on the lines of the bygone Project Tiger critical. Project Leopard as and when it comes into force should evolve strategies to protect leopards despite its proneness to anthropogenic conflict. The Government of India would also do well not to delay any longer.