Is the age of the documentary over? One may well think so, since movie theatres are no longer required, under the law, to show them. In any case, while the venerable Films Division had some notable exceptions, it was for the most part preachy and ponderous; the popular joke among critics ran that it was actually a Files Division. In the good old days, the start of a documentary was the signal for film-goers to go out for a smoke.
Still, despite rumours to the contrary, the documentary is far from dead, as festivals like the bi-annual Mumbai International Film Festival (MIFF, which includes short feature films) prove time and again. Only recently, the same was evident at the International Peace Festival organised by the Centre for Study of Society and Secularism, run by the well-known scholar and activist Dr Asghar Ali Engineer, and the Vikas Adhyayan Kendra in Mumbai. Over two full days, films on such subjects as globalisation by force, and struggles for peace in South Asia, religion and culture, cultural homogenisation in a multi-cultural society, and women's issues were screened to a diverse audience amidst discussions on these issues and musical events. It reminded audiences that there is a huge range of excellent documentaries being made in the country.
These films must now find creative new avenues for distribution, since the Information and Broadcasting ministry's old diktat to theatres - requiring them to show documentaries - no longer holds good. The point was driven home most forcefully by Atul Pethe, who has just completed a 35-minute film titled SEZ: A Prelude to Anarchy, with the assistance of the Pune-based NGO, the National Centre for Advocacy Studies. He said that his VCDs were available for just Rs.50, and encouraged people to buy and copy them to show to as many people as possible. As the director (and part-cameraman), he was subverting the copyright law to his own supposed disadvantage!
Since many of the films, especially those dealing with 'sensitive' issues like communal conflict and the role of the military would not easily get a public screening, digital technology has opened up entirely new and unforeseen routes to young film-makers to show their work to smaller, but targeted audiences. The other alternative is for the film-maker to enter his film for a national competition, win an award, and then force Doordarshan to show it, as the law requires it to. Anand Patwardhan is an activist of this kind: only recently DD was compelled to show his searing three-hour long condemnation of nuclear power, titled War and Peace. He regularly takes the I&B ministry to court for such mistakes of omission, but this is a protracted legal process, one which only a few have the courage to persist with.
Although Sharma has won as many as 17 awards for this film to date, only one of these is from India, which speaks for itself.


• Special powers, mixed results
• Violations in Manipur
• Aftershocks
• Jang aur Aman

One outstanding film in the festival was Rakesh Sharma's
Final Solution
, a 149-minute long expose of the communal holocaust in Gujarat in 2002. The first part, titled "Pride and Genocide" examines the build-up by Hindutva cadres and plans for their anti-Muslim campaigns. It follows Gujarat Chief Minister Narendra Modi on his 'Gaurav Yatra' in the aftermath of the riots, where he persistently raises the issue of the Godhra incident. He witheringly asks his rapt audiences during the yatra whether it is true that Gujaratis are violence-prone, and exhorts them to reply in the negative. This rhetoric is surpassed by VHP leader Praveen Togadia, who makes no secret of his antipathy to Gandhiji - a supreme irony, considering that the Mahatma hailed from this very state.
The attacks on the Gulbarg housing society in Ahmedabad, where former Congress MP Ehsan Jafri was brutally murdered by a mob in front of his house, is painfully reconstructed by eye-witnesses, who include his widow. He also details Naroda Patiya, a former industrial neighbourhood, which also saw its toll of mayhem. The second part is called "The Hate Mandate" and documents the assembly election in late 2002, where the BJP won a resounding victory, a slap in the face of all secular-minded people. After the results, Gujarat is a society hopelessly fractured – with voluntary ghettoisation, segregation in schools, formal calls for economic boycott of Muslims, and continuing acts of violence. Several victims vow never return to their homes, particularly in villages, where they are more vulnerable. In instance after instance, small businesses and even homes have been appropriated by Hindus.
Although Sharma has won as many as 17 awards for this film to date, only one of these is from India, which speaks for itself. However, at the festival, he put both DVDs and VCDs of the film on sale at very affordable prices and even offered to lend copies to groups that couldn't buy one. With the proliferation of information technology, even the exhibition of films has been rendered quite inexpensive, compared to the bad old days when projectors had to be hired at considerable cost. Films are thus an integral part of activism, as Sharma's own blog - rakeshindia.blogspot.com - makes clear.
An earlier Sharma film is Aftershocks: The Rough Guide to Democracy. As he observes, he stumbled upon the subject while working as a volunteer in the earthquake-affected villages in Gujarat in 2001. Taking advantage of the dislocation wrought by the calamity, the Gujarat Mineral Development Corporation attempted to acquire two villages near the Pakistan border to exploit their resources.
This film too has also won several international awards. However, both Sharma's films were rejected by the I&B ministry-run MIFF in 2004 and 2002 respectively. Such censorship runs runs against the canons of all film festivals the world over. However, film-makers like Anand Patwardhan, Simantini Dhuru and others converted this impasse into an opportunity. In protest against the censorship at MIFF, they started a parallel festival called Vikalp, which was then turned into a permanent institution. Vikalp regularly shows excellent documentaries at the Bhupesh Gupta Bhavan as well as, most recently, a suburban bookshop, once a month. This has exposed audiences to a wide range of films from India and abroad, virtually creating the space for such documentaries.
A five-minute short flim, Vande Mataram by Amudhan R.P., was used almost like an anthem through the festival. This 'music video' used the emotive music to juxtapose shots of sanitation workers in the most abominable conditions. It was a telling commentary - without a word of comment. In Notes from the Crematorium, the intrepid Amudhan takes his camera to the fringes of Madurai where dalits cremate the dead from all castes. It is obviously a thankless and demeaning job, which the workers perform stoically, accepting whatever the relatives pay and, on occasion, doing it for free for those who can't pay. As Amudhan says, "Ironically, death comes alive to bring people together."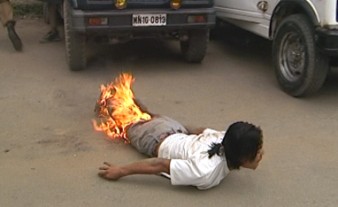 A still from AFSPA 1958.
Another film which created waves at the Peace festival was AFSPA 1958 by the young Manipuri film-maker, Haobam Paban Kumar. For the uninitiated, the acronym stands for the Armed Forces (Special Powers) Act in that state. Kumar narrates how he had happened to come for a holiday to Imphal while studying film-making in Kolkata. Coincidentally, the activist Manorama Devi was brutally raped and murdered by Assam Rifles personnel, which led to a widespread demand for the repeal of the infamous Act. Kumar catches the agitation with his hand-held camera, imparting an immediacy and urgency seldom witnessed in documentaries made in this country. Even the protest by 12 Imphal women against the murder, where they stripped outside the headquarters of two Assam Rifles divisions and invited the army to rape them, is captured in all its intensity.
He traces the protracted campaign against the law and how the Chief Minister offers partial concessions, which only intensifies the agitation in which women and children also play a pivotal part. One of the most shocking sequences is of a demonstration outside the secretariat, where young students are brutally and repeatedly beaten with lathis by the police. One has seldom witnessed such brute force in any film in independent India; it is reminiscent of the repression of freedom fighters during the Raj. Despite the Prime Minister's most recent offers to tone down the Act during his visit to the state, it still remains on the statue books.
Perhaps that is the point, after all: for much of the embattled North-East - as indeed for several other pockets in rural India - there is still a colonial apparatus, stopping at nothing to cow down the people. At the same time, one is left clutching the optmistic straw that in our fledgling democracy such films can still be made and shown, at least to select audiences in this manner.