Among the 59 Bills reportedly listed for consideration by the Lok Sabha during the brief monsoon session of Parliament, scheduled to begin on 5 August, is the Constitution (108th Amendment) Bill, 2008. Better known as the Women's Reservation Bill, this controversial piece of legislation has the dubious distinction of being the nation's longest pending law, still in limbo 17 years after it was first introduced in 1996, even though the Rajya Sabha finally passed it in 2010.
Interestingly, the Indian electorate appears to be more open than the country's political class to the idea of 33 per cent reservation for women in the Lok Sabha and state legislative assemblies. According to the recent CNN-IBN-The Hindu Election Tracker Survey, 50 per cent of voters across 18 states want women to make up at least one third of the Members of Parliament elected in the next general elections.
Contrary to popular assumptions, support for a women's quota seems to cut across gender and geographic divisions: 60 per cent of men in urban areas and 51 per cent of rural men favour reservation for women, and 52 per cent of the respondents in the Hindi-speaking states of northern India approve the Bill (even if many prominent political leaders from the region fiercely and vociferously oppose it, ostensibly on behalf of their constituents).
Ordinary citizens seem less concerned than many political analysts about the prospect of more wives, daughters, etc., from political families entering Parliament thanks to reservation. They obviously see nothing extraordinary about female relatives joining politics through a route that is regularly and increasingly used by a large number of male MPs. 
As Kanchan Chandra and Wamiq Umaira pointed out in a fascinating 2011 article on India's democratic dynasties, "For a democratic country, India's politics is remarkably dynastic. At least 29 per cent of the current Indian Parliament consists of those whose family members – fathers, mothers, siblings, husbands, wives, grandparents, uncles, aunts, cousins or in-laws – preceded them in politics. At least another 5 per cent had family members either enter politics simultaneously, or follow them… 34 per cent of parliamentarians with family ties is a rather large number for any democracy, at any time and at any level of government."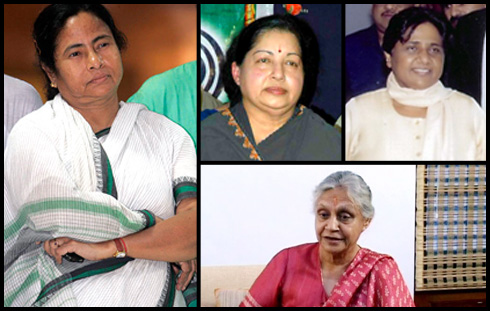 Leading women politicians of our times - Mamata Banerjee, J Jayalalithaa, Mayavati and Sheila Dikshit; Pics: Wikimedia
According to them, "the large proportion of MPs with family ties, and their broad social base, indicates the extent to which dynastic politics in India has become a systemic phenomenon." Interestingly, gender does not emerge as a significant factor in their analysis, which takes regional and other social categories – such as religion and caste – as well as political affiliation into account and offers a refreshingly different, if disturbing, perspective on a popular, but otherwise stale, subject.
Women and hereditary politics
Despite overwhelming evidence of the widespread and growing practice of hereditary politics in India, other commentators seem excessively fixated on the likelihood of women using families as stepping stones to political careers (or male politicians using female relatives to safeguard their own positions and expand their own influence). 
Patrick French coined the terms HMPS (hereditary MPs, who constitute 28.6 per cent – a little less than a third – of the total) and "hyperhereditary" (MPs with family links spreading in several directions at once). In The Princely State of India (excerpted from his 2011 book on the country), he highlights age as the primary determinant of inherited political office:  "Every MP in the Lok Sabha under the age of 30 had in effect inherited a seat, and more than two-thirds of the 66 MPs aged 40 or under were HMPS." It is not surprising that over two-thirds of the 59 women MPs, too, fall into the family politics category.  However, it may be worth noting that women comprise only 10.7 per cent of the total number of MPs in the current, 15th Lok Sabha.
According to French, if the general trend towards more hereditary politics continues, it is possible that soon "most members of the Indian Parliament would be there by heredity alone, and the nation would be back to where it had started before the freedom struggle, with rule by a hereditary monarch and assorted Indian princelings."  Despite this gender-neutral reality, he is still apparently concerned about "the possible effect of the 108th Constitution Amendment." He wonders whether, in view of the prevalence of "family politics," the new law, if and when enacted, would merely entrench the power of existing political families, with wives and daughters being nominated for the reserved seats. 
In a recent column describing politics today as "the new zamindari," Dinesh Trivedi also makes a point of noting that 70 per cent of all women members in the Upper and Lower Houses of Parliament have politically influential family members.  It is interesting that no one seems to think it worth figuring out and underscoring the proportion of male members who have the same advantage. 
Long history of female leaders
In a recent column, Dinesh Trivedi also makes a point of noting that 70 per cent of all women members in the Upper and Lower Houses of Parliament have politically influential family members. It is interesting that no one seems to think it worth figuring out and underscoring the proportion of male members who have the same advantage.

The preoccupation with women in the context of dynastic politics is not new, especially in South Asia, where the phenomenon of female political leaders is particularly predominant – despite the overall poor status of women and perilous state of gender equality in most South Asian countries.
The rise of women as political bosses in the region dates back to the 1960s. The first woman prime minister in the world was Sirimavo Bandaranaike of Sri Lanka, elected into that position in 1960. Indira Gandhi became India's first female prime minister in 1966. Among the other well-known and powerful female politicians who have reached the top at the national level are Sheikh Hasina Wajed and Begum Khaleda Zia in Bangladesh, Benazir Bhutto in Pakistan, Chandrika Kumaratunga in Sri Lanka and, although she has not exactly headed a government, Sonia Gandhi in India. 
A number of Indian women have simultaneously occupied important posts in recent times:  Pratibha Patil, Sonia Gandhi, Meira Kumar and Sushma Swaraj. Three state governments are currently headed by female chief ministers: J. Jayalalithaa, Mamata Banerjee and Sheila Dikshit. Three others had women at the helm in recent years:  Mayawati, Vasundhara Raje and, further back in time, Rabri Devi.   
The question of how and why these and other women entered and rose in the field has been discussed ad nauseum over the years. Much is usually made of the fact that many of them gained their positions either because they belong to influential political families (the daughter, wife, widow syndrome) or because they had a powerful, invariably male, mentor or patron. The fact that the majority of these politicians enjoy democratic legitimation, having won popular elections – some multiple times, is not emphasised nearly as much.
As Andrea Fleschenberg points out in Kazuki Iwanaga's 2008 book, "Women's Political Participation and Representation in Asia: Obstacles and Challenges," several successful women politicians across Asia share strikingly similar patterns in terms of their political and social biographies. Many of them belong to the national, political and societal elite, with connections to a political dynasty and/or access to the benefits of an affluent background and tertiary education, sometimes at leading international universities. 
Most of these leaders entered politics with little or no political experience, especially in terms of holding formal political office. It is almost as if an elite background marginalises issues such as political knowhow and gender. It seems to give these women the social status that, in turn, confers on them the legitimacy to lead, some flexibility in terms of "acceptable behaviour" and, of course, the kind of time, space and agency that female counterparts in other strata of the same societies generally do not enjoy.
Subverting patriarchy?
At the same time, there is a view that many of these women have actually subverted patriarchy in the process of assuming political leadership. According to Vidyamali Samarasinghe (in "Women in Politics in South Asia"), if pioneers like Sirimavo Bandaranaike and Indira Gandhi derived political mileage from family ties, it is because they actively made use of such family relationships, seeing them as the best available avenue for participating in the political process. And this did not prevent them from demonstrating, fairly quickly, that they were indeed charismatic leaders and astute politicians. 
It is often said that Gandhi and Bandaranaike were just recipients of dynastic legacies. There is, of course, no doubt that they were propelled to power as the political heirs of a father and a husband respectively.  But the fact is that both women played active roles in entrenching the dynasties. As Samarasinghe points out, if they had remained mere puppets in the hands of the male political leadership, as expected, the so-called dynasties would probably have weakened or disappeared during their tenure or after their time. Instead, they not only became powerful, effective leaders, but they made it possible for their adult children – and now, in India, grandchildren – to enter politics (whether or not this is a good thing and whether or not their progeny really wish to follow in their footsteps). It is also worth noting that Gandhi and Bandaranaike managed to evade the traditional stigma attached to widowhood in South Asia. 
Kumaratunga was not propelled into politics the same way that her mother was.  Instead, she used her positioning as daughter and widow to emerge into the competitive public arena of politics. She actually superseded the traditionally anointed "male heir" – her brother Anura Bandaranaike, who had been involved in national level politics for longer. She was obviously the shrewder politician and made use of the opportunity created for her – as a "political widow" with name recognition – to grasp the opportunity to assume political leadership.
Whatever their paths to political leadership, the fact is that most of these female politicians speedily dispelled any notion that they may be puppets in the hands of a set of male king-makers. The majority of them had or have been in positional office or non-positional leadership for extended periods, rapidly becoming leaders in their own right: career politicians who exercised power like their male counterparts, often without further help from the male relatives or mentors through whom they came into leadership positions.
However, their autonomy has not always been acknowledged and their performance has often been judged differently from that of male leaders. According to Lynette Lithgow, this may be at least partly due to the way the news media tend to present and portray female political leaders. Her study of the role of the press in shaping public perceptions of women in Asian political dynasties, focussing in particular on Chandrika Kumaratunga and Corazon (Cory) Aquino, revealed that the media commonly construct Asian women leaders in gender-specific and culture-specific ways.
For many women who achieve positions of power, expectations of what are considered appropriately "feminine" behaviour are often in conflict with qualities regarded as necessary for successful leadership. Lithgow found evidence of the media's general reluctance to recognise women's ability to become effective leaders in their own right, independent of their familial connections. According to her, the media's evaluation of the performance of female leaders is often based on a higher competence threshold and harsher evaluative criteria than those used to judge male leaders. 
Gender-related democracy deficit
What cannot be denied, however, is the apparent gap – in South Asia at least – between successful female politicians attaining the highest political offices, on the one hand, and the general under-representation of women in parliamentary and ministerial posts at lower political levels, on the other. There is little sign of the expected trickle-down effect. Instead, strange as it may seem, countries with a long-standing tradition of female political leadership (like Bangladesh, India and Sri Lanka) reveal a gender-related democracy deficit. 
In India, for example, the representation of women in parliament and the council of ministers remains poor nearly five decades after Indira Gandhi became Prime Minister. With just 59 women joining the 544-member Lok Sabha after the 2009 general elections, women's parliamentary participation was raised to a so-called "high" of less than 11 per cent.  Women make up only 12.5 per cent of the present government's council of ministers. Of the dozen women among the 77 ministers in the union cabinet, only three have cabinet rank, two are ministers of state with independent charge and seven are junior ministers of state. 
Most female political leaders in India pay at least lip service to the need to ensure that the Women's Reservation Bill is passed, although some – like Mayawati and the party she heads – have actively campaigned against it, presumably because it does not include quotas for specific caste and other groups. However, none of them seems to have been able or willing to get their parties to break the logjam. 
Similarly, although prominent female politicians lead parties in many South Asian countries, few other – if any – female members of those parties appear to have much influence over party policies or top level decision-making processes.
Apart from that, the burning and somewhat tricky question often raised is: do women politicians make a difference, especially for other women? It is, of course, not the sole responsibility of women in politics to promote gender equality and improve the status of women. The obligation to transform society for the better lies with everyone:  politicians, civil society and citizens as a whole. However, having opted for political office – presumably, at least partly, to serve the people – both men and women in politics ought to be working for a more just, fair and equal world. Nevertheless, it is perhaps inevitable that women politicians are expected to go the extra mile for fellow women. 
Fleschenberg suggests that certain factors should be considered while analysing the apparently gender-neutral or gender-blind political agendas of elite female politicians in Asia. She points out that female leaders often lack a supportive system and structure to experiment with an alternative leadership style and political agenda. Also, like male politicians, they are also bound by party ideology and programme, as well as the need to build up and secure their power base.
Admitting that several of Asia's top women politicians are "roaring tigresses" in terms of electoral and governmental record, but "tame kittens" in terms of pro-women agenda-setting, she clarifies that the idea is not to justify the failure of many female politicians to enhance the political participation and representation of fellow women.  Instead, she calls for more in-depth and contextualised analysis of female political leadership, addressing two major questions: Why are there so few women in politics?  Do women make a difference – and under what circumstances? 
Perhaps the Women's Reservation Bill, if ever passed, will eventually make the first question redundant and thereby make it possible for the second one to be addressed more seriously.