Suchitra Sen, the most charismatic actress in Bengali cinema, who ruled as leading lady for 26 long years, is no more. Her demise at the age of 83 marks the end of an era in Bengali cinema. She was the greatest star to have graced the Bengali screen. Till date, not one female star in the state has been able to attain her charisma, glamour, screen image and audience pull.
After her last screen appearance in Pronoy Pasha (1978) she disappeared from public space. Strangely this enhanced the mystique of Suchitra Sen, turning her into a living legend even while she was alive, instead of making her fade from public memory. Her immediate family respected her choice of privacy even in death, by covering the coffin in which her body was carried to the crematorium with dark glass.
Suchitra's rare appearances in Hindi cinema made her a national figure. Apart from two films opposite Dev Anand which were normal commercial masala, namely Sarhad (1960) and Bambai Ka Babu (1960), and Champakali (1977) opposite Bharat Bhushan, her memorable performances are in Bimal Roy's Devdas (1955), one of the best celluloid versions of the Sarat Chandra Chattopadhyay classic, Gulzar's Aandhi (1974) based on an original story by Kamleshwar, Musafir, (1957) directed by Hrishikesh Mukherjee and Mamta (1966), the Hindi version of another Bengali classic, Uttar Phalguni directed by Asit Sen, where she portrayed the diametrically opposite characters of a 'kothewaali' mother and her sophisticated lawyer daughter.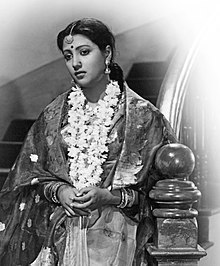 Suchitra Sen. Photo courtesy: Wikipedia
"Suchitra Sen was an era," writes journalist Ranjan Bandopadhyay in Suchitra Sen Ebong Ananya, (Deep Prakashan, Calcutta, 2001). It is a term that has never been used to define any film persona in the country, not even Uttam Kumar or Amitabh Bachchan. Her work was never targeted at awards. But the Moscow International Film Festival could not ignore her unforgettable performance in Saat Paake Bandha as a woman deeply in love with her husband but forced into a life of separation and loneliness brought on by her ever-interfering and affluent mother.
The "Uttam-Suchitra" phenomenon
Suchitra Sen made her debut in the unreleased film Shesh Kothai (1952) after marriage and motherhood. The film, an effervescent comedy, was also the directorial debut of Nirmal Dey. Gopal Krishna Dey, her authorised biographer who shared a good relationship with her, relates a humorous anecdote. Once, when someone wished her on her birthday mentioning the date and year, the actress laughed and corrected him, saying that she was born in 1952 with her first film because that is when she was re-born as Suchitra, her screen name. (She was better known as Rama among her friends and colleagues but few had the privilege of addressing her so. Krishna was the name recorded in her school register at Pabna, now in Bangladesh.)
The following year saw the beginning of one of the most brilliant pairings in world cinema with Uttam Kumar in Shaarey Chuattar where the pair formed a mere sub-text in the story. In time, however, Suchitra Sen and Uttam Kumar were to form one of the most popular and enduring romantic screen pairs in the history of Bengali cinema. Theirs was perhaps the most magical on-screen chemistry ever, considering the number of silver jubilee hits the two together churned out in the fifties and sixties.
These two stars came together at a critical time when Bengali cinema was going through a crisis. New Theatres had pulled down its shutters with Bokul (1954.) The Bengali film industry was going through severe marketing trouble as a consequence of Partition, when East Bengal became a part of Pakistan. Production values had declined, there was a dearth of new faces and Bengali cinema, in all, was steadily losing its glamour. Hindi films were becoming more popular.
A ray of sunshine seeped in with a film called Agni Pareeksha (1954) directed by Bibhuti Laha, which introduced Suchitra Sen and Uttam Kumar in the lead as a romantic pair. They became icons of Bengali romantic melodramas for more than 20 years.
Their manner of expressing romance on screen and their glamour proved to be oxygen for an industry gasping for breath. They brought in a whiff of fresh air that lasted for more than two decades. Every member of the audience would wait with bated breath for the typical climax of a Suchitra-Uttam film where the two would get into a close clinch with "The End" superimposed on the pair. Uttam Kumar acted opposite other heroines too. But those films lacked the magic he and Suchitra together created on screen in the 30-odd films they worked in together.
In an interview, director Bibhuti Laha said, "When I chose this pair for Agni Pareeksha, everyone said I was crazy to have paired a flop master with a dumb doll. These were the euphemisms the film industry labelled them with. The only positive quality Uttam and Suchitra had going for them was their face. I concede that I took a considerable risk in taking them to play the two leads in a film that demanded good acting."
"Everyone tried to change my mind till the last minute and insisted that I cast established actors. But I was determined to cast new faces. The film proved to be their starting point. My sole credit lies in that I played the first tunes on the flute."
Perhaps to silence critics who felt she could not pull off a film without Uttam Kumar, Suchitra Sen came out with layered performances in films that did not feature Uttam Kumar. Among these are: Hospital (1960) opposite Ashok Kumar, Deep Jwele Jai (1959), Smritituku Thaak (1960) (double role), Uttar Phalguni (double role) (1963), Sandhya Deeper Shikha (1964), and Saat Paake Bandha (1963). The last film fetched her the Best Actress Award at the Moscow Film Festival) This was followed by Datta (1976). Pranoy Pasha (1978) was her last film.
Suchitra Sen, the enigma
The actress' voluntary withdrawal from social and public life is characterised by similarity with social seclusion by famous celebrities in history. Some call it "social anxiety disorder." But no one tried to diagnose the psychological causes that led to her shutting herself from the world, even as her audiences craved for a glimpse of her. Daughter Moon Moon Sen, an actress herself, says she wished to respect her mother's need for privacy.
In cloistering herself, Suchitra Sen finds herself in very good company. Among them are famous littérateur Emily Bronte, the poet Emily Dickinson, Canadian pianist Glen Gould, one-time millionaire, film director and producer Howard Hughes, and Greta Garbo. Garbo (1909-1990) was a famous Swedish actress who starred in 28 films. But she retired to New York in 1941 and died of natural causes at the age of 84 on April 15, 1990. Like Sen, she refused to be interviewed, to attend award shows, or to face the paparazzi.
Filmmaker Ashoke Viswanathan, however, provides a rare note of disagreement in how Suchitra will be remembered. "The comparison with Greta Garbo comes to mind because Suchitra Sen withdrew from the big screen after 1978. But the similarity between the two ends there. Unlike Uttam Kumar, who kept on innovating constantly, Suchitra failed to grow. She got caught in her own matrix of fiction. She had already transcended her peak because her last film, Pronoy Pasha was a complete washout. In Datta, at 50-plus she was portraying a girl of 17. She could not carry it off."
"She was more conscious about her beautiful image than anything else. I do not think she would have contributed in any way to the cinema of today. But what she has already contributed, will remain archived in history."