Hazarat Ali, 65, is a farmer in Simina village in Kamrup district of Assam. His village is in the Palasbari revenue circle. He grows crops on 55 bighas (a little over 20 acres) of land, but he does not own anything other than his homestead plot, which is less than a bigha. Ali's family includes his wife, four sons, daughters-in-law and 10 grandchildren. Two of his daughters too, have been married in the village. Simina-Guimara Panchayat, which includes their village, has a population of around 2600.
Ali grows rice as a summer crop on 15 bighas near his village. He tills this land under a system known as Sukani - a land agreement of paying money in advance to its owner for a plot of land to secure the right to grow crops on it. He grows two varieties of rice crop - Boro and Sali. Boro rice is a summer crop and relatively more productive, yielding 25-30 maund per bigha (each maund is 40 kgs). He pays Rs.4000 per bigha each season to the landlord. For Sali, which he grows in the winter and is less productive, he pays Rs.3000 per bigha in advance.
Ali also grows different varieties of cash crops on Laheswari char - sand bars or isles created by the river Brahmaputra in its course - in another 40 bighas of land. Their village was on this char nearly 45 years ago. He earns Rs.2.5 lakhs on an average each year from his cash crop production. The char is five kilometers from the present Simina village. Constant riverbank erosion has pushed all the villagers to settle on small plots of land along an embankment. Erosion-induced displacement is common in Palasbari. Ali has been displaced five times during his life due to riverbank erosion. Due to southward shifting of the bank line of the Brahmaputra, the alignment of the embankment also shifted thrice in six decades, further reducing the size of the lands protected by it.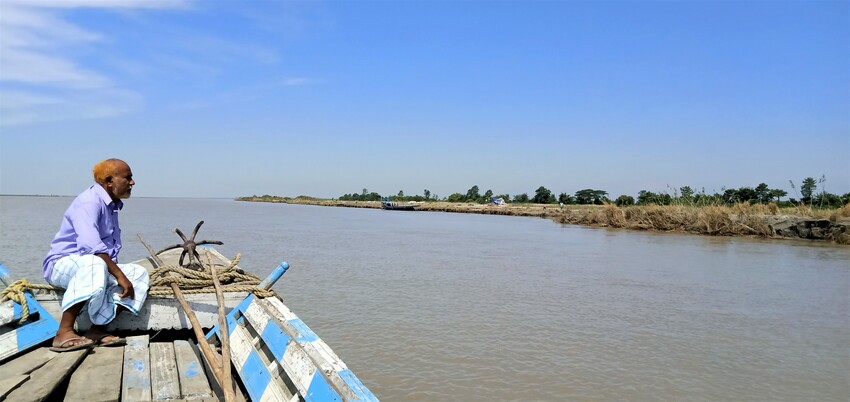 Picture: Hazarat Ali looks out at the char from the river.
According to statistics from the Assam Water Resources Department, over 4.27 lakh hectares of land have been eroded by the Brahmaputra and its tributaries since 1950. This is 7.40 per cent of the total area of the state. Each year, another 8000 hectares are eroded. Constant erosion has made the Brahmaputra 15 km wide in some areas. The area covered by the river has risen greatly, from 3870 square km at the time of its first survey in 1912-28 to 6080 square km during its third survey conducted by North East Space Applications Centre in 2006,
The Socio-Economic Survey Report, 2003-04 counted 2251 char villages in 14 districts of Assam. Kamrup district alone has 175 char villages. Char areas are spread across 171,62 hectares. No subsequent socio-economic survey on chars has been conducted. In some cases, people permanently live on a char, and shift to another whenever erosion takes place. In other cases, people do not live permanently but come there for the agricultural work. All of them live with the constant threat of erosion; the river can change their lives in an instant and leave them scrambling to find a new place to call home, and in need of work.
"Constant erosion has made the lives of all the riverbank people vulnerable. Even this embankment had to be shifted many times. I have seen construction of embankments three times during my life. We have no place to move in case further erosion and shifting of the embankment takes place,"" says Ali, looking at the embankment and the river, which is now hardly 300 meters away from his home.
His story of fighting against the vagaries of nature to eke out a living is similar to those of the other 500+ families of the panchayat who grow crops on Laheswari Char. "We also paid tax for our lost lands, till the revenue office stopped receiving tax against those lands in 2015", says Roushan Ali, another villager who grows crops in 40 bighas of land.
Insecure livelihoods
Every morning two machine-fitted country boats bring the villagers who grow crops on this char, and in the evening they ferry them back to their villages. The villagers grow mustard, sesame, black gram, and jute, as well as few others crops. Wholesale businessmen purchase what they produce directly from their fields. In most cases, the wholesalers book their products, paying money in advance to help growing crops. Without any government intervention for market linkages, the farmers are compelled to accept what the wholesale traders offer them, and there is little scope for price negotiations.

Shiddheswar Kaita, another farmer says they get Rs.2500-4000 per maund of sesame seeds, Rs.1500-2500 for mustard seeds, and Rs.2000-2500 for black gram. The farmers have also experimented with more profitable cash crops like brown hemp and maize. For the hemp crop they get Rs.2000-Rs.2200 per maund. Although the prices are lower, this is a profitable cash crop that can be grown with relatively little effort and low investments, compared to paddy cultivation, the farmers.
These experiments are necessary to respond to constant changes in the ecosystem around them, and also to deal with changing weather patterns and rainfall. And not all experiments produce good results. "Last year, I grew maize on 20 bighas of land. It was a bumper crop. However, due to the COVID situation and lockdown restrictions, wholesale traders could not come to the char to purchase it. I had to destroy all the crops," Roushan Ali says.
The cost of growing one bigha of maize is around Rs.5000. Around 14-15 quintals of maize is produced in each bigha. The products wholesale traders purchase these from the fields at Rs.1800 per quintal. There is no storage facility, and the farmers sell their products straight from the fields. They are nonetheless happy with their winter crop, which is relatively more profitable than rice cultivation. "Although the state government has assured us for long that it will procure rice and provide minimum support prices (MSP), the ground realities are different. We always have to sell rice to local traders, for which we hardly get Rs.500 per maund" says Dipul Das, another farmer in the char.
Life in a char is uncomfortable. Farmers must fight ravaging floods that submerge the lands several times a year. During winters they face shortages of ground water. "We cannot grow rice as we do not have irrigation facilities. We grow only winter crops here. We cannot grow vegetables in the char as the alluvial soil becomes dry during winter. I have made arrangements for two boring pump installations for paddy cultivation, but cannot afford to install them in the char. It costs around Rs.30,000 to install a boring pump", says Hazarat Ali, stating that they occasionally get seeds from the government, but are reluctant to use them as the yield of such seeds is always uncertain.
Ali and other farmers have been growing crops in the char for over ten years. Prior to growing crops on this char, they used to cultivate lands in others chars nearby. Chars are very fragile and often prone to erosion. Whenever erosion takes place in a char, a new one is also created in a nearby area. The Laheswari char, however, has been stable for over a decade. The families earn between Rs.2 to 2.5 lakhs during each agriculture season from their production. Most of them, however, don't keep records of the expenses they incur.
"In fact, all the families of our village are entitled to possess land in the char as this was our ancestral village. However, very few of the present generation are interested in agricultural activities. I have four sons, but only one of them taken up agriculture practice", Hazarat Ali says. Most of the younger generation have shifted to other work like masonry, driving, plumbing, etc. The younger generation considers agriculture non-remunerative. "Only those, who have no other options for livelihood are engaged in agriculture activities", says Sarab Ali, another farmer. Home-based industries based on easily available raw materials like mustard-oil, sugar cane or jute etc. could be set up, but when asked if there have been initiatives of the government for such projects, the farmers are silent.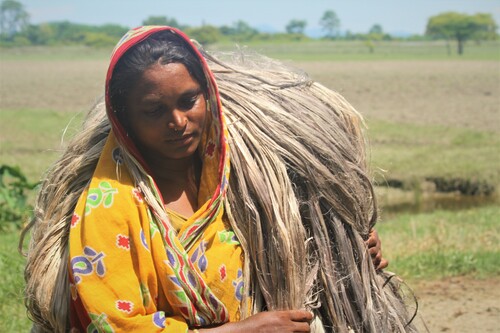 Picture: Jute from the char's fields is ready for the market.
There are five privately owned tractors to till the land in Laheswari char. Farmers pay the owners Rs.300 for tilling of per bigha land. So far, they have not got any tractors, power-tillers, or boring-pumps for irrigation from the Agriculture department. However, most of them still believe that agriculture can provide a sustainable living if proper interventions like irrigation, crop-diversification and market linkages are carried out by the government.
The farmers have come together to form two co-operative societies hoping to get the benefits of government schemes through them. However, these co-operatives cannot be registered, as land documents are not provided in char areas of Assam. Bharat Ranboghshi, the District Agriculture Officer says, most of the subsidised schemes are available only for those farmers who can provide land documents. However, free distribution of seeds for both summer and winter crops is for all the farmers. Landless farmers are also entitled to get minor equipment like subsidized spraying machines and others.
"Most of the farmers are ignorant of what they are entitled to get. There is also a gap in communication as the department is facing a shortage of agricultural field-workers to guide the farmers, and more than 80 per cent of the posts are vacant", he adds.
One of the few sustainable livelihoods in a char is dairy farming. All the families here rear cows, buffaloes and goats. There is enough grazing land, and the flowing river water keeps the animals mostly free from diseases. Fresh milk and curd are sold to nearby towns. The farmers also used to earn substantial profits by selling cattle until the government passed Assam Cattle Preservation Bill in July 2021. Although the Bill is awaiting consent from the Governor, its impact has already been felt, with cattle traders not willing to take any risks. The proposed legislation seeks to regulate the slaughter, consumption, and transportation of cattle in the state.
Embankments - "tested and failed"
Palasbari is a severely erosion-prone area along the Brahmaputra. Embankments were constructed as erosion protection measures way back in 1954, as per the Assam Embankment and Drainage Act, which had been passed the previous year. Such protection measures, however, have completely failed to protect lives and properties of riverbank people.
The Initial Environmental Examination Report, of Assam Integrated Flood and River Bank Management Investment Programme, Palasbari Sub-Project prepared by Flood and River Management Agency for Asian Development Bank in May 2018 notes that Palasbari is located "at the narrowest point on the Brahmaputra River within the State of Assam, controlled by the two successive nodal points at Pandu and Soalkuchi (northern bank). Sediment deposition within the reach has resulted in the formation of a large clustered island or char in the river accompanied by lateral erosion of the river banks for many decades. As a result, the system of embankments has had a long history of erosion and retirement."
Another bank protection project worth Rs.850 million was initiated in 2018 in Palasbari, along with another worth Rs 888 million in nearby Gumi, for "improvement for the deteriorated flood embankment systems protecting key urban, productive rural, and other strategic areas." The project components for Palasbari, which were to be completed within three years, include bank protection for 6.4 kms with 30-metre wide apron with four layers of geo-bags filled with sands, a 3-metre-wide and 0.9 metre thick toe key made of cement concrete blocks in PVC coated cages, 0.4 metre pitching with CC block over a geo-fabric sheet. Structural interventions were also carried out for rehabilitation of a land spur at Simina - dumping boulders in wire net boxes as well as loosely in the apron area, and construction of a five-shutter sluice in the Kalbhog river on the embankment.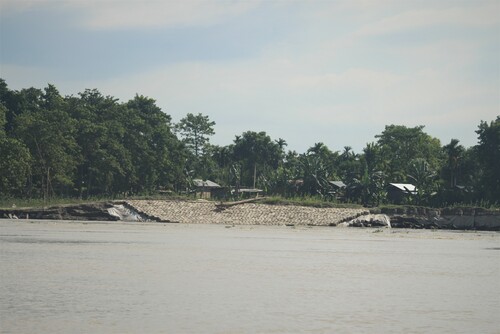 Picture: At several places, the reinforcements along the banks have been washed away by floods.
But all of this hasn't quite worked out, as a site visit reveals. The toe key has already been damaged severely by the annual floods. There were no PVC-coated cages. Three land spurs in Simina too have been damaged severely during annual flooding, and some parts have been inundated by the floodwaters. Only boulders are seen without the wire net boxes.
And the people who were to benefit from such projects continue to suffer, as the project have been shrugged off by the river. Both sides of the entire embankment are filled with small habitations of erosion-affected people. Every available space is occupied, and there is crowding. The people try to survive, somehow finding daily-wage work, or in low-skill occupations. The river has swallowed their lands and fragmented their once-large village into chars and chaporis. The land is fertile, which seems odd amidst the misery the people face daily, hopeful of somehow getting back the lost rhythm of their lives.