On March 14 this year, women football players from all over the country assembled for a seven-a-side exhibition football match at Harishchandrapur in West Bengal. Reports soon revealed, however, that they were not allowed to play and the match had to be cancelled.
The Progressive Youth Club of Chandipur village in Harishchandrapur police station reported that the match was cancelled because of a fatwa issued by the maulavis (Muslim clerics) against the women's football match. The maulavis had reportedly said that the match would be against Islam, and threatened to make the agitation stronger if the organisation went against the fatwa.
In an interesting twist, the local Imam Maqsud Alam subsequently claimed that no fatwa had been issued against the match, but that he had simply stated his opinion and pointed out that Islam does not permit society to watch women playing the field wearing short dresses. It's pertinent to note here that a majority of women footballers around the globe wear a traditional kit comprised of a jersey, shorts, cleats and knee-length socks worn over shin guards.
The block administration, which had earlier given permission for the football match, has since cited law and order issues to cancel the event. BDO Biplab Roy conceded, "We had to cancel the football match because of a possible deterioration in the law and order situation."
Telling women what not to wear...since ages
Article 19 (1) (a) of the Indian Constitution gives citizens of India the right to freedom of speech and Expression. In a country, which fetes a multitude of cultures, dress is a recognised form of expressing identity. Article 51 A (e) that talks of 'Fundamental Duties' states that it shall be the duty of every citizen of India "to promote harmony and the spirit of common brotherhood amongst all the people of India transcending religious, linguistic and regional or sectional diversities; to renounce practices derogatory to the dignity of women."
However, notwithstanding such Constitutional provisions, sartorial diktats meant to be imposed on women have a long history in our country, and neither have they been confined to any one community. The unfailing regularity with which these have surfaced over the course of history paints quite an alarming picture as the following recapitulation shows.
In September 1997, the co-educational Christ College in Bangalore banned girls from wearing jeans and short skirts, calling the attire 'indecent'. This resulted in a furore because boys could wear jeans no matter how tight they were. The ban was removed after much debate.
In March 1999, the Berhampore Girls College in West Bengal placed a placard at the gate banning entry to all girls not wearing the saree. The announcement endorsed a 1947 decision by the college authorities to ban any form of dress other than sarees for girls on campus. A few students made a move to break out of this mould that spurred the non-teaching staff of the college into defending old traditions.
In 2000, almost all girls' colleges in Kanpur implemented the dress code laid down by the Akhil Bharatiya Vidyarthi Parishad (ABVP), the student wing of the BJP, which laid down that women cannot wear jeans or skirts to college. The issue flared up when two girls -- Heena Kaisar and Chetna Bharatiya --from S.N.Sen Girls College, Kanpur, assaulted their principal Madhulekha Vidyarthi for disallowing them entry into a farewell party on campus because they were wearing jeans.
While the assault on the principal cannot be condoned under any circumstances, the incident stands as yet another testimony to the repeated history of socially-sanctioned censorship on dress codes. Though accusing fingers were pointed directly at the ABVP, Anand Mapuskar, Maharashtra State Secretary of ABVP said at the time, "The ABVP has never enforced a dress code in college campuses all over the country. We had nothing to do with the dress code incident in Kanpur either. The management of several colleges have decided to enforce a dress code for women."
There have been more violent outcomes as well. In 2003, four women in the Kashmir Valley including two young students, a teacher and a 43-year-old woman lost their lives because they did not follow the dress diktat imposed by a militant group, that insisted that all women must wear veils. Three of the women were shot dead while the fourth, Shehnaz, a second-year student at the Girls Higher Secondary School in Palandhar was beheaded.
The diktats have not always confined themselves to the attire worn. On December 18, 2004, Tapati Dutta, headmistress of Bonhooghly Girls School, founded in 1956, sent a notice to her teachers. The notice asked the lady teachers of the school not to wear lipstick, or line their eyes with kohl or surma, or wear dangling ear-rings within or even outside the school premises wherever and whenever they represented the school.
Seven of the teachers refused to sign the notice. Everything went on smoothly between 20 December and 30 December presumably, because the headmistress was not present during morning prayers. The following morning, she is said to have stopped the dissident teachers from entering the classrooms. When three of the seven dissidents softened their stand, the embargo was made applicable to the remaining four. With three of the 'rebel' teachers not allowed to attend class and the other not turning up, protests soon took on a political hue.
The very next year, The Telegraph dated 25 July 2005 reported that Muslim women of Cheetah Camp, a new Muslim settlement on the Central Lines in Mumbai, a locality strongly dominated by maulanas of the conservative Tablighi Jamaat were forbidden to have tea at restaurants. Women were also banned from watching television and wearing certain types of clothes.
But the Forum Against Oppression of Women, a women's group organised a protest march against this fatwa. "We took one group of women out to tea in a restaurant. Their excitement was amazing," said Sandhya Gokhale a member of the group. About a hundred women, many of them wearing burqas, came marching down the crowded streets of Bhendi Bazaar, carrying roughly-made cut-outs of maulanas with their faces crossed out.
This was perhaps the first time that the community's religious heads in the city were being asked scathing questions by women right there in the open. Of the many aggessively-worded questions thrown at the self-proclaimed moral guardians of society was one that said
Shareer hamara, kapde hamare aap ke baap ka kya jaata hai?
(It's our body, our clothes, who are you to decide what we do with it?)
The roots of repression
Active and even passive advocates of strictly defined dress codes for women often argue in favour of such proscriptions as above citing a 'better-safe-than-sorry' approach. While such an argument is wrong at many levels, let us, for the moment, just stop to think how often we've heard of an Indian woman being molested, raped, eve-teased or harassed because she was 'dressed' provocatively in shorts, bikini or lingerie in India.
Nirbhaya was dressed 'decently' even by the standards of the strong Talibanesque codes of dress for women. The victim of gang rape in Kolkata's Park Street was not wearing shorts when she was raped. The two small Badaun girls had gone to perform their ablutions in the open as they did not have proper toilets. Reports of rapes (especially of minors) coming in from the heartland, where women have culturally always stuck to traditional forms of attire, have seen an unprecedented rise.
Most recently, on the same night of 14 March when the women's football match had to be called off, a 74-year-old nun Convent of Jesus and Mary School, in Ranaghat, West Bengal was raped. Was she wearing shorts? No. Was she dressed 'indecently' according to the patriarchal codes of any religion in the world? No. One cannot help but wonder where, why and how a woman's dress became such a huge moral, political and social debate.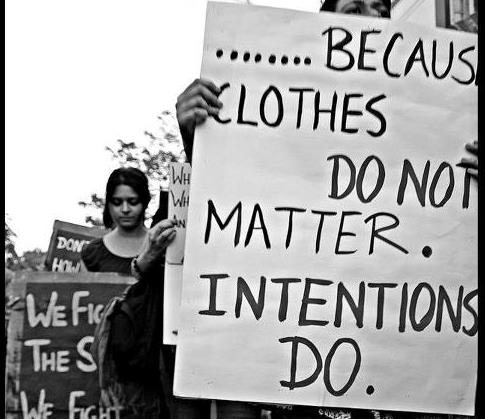 In patriarchal societies, men have always had the power and control over manipulating women's conduct. They use this power to enforce modesty on women. This is traced back to man's unconscious fears of the castrating mother, writes Edmund Bergler, a social scientist. Bergler argues that unconsciously, every man is afraid of every woman. His relationship with his mother evokes in him a number of baby fears which, as he grows up, he associates with all women in general. These are the fears of being starved, devoured, poisoned, choked, chopped to pieces and drained.
All these culminate in a phallic fear of being castrated. They lead the man to evolve an unconscious, powerful portrait of himself. By that logic, therefore, if a man finds a woman imitating and/or equaling his way of dressing, which is an integral part of this 'powerful portrait,' his defenses are up at once, and he proceeds, with the help of this powerful self image and the strength that he derives from patriarchy, to 'cut the woman down to size.'
One could increasingly begin to read some logical sense in this theory in the Indian context. Otherwise, why are girls and women in India who wear what they want -- short skirts, shorts, tight jeans, skin-tight tees, low-cut dresses or blouses -- continually hounded till they cower and retreat within the conventional image of feminine propriety, but actually attacked less often? Are men scared to rape them as long as they appear outwardly bold enough to spurn the dress codes imposed upon them by society?
So, go on gang of girls, wear whatever you wish to! Place this against the next diktat, disguised as a 'suggestion,' and make what you will of it.