Like an aspirant young couple separated from the joint family, citizens of four year old Chhatisgarh too dream of an ideal home carved out of the larger state of Madhya Pradesh. Seventy five Chhatisgarhis (calling themselves '36garhi') gave vent to their feelings at a "Dream Chhatisgarh Meeting". They met in the forests of Barnavapara in Mahasamunda district during April 7-9. I attended this meeting. The participants are part of a larger e-group on the internet called Chhatisgarh-net.
Dream they did, but with feet firmly on the ground reality. This reality continues to be as summed up in following verses by the well known Hindi poet and novelist, Vinod Kumar Shukla.
A lone tribal girl
is not scared of dense forest.
But she is scared to go to
Geedam's market to sell
Mahua flowers.
It's a market day!
With basketful of Mahua
on the head or the shoulder
these simple tribal(girl)s walk down
the hill & gather near a tree
to go 'together' to the market!

A discussion session is on at the meeting. Pic: Aman Namra.
The reality still includes many custodial deaths too. Goldie George of Dalit Mukti Morcha told me about a boy who was caught by the police. His crime was that he was carrying a few sticks collected from the jungle. The authorities charged him with 'stealing forest resources'! The boy was detained by the police and beaten up. For his release, George reports that police asked the parents to cough up a 'ransom'. They could not afford it, so the boy was beaten up till he died.
Another case is of the journalist Akshay Thakur who brings out from Rajnandgaon, a local Hindi newspaper which criticizes the establishment and gives voice to the downtrodden. He was implicated in a fabricated case of printing naxal handouts to instigate tribals. After 23 months in jail along with his five other journalist colleagues, he was lucky to win the case and all were released. But no such luck for over 2000-3000 similar false cases against poor tribals and dalits charging them as naxalites. Their crime! They raise their voices against the corrupt police or greedy jungle contractors.
For ages, tribal people and forests have complemented each other in India. Tribals have taken as much as they need from the jungle and given back, perhaps in a way that no economic theory has ever looked at. For generations tribals in the Chhatisgarh region have lived on collecting forest produce like Mahua, Tendu leaves, variety of tree bark & resin and so on. But markets started intervening and the tribal-jungle relationship as well as trade changed. With the entry of agents and intermediaries began the never-ending saga of exploitation of tribals followed by repression.

Suddenly the new forest law tells them that such collection is illegal and asks them to produce evidence of their right to live on their land. A forest guard took some 107 adivasis' thumb impression saying their 300 acre land is being regularized but actually the land was given to develop a nursery. Such incidences of outright cheating of tribals are rampant. And these all were the very reasons for naxal uprising which is strongest in Bastar. It is not for no reason that the tribals resist forest and police departments who they feel are filled with are outsiders, exploiting them.
Tribals constitute 32 per cent of Chhatisgarh's population. Yet, four years after the state was born, the status of the tribal population does not seem to be improving. At the meeting, participants began from how and why Chhatisgarh was created, how the Chhatisgarh-net e-group was mooted by its coordinator and former BBC journalist Shubhranshu Chowdhury and went to discuss a variety of issues related to agriculture, water, tribal & forest, naxalites, dalits, industry & power, mining, social development and the media situation.
Chhatisgarh was carved out of a part of Central India inhabited for centuries by tribals – and rich in natural resources. The region is famous for its biodiversity -- rice varieties and medicinal herbs. One of the early controversies was over rice varieties. 20000 indigenous varieties of rice seeds had been painstakingly collected by the famous rice researcher, the late Dr. Richaria. Richaria had documented each rice seed variety in minute detail from the tribal farmers. There was an outcry on the suspicion that top scientists from Chhatisgarh's Indira Gandhi Krishi Vidyalaya (IGKV) were going to sell this information to agribusiness multinational Syngenta. The fear was the traditional knowledge of Chhatisgarh's farmers would loose out to private intellectual property rights.
Dr Richaria's collection of rice germ plasm has not been put into public domain despite public opinion and media outcry. This worries activists and vigilant Chhatisgarhis who would like to take action to prevent private interests from accessing these seeds. But establishment secrecy on the goings-on is the dilemma of the 36garhis. How to fight an unseen enemy? 36garh e-group member Jacob Nellithanam is an activist and expert on rice farming in Chhatisgarh. He appealed for the formation of pressure groups to save the situation in the state where 80 per cent of cultivable land is under rice and 90 per cent population depends on the agriculture.
Sensing similar danger from another private firm to the traditional knowledge of Chhatisgarh' s simple, poor and illiterate people, Pankaj Oudhia – an e-36garh group member and renowned agronomist - has taken upon himself a mammoth mission. He is single-handedly documenting Chhatisgarh's varieties of medicinal herbs numbering over a lakh, talking to the local people who know about these varieties, their characteristics and their usefulness.
Over last four years, Oudhia has uploaded about 12000 such documentation on www.botanical.com and to meet his objective of 1 lakh such documents going on to the public domain in his life time, Oudhia goes on at an astonishing speed of three such documentation a day plus one or two articles for Hindi media for mass circulation. "Tomorrow, if a foreign company claims rights over a research of a variety, a mere search on Google will produce my article exposing their IPR claim," says Oudhia.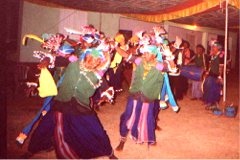 Adivasis performing a traditional dance at the meeting. Pic: Aman Namra.
There is also the famous case of a stretch of Shivnath river in Chhatisgarh given to a private company. This was first documented by e-36garh member Arun Singh. In Raigarh district, three rivers were to be similarly 'privatised', but the government did not go forward because resistance from the people. The Shivnath issue is in the Courts and is subjudice. Farmers took loans to dig bore wells but private firms dug deeper rendering 15-20 villages without water. Farmers now fear that hundreds of villages will run out of water. Industries digging deeper and taking away water are also causing pollution in the region. The pollution is taking its toll reflecting on 30 per cent less of Mahua flower produce – a main livelihood source of the tribals.
The making of the Chhatisgarh state actually never had tribal issue as the central issue and unlike Uttaranchal and Jharkhand, Chhatisgarh was not born out of people's agitation demanding separate statehood. It came much easily and because of political compulsions. Tribal welfare was a suitable guise for fulfilling political aspirations. The non-tribal view is that the tribal should retain their independent identity. Hence on the topic of tribal welfare and development, the talk veers away towards meaningless issues like searching for alternate systems for the tribals, instead of the real issues related to the lacuna in the mainstream system, says an e-36garh member, Sudip Thakur, a Delhi based journalist.
Thakur raised pertinent questions like whether just making a separate state amounted to giving control in the hands of tribals, or whether the administration was going to truly take cognizance of tribal problems. What is the role of the tribals in the development of this state which is so rich in natural resources? Is it not high time to change our scientific understanding taking into account the reality about tribals? Otherwise how long are you going to make them dance in their traditional attire in the Republic Day Parade, quips Thakur.
The failure tribal politicians elected through reservations to get justice for their people must be seen together with the fact that naxalite rule is now strong in Bastar and Rajnandgaon of Chhatisgarh.

Thakur says that whatever the outcome of debate on jungle-tribal relationship, they will never get justice unless they get greater partnership in political power. Though there is reservation in assembly and parliament, this very provision is used as a strong political weapon. Even when some adivasis have gotten politically powerful, they have been sucked into the system and have not done justice to their brethren. The naxalite rule strongly in Bastar and Rajnandgaon of Chhatisgarh and make their land immune to outside influence. But in areas where no outsider can dare to enter, e-36garh member Ruchir Garg – editor of Deshbandhu – a local paper -- went in several times to study their life and working style.
The knowledge and experience rich e-36garh members communicate online everyday and spread the news and views on Chhatisgarh. Alok Putul – resident editor of Deshbandhu, Aman Namra – editor of Charkha and Shubhranshu Chowdhury send daily updates. The medium is evolving into an effective alternate digital media that has potential to act as pressure group and a watchdog. Media outside Chhatisgarh could use the postings on this group to know more about this little, new state. The group has plans to launch a website as well.
* * *
Chattisgarh-net is an internet e-group. Archives of messages and discussions are public. At the time of writing this report, the list had 324 members.
Groups.yahoo.com/group/chhattisgarh-net
.