This is the story of two pioneers. The common thread that binds them is that they are both activists in different ways though distanced by age, gender, class, education and social strata.
Shambhu Prasad Singh was an activist-crusader who fought for his rights and the rights of his fellow-workers and peers till his last breath.
Ranu Ghosh, an acclaimed filmmaker, decided to record this man's lonely crusade against the gross violation of human rights for posterity and for history in a film that throws up a strong rewriting of the term 'development.'
The genesis
Ghosh had been working on a film project on closed and sick industries in Bengal for CINDIT of New Delhi and shares, "While I had earlier worked on voluntary basis and in a sort of activist mode with small, local organisations, this was the first time I was to professionally explore the issues that have always interested and concerned me."
Quarter Number 4/11 happened almost by accident while she was working on her Sarai CSDS Fellowship on Change of Industrial Landscape in Kolkata. But while a product of her research, Quarter Number 4/11 also sprung from an ideology that evolved from first-hand experience.
Ghosh used to live in a rented accommodation in the neighbourhood right behind the erstwhile 'Usha' Factory on Prince Anwar Shah Road in Kolkata in 1995. This eventually became the site of a mammoth real estate development named 'South City' – an upmarket project comprising posh 35-floor residential high-rises and one of the city's most popular malls today. Subsequently an international school, too, was built at the site.
In fact, after the fellowship, during which she made frequent visits to the site of the Usha Factory, Ghosh created an art installation on South City for entry in the European biennale Manifesta-7, 2008 in Italy. "My installation, completely abstract, was exhibited for 15 days in Italy and I had named my installation Politics of Closure," she explains.
When Ghosh lived in the particular Kolkata neighbourhood, the Jay Engineering Factory, of which Usha Industries was a unit, still occupied most of the industrial enclave and had not been shut down completely. "The ancillary units comprised of small workshops, sheds and vendors surrounded the factory and I could see many of them from the terrace of my house," she recalls.
She had already been working on the Calcutta wetlands for a year, observing the changes resulting from construction and real estate development in areas off the Eastern Metropolitan Bypass, including Salt Lake.
"When I began to research the impact of these new constructions on the environment, I was shocked to discover that town planning norms had never included the development of these areas." As she probed deeper into the government's urban development plans, she found that many parts of the city that were being developed at a frantic pace were never really meant to be built up in such a way. The sites proposed for development lay in the Howrah region that is on the other side of the river Hooghly!
"I later learnt from rickshawallahs that the housing complex in which I lived was built on a paddy field and the manicured lawn in which I relaxed was the spot where he cultivated his own paddy crop! So he was forced to pull a rickshaw while his wife worked as a domestic servant," says a shocked Ghosh.
Another bigger shock awaited her as she heard that the Usha Factory had been sold off to the consortium developing South City complex. In 1993, a year before Jyoti Basu, then Chief Minister of West Bengal, announced a new industrial policy aimed at increased investment in the state, Jay Engineering Works had announced that it could not carry on with production anymore. The company produced sewing fans under the brand name Usha.
Eventually, in 2003, they sold off the land on which the factory stood in the southern parts of Kolkata to South City Projects (Kolkata) Limited, a consortium consisting of seven major real estate magnates. This would entail the shunting off of 7000 workers and demolition of their living quarters in exchange for petty compensation.
"I was shocked because this was in direct conflict with Jyoti Basu's earlier statement in 1994, when he had declared that the Usha Factory land would be used for constructing the Apollo Hospital and that a pharmaceutical factory would come up there, automatically absorbing the people rendered jobless because of the shutting down of the factory," says the filmmaker.
This formed the context for Ghosh's film, but the actual project was structured around the perspective of one man, Shambhu Prasad Singh, whom she met in 2006.
A fighter extraordinaire
As the South City real estate project sought to take off, builders evicted the factory workers from their quarters. Shambhu Prasad Singh, along with 13 colleagues, stood his ground. They refused to take forced voluntary retirement and filed a court case demanding respectable compensation. Singh refused to budge from his quarter number 4/11, where he had lived with his family for decades.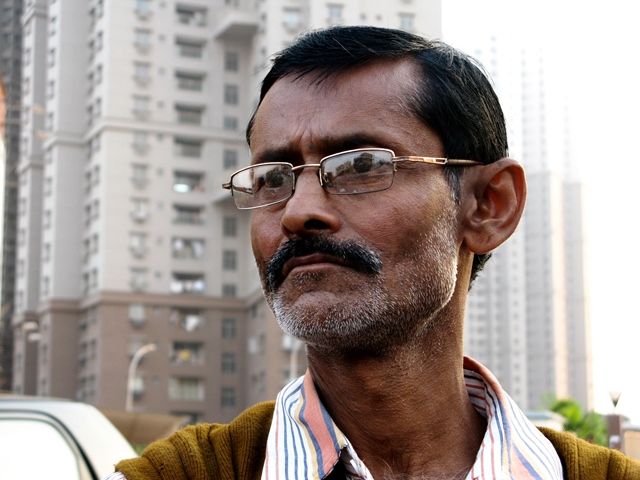 The court granted a stay order. But neither electricity nor water was available as the supply lines had been cut off. Singh managed to stay on till 24 December 2008, when the building where his quarter stood was finally razed to make way for what is now a swimming pool!
Singh continued to fight his case but was reportedly killed in a hit-and-run accident on 14 January 2011, his body having been found on the roadside. His family has moved to Bihar while Ghosh supports his son's education till today.
Looking at the man, no one would ever imagine that there was so much spirit, guts and courage lurking behind that simple persona of Shambhu Prasad Singh. He was the quintessential common man who did not reveal a clue to the fact that he was such a fighter.
When Ghosh first met him in his quarters which had still been standing, the modest, decrepit structure presented a visible irony juxtaposed against the 35-storeyed high towers coming up around it. Shambhu was challenging the real estate people and the promoters and the vested interests in a way they had not expected in their wildest dreams.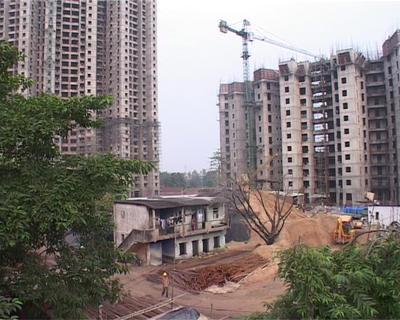 "The South City Complex is Eastern India's largest mixed-use real estate development. And here was an ordinary factory worker, Shambhu, standing up to the very forces that were trying to displace him from his own ground," says Ghosh, almost in awe.
Most of the workers had quietly accepted the meagre amounts they were given as 'compensation'. They also left their quarters. The buildings were dismantled almost immediately.
Ghosh remembers, "Through my conversations with others, including women, what emerged was how they had been affected by the strong-arm tactics of the developers. I was witness to the last vestiges of two generations of a community on the brink of oblivion. Most of them were immigrants from neighbouring districts and states and were not able to cope with the changes forced on them. Jobless and homeless, they opted to live in the hutments and shacks surrounding the complex because they were too used to the neighbourhood and did not have either the willingness or the ability to leave it."
In fact, many continue to live there even now in shabby conditions, in the absence of the most basic of amenities. Skilled workers are now caretakers of private property, itinerant vendors, running tiny shops, plying cycle rickshaws, or simply sitting in despondence beside the blocked gates of what is touted as the one of the tallest constructions in this part of the world. "Is this development?" asks Ghosh.
The film and its maker
"Quarter Number 4/11 is a low angle, ground zero perspective of development as seen by a single man being crushed under its weight. It is one man's lone, losing fight to hold on to the ground where he was born, grew up and earned his living. It is the narrative of a man who was being forced to evacuate his ground to make place for development" says Ghosh.
The film, supported by the Asian Cinema Fund, South Korea and Sweden's Goteborg International Film Festival Fund, has had 17 full-house screenings in Bangalore, at Harvard University, and at MIT and TUFT Universities in the US and till date, 250 screenings all over India.
"Environment and the politics it is born of and breeds is my interest. After graduating with science, I worked for a degree in film-making at London at the TVE. Upon my return, I assisted Soumendu Roy for a few films and then joined Ranjan Palit's team. I did the lighting for Bangladeshi filmmaker Tareq Masood's Matir Moyna (The Clay Bird)," she shares.
Ghosh has also made environmental documentaries for BBC such as the Lifeline series and In the Face. She worked for a series called Railways in Monsoon. She then began to make her own films – Curtain Call, a documentary on a famous stage actress Ketaki Dutta, followed by Like Whirlwinds, an ongoing project funded by TED jointly with Sundance.
Revolutionary Optimist nominated for the EME Award was a documentary about a self-initiated NGO, Prayasam, created to build leadership values among underprivileged children, who then work in groups to improve the local environment.
"Through Quarter Number 4/11, following Shambhu Prasad's narrative, I have tried to explore the injustice that is built into the apparent 'success' of this metropolis. Every phase of similar 'development' is underwritten by the pain, exploitation and loss of real human beings that are built into their fabric, posing a constant threat to the soaring structures and glittering monuments of modernity," Ghosh sums up.
Indeed, the narrative that Ranu Ghosh has so vividly captured in her film is a telling commentary on the increasing gentrification in the country, a general term used to describe the arrival of wealthier people in an existing urban district, a related increase in rents and property values, and changes in the district's character and culture.
The effects of gentrification are complex and contradictory, and its real impact varies. On one hand it leads to 'development' of a complex such as South City, on the other, it stands for the displacement, forced unemployment and forced eviction of workers and their families to make place for consumerist progress in a globalised world.