"Pumpset?" asks Suresh Deshmukh in Talegaon, Wardha. "My brother had one he last used in 1991. It went dead then. There's no water anyway to pump. We still get the minimum charge bill, though. The arrears are over Rs. 10,000." That is for a pumpset that has not worked one hour in 14 years. When his brother committed suicide last year, his chief concern was debt, not power.
Government's "sop"
In just two months after the then Maharashtra Chief Minister, Sushilkumar Shinde, announced "free power" for the State's farmers in 2004, there were some 80 farmers' suicides in the Vidharbha region. And that is from a very flawed accounting of the tragedy. The deaths did not stop though the free power theme stayed on the Congress-Nationalist Congress Party election manifesto in October.
Most of the farmers taking their lives never owned a pumpset and "free power" had no meaning for them. Perhaps less than 10 per cent of Vidharbha's farmers own pumpsets at all. And some of these were run on diesel, not electricity. However, rising prices placed diesel, too, out of reach for many.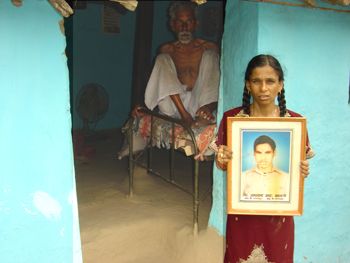 Prabhakar Khatale's sister holds up his portrait in Ashti village, Wardha. Like most other farmers who committed suicide, Khatale did not own a pumpset. [Picture by P Sainath]
In the worst-hit district of Yavatmal, the largest number ever of farm suicides took place in the 10-month period after "free power" came in. This year, Yavatmal saw 29 farm suicides by May - before the agricultural season began. So power was not the trigger. And the deaths have gone on since then too. If anything, there have been fewer after free power was stopped by Chief Minister Vilasrao Deshmukh in May. Which suggests there is no great link between the suicides and free power.
"Free power has never been a demand of farmers in this State," points out Ashok Dhawale, general secretary of the Maharashtra Kisan Sabha. "Not of the Kisan Sabha, nor of any other farmers' bodies. However, both Sena-BJP and Congress-NCP governments have pushed this as a major issue. In doing so, they are just hiding their own failures. They never addressed the far more basic needs and concerns of the farmers. Credit, water, stable power, lower input costs and fair prices."
Mr. Shinde announced his "sop" on August 4, 2004. The same day, four farmers took their lives in Yavatmal, Akola, Akot and Amravati. "Even as he was speaking, people were killing themselves," says Jaideep Hardikar, a Nagpur-based journalist. Mr. Hardikar has covered the suicides for years. Mr. Shinde was acting quickly to counter Bal Thackeray's promise of free power to farmers if the Shiv Sena won the polls.
Chief Minister Vilasrao Deshmukh stopped "free power" for farmers on May 10. He said the Shinde Government had given it "in view of drought and suicides by farmers" but things had changed now. However, water problems have increased in the last year. And suicides occurred in better irrigated parts of this region, too. Or in parts which got good rainfall. Yavatmal, for instance, got over 900 mm in 2003. Yet it saw dozens of suicides that year.
Of the 10 households surveyed by The Hindu last week, four had seen suicides before August 2004. That is, before the "free power" period. Another four suffered them after the coming of free power. The last two occurred after its withdrawal. Of the 10 victims, nine had not owned a pumpset anytime in the past three years. Three had owned 3 HP sets between four and 10 years ago. Six households - like that of Prabhakar Khatale - had never seen one. "It's pointless," says Vasantrao Chavan, in Mulawa village, Yavatmal. His nephew Abhay Shamrao was the only one of the 10 suicide victims who owned a working pumpset within the past three years. "There is no water. What will you pump?"
"The cotton federation's delays in paying our dues are a worse headache than power," says Rameshwar Chardi. A farmer in Waifad village, Wardha, he points to the deadly cycle this sets off. "They don't pay the dues, we can't feed our families. Without the money, we cannot repay our loans. Without that, we won't get new loans. This means we're crippled in the next season."
Besides, when farmers take their produce to the federation, it deducts bank dues from their payments. In short, says Vijay Jawandia a farmer's leader in Wardha, "a body set up to aid farmers serves as a loan recovery arm of the banks. Why should it?"
As Suresh Deshmukh points out: "Because of this, many don't take cotton to the federation. So we have no choice but to sell to private traders."
Which means far lower prices. His brother had sold cotton at Rs.1,600 a quintal to traders. That, when the minimum support price was Rs. 2,300. This sets off the whole debt cycle again. Even now, the federation owes lakhs of farmers two instalments of dues. If paid, they could buy inputs for the new season without turning to moneylenders.
Other reasons driving the crisis are the same as those in Andhra Pradesh or Kerala. Input prices are rising and output prices crashing. Debt is soaring. "Not only is the cost of production going up," says Vijay Jawandia, "so is the cost of living. Health, transport, all other items. Globalisation and liberalisation have had a deadly impact. Earlier when production failed, prices rose. Now, even when the crop fails, prices go down."
Collapse of rural credit
Rural credit has collapsed. "Interest rates are higher in this sector than any other. Even now, if you buy a 3 HP motor, you end up paying 18 per cent interest. Contrast that with housing loans or car loans." And, just when he needs it the most "the State has turned its back on the farmer."
Yet free power became the talking point of the elections. Issues far more deadly have been sidelined. For instance, the Congress-NCP manifesto spoke of an assured price for cotton of Rs.2,700 a quintal. But this year's price is unlikely to exceed Rs.1,980. This means most farmers face losses before they have sown the first seed. Nor has any assurance on irrigation been fulfilled. The elections are over. But Vidharbha pays the price of power. Power of the political kind.