Shekhawati, Rajasthan - When 55-year-old Banwarilal Jangir decided to turn to organic farming four years ago, he wasn't very sure of its benefits. He hoped it would improve the harvest in his 1.94-hectare farm in Nawalgarh, Rajasthan, where he cultivated wheat, fenugreek, chickpeas and isabgol. The yield wasn't high in the first year, but he wasn't disheartened. He struggled for a while, often selling the produce at market value, without making much profit.
Three years down the line, Jangir's efforts have finally paid off. Two companies have lined up to buy his crop this year and he's hopeful of getting a good deal. "I am sure I will earn at least 20 per cent more," says the elated farmer.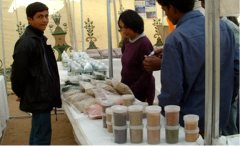 A stall selling organic foods at the Shekhawati Festival usually held in mid-February. Pic: Morarka Foundation.
His story is echoed across Rajasthan, where thousands of farmers have opted for a way of cultivation that does away with pesticides, and most importantly for a desert region, uses less water. Its dramatic results are nowhere more visible than in the Shekhawati belt, comprising regions such as Nawalgarh, Jhunjhunu, Mandawa, Sikar and Churu. Standing in the middle of a farm, with large red roses blossoming on one side, and green wheat fields stretching on the other, it's difficult to imagine that sand dunes can be found just a few miles away.
Much of the transformation has been due to the work of the M R Morarka-GDC Rural Research Foundation, started in Jhunjhunu over a decade ago. The foundation is a non-profit organisation funded by the firm Gannon Dunkerley and Company Ltd (GDC), and its founder-chairperson is industrialist Kamal M Morarka, also the head of GDC and currently the vice-president of the Board of Control for Cricket in India. Apart from promoting organic farming, the foundation works in areas such as micro-credit, primary healthcare and education, biotechnology, waste management and heritage conservation in the fresco-filled havelis of Shekhawati.
The foundation estimates that hundred thousand farmers across the country (with an average landholding of four acres) have switched to organic methods because of its efforts, and claims that farmers in Rajasthan make up half this number. It has helped them find a market for their products, while also facilitating exports. Its main contribution, though, is perhaps something more enduring: organic farming methods reduced the farmer's dependency on rainfall.
Farmers' gains from Organic
Even when rainfall is 60% of normal, 50% farm output is possible. Using herbal pesticides instead of chemical, water usage is cut back by at least 40%.

---
•
Transitioning to organic
•
A ray of hope in Nasik