Following e-commerce giant Flipkart's Big Billion Day sale in October, when it offered steep discounts over a range of products on a chosen date, the e-commerce market in India has become a subject of hot debate and discussion. Rs 600 crore worth of transactions in a span of 10 hours raised many eyebrows and fuelled questions over the business practices followed by e-commerce giants.
On the one hand, e-commerce is hailed as the 'next big thing,' resulting in more competition in retail and new vistas for customers; on the other, it has raised a number of concerns over trading practices adopted by companies engaged in such trade. Given that the country lacks a clear policy and a mechanism to monitor the activities of e-tailers on the lines of the Federal Trade Commission (FTC) in the USA, questions over the violation of Indian laws by e-commerce players have cropped up time and again, especially as the volume of online sales has surged.
FDI imbroglio
One of the most strident objections relate to India's overall policy approach towards Foreign Direct Investment (FDI), and in particular towards FDI in multi-brand retailing in India.
Till April 2012, there had been no separate FDI policy for e-commerce in India. From 2006 to 2012, FDI investment up to 51 per cent was allowed in single-brand retail in India, and in January 2012, this was raised to 100 per cent.
In April 2012, the government allowed FDI in e-commerce but only in a B2B (business-to-business) model and in September, the government clarified that e-commerce companies with single and multi-brand FDI cannot indulge in B2C (business-to-consumer) transactions.
A government release dated 20 September 2012, prohibiting retail companies with FDI from indulging in Internet sales, created shocks in the sector. E-tailers with FDI which had been functioning on an inventory model till then would now have to resort to a market-place model.
Prima facie investigations by media revealed that the e-commerce companies were engaged in B2C trading even as the companies received a large chunk of FDI. Despite e-commerce companies claiming that they were only facilitators or service-providers between the buyer and seller, media investigations revealed that some of the e-commerce companies like Flipkart, Snapdeal and Jabong had stocked inventories in their warehouses and were operating a B2C model.
Acting on the charges of FDI policy violation by e-commerce companies, the Enforcement Directorate (ED) initiated a probe, which forced e-tailers to sell their warehouses and restrict business to a B2B model. For instance, Flipkart moved into a market place model in 2013 and also sold its inventory WS Retail in order to be fully compliant with FDI rules.
However, more recent media reports suggest that based on its probe, the ED seems to regard Flipkart's business structure as falling in a somewhat "grey area." The question of whether an FDI funded e-commerce company having an association with an online retailer engaged in B2C trade may be held as violation of the Foreign Exchange Management Act has been left unanswered.
Predatory pricing
At a more operational level, a major allegation against e-tailers relate to predatory pricing of products. E-commerce majors like Flipkart, Snapdeal and Amazon are selling products at cheapest possible price, giving rise to speculation that may soon push smaller business houses out of business.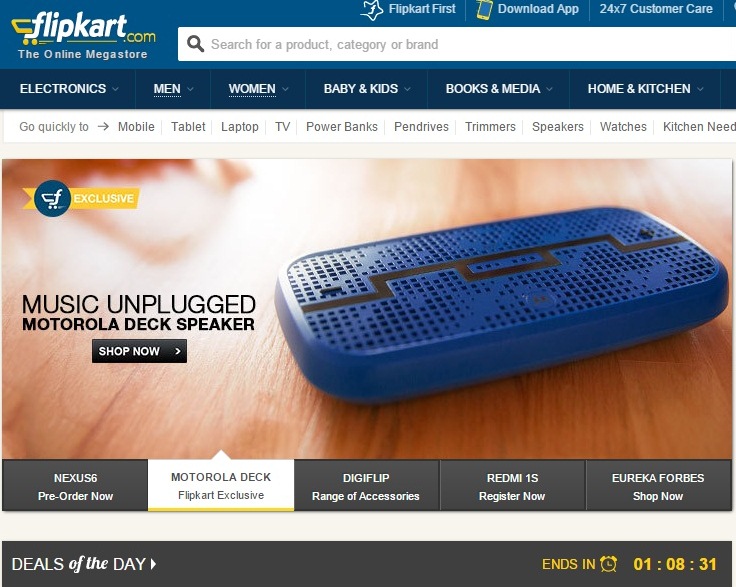 Observing the trend of steep discounts that often appear too good to be true, retired Economics professor from Mangaluru, Raghunandan observes that the online traders are only testing the market at present and the discount gimmick is not likely to last long.
"A healthy competition is desirable from the customer's point of view. However, online retailers should not be allowed to get into exploitative gimmicks by offering unreasonable discounts and the government must regulate such dangerous trends," says the professor.
Supporting his view, the president of Mangaluru based Kanara Chamber of Commerce and Industries (KCCI), Nigam Vasani too stressed on the need for the government to introduce a guidance value for all the products sold online so as to prevent e-tailers from selling products at unreasonable prices and work in a level-playing field.
Tax evasion
The need for better monitoring of e-commerce has been underlined more than ever with the Karnataka and Tamil Nadu governments warning and issuing notices to vendors in the online marketing space to comply with the tax laws of the respective states.
The Commercial Tax department of Karnataka has issued notices to e-commerce companies, directing them to pay Value Added Tax as they are operating under the marketplace model. The department terms them as 'traders/dealers' of goods and has asked third-party vendors to stop supplying goods to e-tailers' warehouses.
This has created a fresh controversy because VAT is normally applicable to sale of goods by a seller who has ownership of goods. E-tailers caught in a lurch argue that they do not have ownership of goods and are merely the facilitators.
It could be noted in this regard that a 1992 Supreme Court ruling exempted mail-order business from collecting sales tax unless they have a physical presence in the State. This shows the need to redefine the term 'physical presence,' as the judgment, which was given two decades ago when there was no online trading, is less relevant now.
A comprehensive policy
Apart from the issues surrounding Foreign Exchange Management Act, inordinate discounting and tax evasion, there are several other problems due to the lack of clarity on e-commerce in Indian laws.
The IT Act, contractual laws, consumer laws and advertisement laws which are non-specific on e-commerce, should be either modified to include specifics relevant to this new form of trade, or a separate e-commerce policy has to be formed addressing all such aspects.
To cite a single example that highlights this need, there is no mechanism to monitor and regulate e-traders to follow privacy policies within the boundaries of existing cyber law.
E-commerce requires the customer to provide his personal information and bank details. At a time when cyber-crime is on the rise, there is definitely a need to impose some obligation on e-tailers to have adequate checks in place that will ensure privacy and safe transactions for customers. It is equally important to make certain that e-traders abide by the Data Security Standard when storing, processing and transmitting credit card data.
E-commerce players remain silent
The rising frustration and anxiety that e-commerce practices have created among traditional brick-and-mortar businessmen is evident. Speaking to this journalist, Madhukar Rao, a TV vendor in Mangaluru expressed the need to regulate e-commerce activities, even though he admitted that it is not as easy as it appears to be.
"While it is said that only two per cent of Indian population opts for online purchasing, the number of people who would prefer online trading is likely to see a rise in the coming years due to Internet penetration. Traditional retailers are already bearing the brunt," Rao said.
Substantiating the same, he pointed to the fact that 10 years ago, most of the newspapers in the city were filled with advertisements of traditional brick-and-mortar businesses, which has since been replaced by stores run by multi-brand retail chains. The day may not be far when even these chain retail outlets lose their ground due to online traders.
Speaking of the constraints before traditional retail, Rao said, "Despite the argument that e-commerce will increase competition and become advantageous to customers, retail shops cannot take the risk of reducing prices in the same manner as e-traders, as we have to think about the margin for operating the shop. There is a definite urgency to regulate e-commerce before it's too late."
Those at the centre of this storm, however, have largely opted to maintain a stone face. When contacted by this writer, two major e-commerce companies, Flipkart and Myntra refused to comment on any of the allegations or even on the need to formulate an e-commerce policy. However, recent reports reveal that Amazon.com Inc in its filings before the US Securities and Exchange Commission has acknowledged the risks in its India operations, citing difficulty in interpreting Indian laws, and hence "substantial uncertainties."
Given the ambiguities therefore, it may serve the interests of all concerned if the government puts an end to status quo and clearly articulates laws and norms for players in this rapidly growing space.