Open book accounting
A public record of India Together's finances.



India Together believes that participants in the public interest domain must remain transparent and accountable both to the letter of the laws and to the spirit of the public interest. Regularly, on these pages, we will list our quarterly revenue and expenditure statements -- i.e. the monies we receive and spend. Beginning in the first quarter of 2004-5, we are also posting quarterly statements to accompany our financial records.

Links to quarterly financial statements are available below. Please note that these are in Portable Document Format (PDF), and you will need a reader to look through these. Adobe Systems, Inc. makes a free reader available for download, Click here to download Adobe Reader.

Fiscal Year 2006-07 (ended 31 March 2007)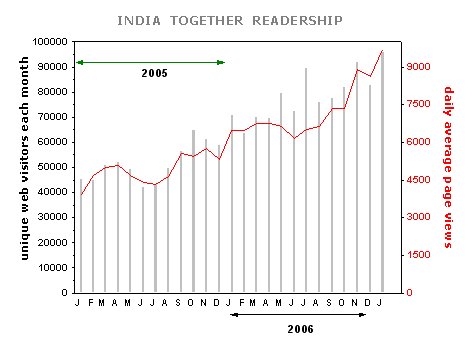 Fiscal Year 2005-06
Fiscal Year 2004-05
Fiscal Year 2003-04
If there is any additional information you would like but cannot find on these pages, feel free to ask.